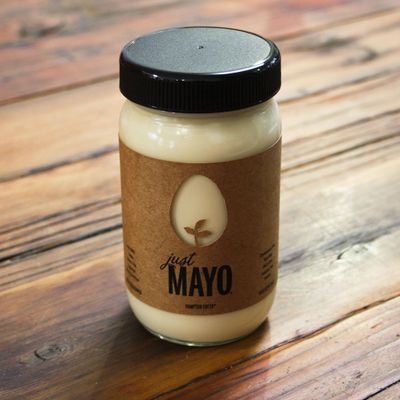 The dark side.
Photo: Courtesy of Hampton Creek
Everyone from Bill Gates to Andrew Zimmern hails Just Mayo maker and Silicon Valley darling Hampton Creek as the future of food, but if lines from former employees like "cult of delusion" and "issues that made a lot of people uncomfortable" are any indication, morale inside the company isn't quite as upbeat. Business Insider has dropped something of an exposé on Just Mayo's "uncomfortable, unsafe" work environment based on a series of employee interviews, and the picture is not pretty.
The charges run from the relatively mundane to the semi-egregious, like the claim that the company has lied about ingredients (the "lemon juice" listed on the back is actually from concentrate, which the FDA requires companies to list as such). Hampton Creek touts a database that holds billions of proteins from thousands of plants, but one employee alleges the "4,000" samples are more like 400-ish. Just Mayo wasn't developed in-house, and employees say the company's understanding of it is actually incredibly shoddy. Per one former worker, "The entire time I was there we weren't aware of how it emulsified. We weren't able to prove how it works." It mysteriously used to turn brown when added to certain foods.
Workers say that dubious ethics extended into the HR side. Some gripe that CEO Josh Tetrick had an affair with a female employee and worried it'd turn into "a huge lawsuit," so he promoted her a bunch of times. Two others claim they caught Hampton Creek's director of communications swapping a page of their contracts for one that changed the severance package from three months to three weeks.
Business Insider notes that Tetrick has apparently addressed and apologized for a lot of this stuff — he told staff to get "lemon juice" off labels, severance is back to three months, and, of the affair and promotions, he apparently said, "I fucked up" — but it's left a sour taste in at least some mouths. The company's $300 million value largely comes from trading on its image as an innovative, science-savvy food disrupter, so this might hurt.
[BI]