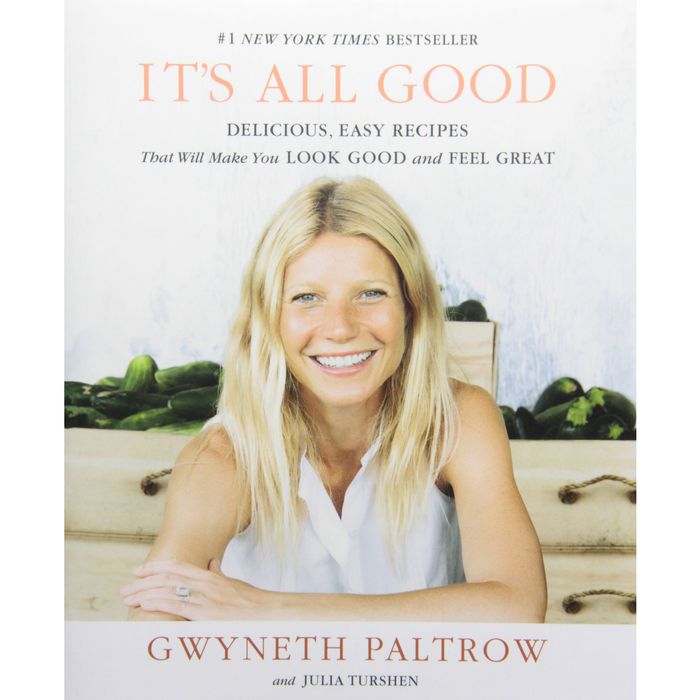 Next up:
It's All Easy
.
Photo: Grand Central Life & Style
Aside from Paula Deen, is there a cookbook author more controversial than Gwyneth Paltrow? Perhaps not, but that's not going to stop Queen Goop from writing a third book: It's All Easy: Healthy, Delicious Weeknight Meals in Under 30 Minutes — a sequel to It's All Good — is due out in April of 2016. Here's the full description, per Amazon:
The only book you'll need to put amazing, surprisingly healthy meals on the table every weeknight (and lunch the next day) by bestselling cookbook author, Gwyneth Paltrow.

Gwyneth's fans have been asking for a cookbook that will help them get healthy, yet wonderfully delicious meals on the table during hectic weeknights. So, finally, this essential cookbook features over 125 recipes that can be made in under 30 minutes that are surprisingly tasty and contain little or no sugar, are low in fat, and many have no gluten.

From Chocolate Cinnamon Overnight Oats to Chopped Salad With Grilled Shrimp and from Quick Sesame Noodles to Chicken Enchiladas, you will find dozens of recipes families will love. They will be of the same quality as those in It's All Good, but can be pulled together in the time it would take to call for takeout. And because every family needs some pasta or pizza now and then, Gwyneth includes recipes for easy takes on those favorites too! Plus, since it is so much healthier and economical to bring lunch to work and school, there will be a special section on "Lunchbox ideas" made from dinner leftovers and easy-to-throw-together lunches!

So before you reach for the phone for take-out (often with too much fat and sugar), open this book and find the solution for healthy, yet delicious meals every night of the week.
Paltrow shouldn't be so quick to shame takeout, considering she recently launched her own food takeout company, 3 Green Hearts, with BFF Tracy Anderson.