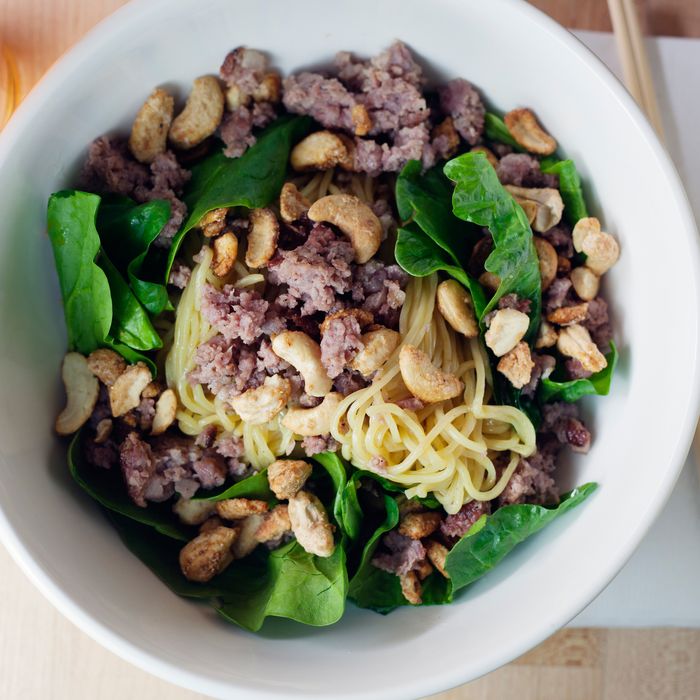 Momofuku Noodle Bar's famed spicy chilled noodles are perfect this time of year.
Photo: Gabriele Stabile
This week, the world got some great news when a new study revealed that eating spicy foods on a regular basis might be linked to a reduced chance of premature death. Chili heads, rejoice! Grub has always endorsed a regular intake of hot food, and now is as good a time as any to step back and take a new look at the city's spiciest eating options. Below you'll find 13 standout dishes that will satisfy your heat cravings — and just might extend your life a little, too.
Spicy Ramen
Where: Ivan Ramen
Price: $15
Ivan Orkin traffics in bold flavors, but what else would you expect of a New Yorker who had the gumption to open up a ramen shop in Tokyo? Consider the dashi and chicken broth's ruby-red color a warning sign, because your mouth will light up as you slurp Orkin's trademark rye noodles.
Spicy Boar Collar
Where: Pok Pok NY
Price: $18
Andy Ricker's tiny waterfront dining destination now takes reservations, which means you've got no excuse to skip this dish. Rubbed with spices, glazed with sugar and soy, and grilled over charcoal, the boar collar is served with chilled, peppery mustard greens and a nuclear chili-lime-garlic sauce.
Chongqing Chicken Wings
Where: Mission Chinese Food
Price: $13
Chef Angela Dimayuga has managed to rein in the more fiery instincts that ran rampant at the original New York incarnation of Danny Bowien's Mission Chinese Food, but thankfully some of the more deliciously hot dishes have been kept intact. Case in point are the explosively hot Chongqing chicken wings, modeled after the chili-strewn Sichuan dish.
Ped Larb
Where: Zaab Elee
Price: $11
This East Village restaurant helped kick off Manhattan's Northern Thai awakening, basically banishing goopy pad Thai and ushering in an age of larb. It's still a solid place to get a salad of minced meat or funky fish, like the ped larb with rich duck meat, shallots, chilies, and herbs.
Chilled Spicy Noodles
Where: Momoufku Noodle Bar
Price: $14
Few things are as refreshing during the summer as cold noodles, and even fewer places do them as well as David Chang's Momofuku Noodle Bar. Belly up to the cramped, still-packed bar and light your mouth on fire with a bowl of these signature noodles, served with cashews, Sichuan-style sausage, and spinach.
Spicy Cumin Lamb Hand-Ripped Noodles
Where: Xi'an Famous Foods
Price: $8 to $8.75
The favorite son of Flushing's Golden Mall, Xi'an is now the darling chainlet of the New York food scene. Nearly everything is excellent, and many dishes will pack a punch, but you won't want to miss out on the earthy, hot cumin lamb paired with chewy noodles in their sweet, sour, and spicy house sauce.
Any Som Tum
Where: Somtum Der
Price: $8 to $11
An outpost of a small chain that first opened in Bangkok back in 2012, this East Village spice den trains its focus not just on Thai food from the Isaan region, but specifically on the green papaya salads known as som tum. Go fishy with mackerel or meaty with grilled pork neck — but trust that they're all fiery.
Sour Curry
Where: Ayada
Price: $10
A senior member of Elmhurst's booming Thai Town, this restaurant attracted a loyal citywide audience for its excellent, often-blistering Northern Thai food. Case in point: this funky, searingly hot curry, packed with tamarind and strewn with shrimp and a broken omelette.
Nashville Hot Chicken
Where: Peaches Hothouse
Price: $13
Unlike many of the other Southern-ish spots that have opened during New York's most recent comfort-food boom, Peaches zeroes in on the Nashville specialty of hot chicken. Distinguished from regular old fried chicken by a very liberal dusting of chili, the extra-hot option proves that pain is, indeed, pleasure. It will give you a pepper high so serious it'll probably tack another five years onto your life.
Bhartas
Where: Neerob
Price: $4
Meant to be mixed with rice and eaten by hand, these mashes made from smoky eggplant, fermented fish, and tomatoes are traditionally flavored with lots of raw onion and mustard oil. The best of the bunch is the dried-shrimp-and-chili version, which is a little crunchier and way spicier than the rest.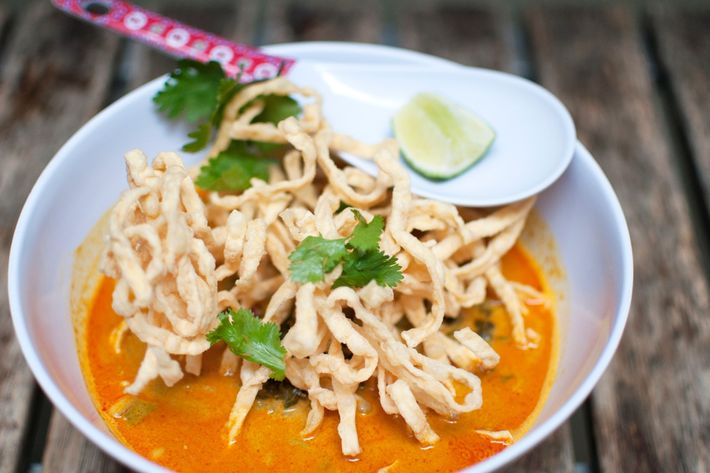 Khao Soi
Where: Pig and Khao
Price: $16
At former Top Chef contestant Leah Cohen's LES ode to Filipino and Thai dishes, consider the ancient Northern Thai specialty khao soi, which Cohen makes by mixing egg noodles with blistering red curry, cooling coconut milk, and pickled mustard greens.
Curries and Rice
Where: Khao Kang
Price: $7.50
Modeled after the fast-food establishments in Thailand for which it is named, this cafeteria-style restaurant does not offer a menu. Dishes are doled out from a steam table and change frequently, but here you can expect to find some of the consistently hottest curries in Queens.
Kottu
Where: Kottu House
Price: $7 to $15
The Underground Gourmet advises that all of the kottu served here are "addictively spicy and unquestionably not safe for baby palates." Which, if chilies are health food now, sounds like all the excuse anyone needs to indulge in chopped-up, griddled flatbread served Sri Lankan–style, with options like deviled beef, tofu blast, and the more fusion-y Little Italy.