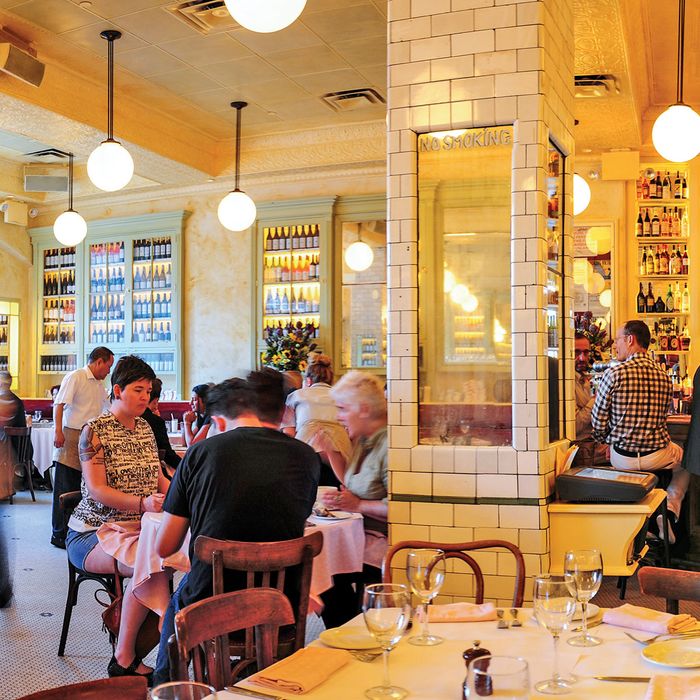 The A/C is on at Cherche Midi.
Photo: Sarah Silberg/New York Magazine
One of the great perks of staying in New York during the dog days of August, when the entire city seems to empty, is how easy it can be to get a table at pretty much any restaurant. Walk-in seats are far easier to come by, of course, and — for people who like a little more security in their evening plans — so are reservations. We scoured the city and assembled a list of a dozen spots not only worth visiting, but which also still have plenty of availability left. Go before fall hits and the masses (re-)descend:
Where: Atera
The Situation: As long as you're flexible, it shouldn't be tough to get a reservation at this Tribeca tasting room. Earlier this summer, Platt called Danish chef Ronny Emberg's menu his favorite tasting menu in town, and that high-caliber, pristine cooking is the right way to toast the end of summer.
Where: Cherche Midi
The Situation: Keith McNally's Bowery bistro hasn't missed a step, but the crowd tends to disappear during this time of year, especially on weekends. The burger is still fantastic, so go get it while you can, seemingly all night long right now, and enjoy a long dinner in that very charming room.
Where: Estela
The Situation: Of course Estela is always buzzing, and Ignacio Mattos's just-cerebral-enough cooking has no shortage of fans. But right now, scoring a table whenever you like — through a free reservation with Resy, or just calling — couldn't be easier.
Where: The Four Horsemen
The Situation: James Murphy's wine bar is no gimmick, and with a team like the one he's assembled (including a Franny's vet in the kitchen and Brooklyn Brewery's Garrett Oliver behind the beer list) it's bound to be a perennial hit. Go for the natural wine and stay for the top-notch food like spicy jerky, because it's a cinch right now.
Where: Gramercy Tavern
The Situation: There are only so many weeks of summer produce left, and there are few better places to enjoy that bounty than at Danny Meyer and Michael Anthony's beloved New American restaurant. Get in right now, and order the smoked char with corn and peaches while it's still on the menu.
Where: Locanda Verde
The Situation: At Andrew Carmellini's perpetually packed Italian restaurant, you won't have a problem, as long as you're making a reservation a few days in advance. It's a good a time as any to retreat into the restaurant's tavern-like setting and eat some lamb-meatball sliders and that classic blue-crab crostini. Bonus: Pastry chef Kierin Baldwin is back in the kitchen after a brief hiatus.
Where: Marta
The Situation: A recent visit confirmed that the food at Nick Anderer and Danny Meyer's Roman-style pizzeria is as satisfying as ever, and there's no reason not to take advantage of the slow season to get some light, refreshing summer dishes like chickpeas with bottarga and the grilled zucchini with tomato vinaigrette.
Where: The NoMad
The Situation Three years after opening, this posh spot from Daniel Humm and Will Guidara remains maddeningly popular, but getting in is not quite so tough right now. The posh setting will help you escape the heat, and it's as smart a move as any to use those dollars you saved skipping the beach house this year for a splurge on Humm's high-caliber comfort food, like some peak-of-season tomatoes with burrata or the classic, truffle-stuffed roast chicken.
Where: Noreetuh
The Situation: As long as you're stuck in the city, take advantage of this ambitious Hawaiian restaurant's surprisingly standout wine list. The kitchen's top-notch cooking has attracted quite a bit of notice, and the dining room will surely fill up once again in September, so now's the time to explore what wines pair best with spam, poke, and brûléed pineapple.
Where: Oiji
The Situation: The buzz just keeps on building at this very handsome modern Korean restaurant in the East Village (including a glowing review in this week's Times), but it seems to have been a secret that the restaurant even takes online reservations. They do, of course, and you should get there while summer nights last, as the restaurant stays open late and it's a perfect time to cool off with spicy-sweet gochujang chicken wings, a surprisingly refreshing chilled pig-trotters salad, and, of course, those must-order honey-butter chips.
Where: Rebelle
The Situation: The neo-bistro-inspired, wine-centric restaurant has a veteran of Spring, an actual neo-bistro in Paris, in the kitchen. That may help those who'd like to pretend they're out to dinner by the Champs-Élysées, but the voluminous, American and French heavy wine list will keep you occupied until the weather has cooled off.
Where: Untitled
The Situation: Danny Meyer's second museum restaurant, a sleek and spare space, is all windows, and there won't be a better time this year to enjoy that wonderful light and people watching. It doesn't hurt that the menu of vegetable-heavy seasonal fare, just right for this time of year, is by Gramercy Tavern's Michael Anthony.