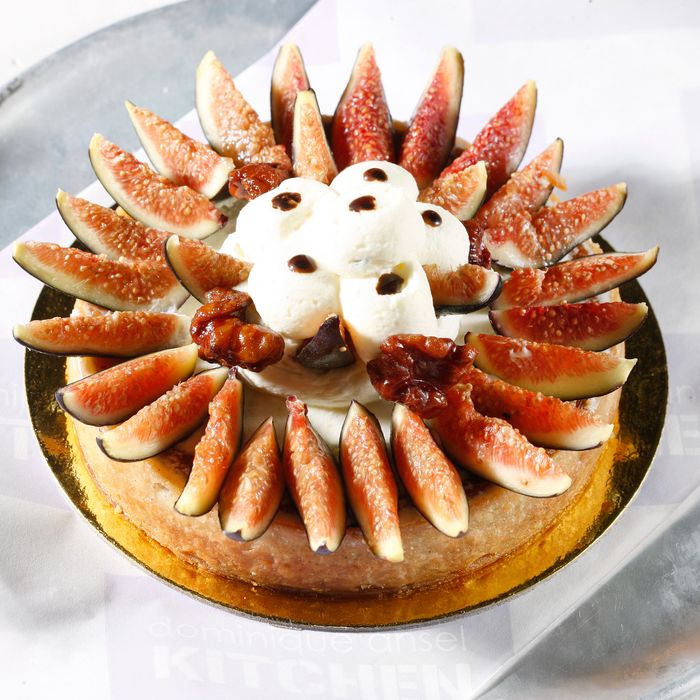 Dominique Ansel's fig, walnut, and ricotta tart.
Photo: Melissa Hom
Fresh figs are a cook's dream ingredient: so good on their own that they basically do all the work for you. Dried figs may be available all year long, but the distinctively delicious, sweet, chewy, fresh kind come around only twice a year. With the season running now through October, New York chefs are roasting them, churning them into ice cream, and generally proving that, yes, it's possible to actually do something with them besides just setting the figs on a plate. Here are six new, interesting dishes to try before they're all gone:
Fig Tart
Where: Dominique Ansel Kitchen
Price: $8
Dessert man Dominique Ansel does not deal in ordinary treats. At his West Village shop and dessert-tasting table, he is going all out with this new tart topped with balsamic-glazed figs, walnut frangipane, and ricotta-and-thyme whipped ganache. (The tarts are available in individual portions, but larger versions are also available to pick up after preordering on Ansel's site.)
Fig and Endive
Where: The Dutch
Price: $16
At Andrew Carmellinni's handsome house of American comfort food, chef de cuisine Jason Hua pairs California figs with bitter endive, goat-milk Camembert, and spiced nuts for some crunchy contrast. (And over at Carmellini's more vegetable-focused Little Park, the staple Cayuga farms oatmeal ($12) is being made with fresh figs until the season ends.)
Roasted Peppers
Where: Rocky Slims
Price: $6
At the Kips Bay pizzeria and seasonal Italian-American restaurant from chef Angelo Romano, the kitchen staff gently roasts fresh figs to extract juices and bring out their natural sugars, and serves them with roasted baby-bell peppers, house-cured lardo, and some Sicilian vinegar.
Fresh Fig Gelato
Where: Il Laboratorio del Gelato
Price: $4.25 for two scoops
The ice-cream engineers over at the sleek-looking Houston Street ice-cream parlor have a knack for bringing out an unusual clarity of flavor in their gelato in a way that actually tastes good. They make three fresh-fig ice creams (white, black, and brown turkey), when in season; currently they're scooping the verdant and subtly grape-y brown turkey.
Figs
Where: Wassail
Price: $10
Wassail made some noise as New York's very first cider bar when it opened earlier this year, but that's hardly all that's going on at this Lower East Side spot. Case in point: pastry chef Rebecca Eichenbaum's surprisingly ambitious desserts. Right now, she's using figs in a dessert with oat milk, Angelica oil, and an Angelica-and-lovage cake that tastes a lot like a different kind of edible.