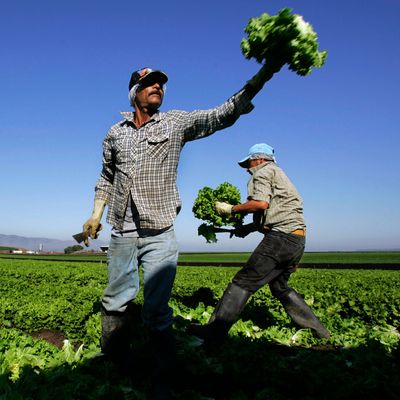 What the frack?
Photo: Don Kelsen/Los Angeles Times/Getty Images
You might say California is on the warning-label vanguard, having previously threatened Big Soda with obesity warnings, Monsanto with produce labels that scream I'm a GMO, and McDonald's with French-fry cancer warnings. Now the state's next push could be a scarlet letter on food grown with water previously used for fracking, if one lawmaker has his way.
Assemblyman Mike Gatto has introduced a bill that would introduce the label, "Produced using recycled or treated oil-field wastewater." California's epic drought apparently has hard-up farmers using recycled fracking water for lack of better (i.e., pretty much any other) options, but this practice alarms opponents like Gatto, who says, "No one expects their lettuce to contain heavy chemicals from fracking wastewater." There's no proof yet any of these chemicals can get into the food, but samples of fracked water have found 316 chemicals all the same, including hydrochloric acid. Who knows if the bill will ultimately pass, but we now have one more thing to worry over when selecting romaine.