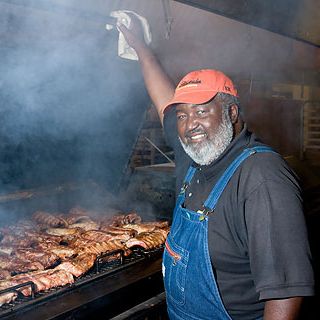 How do you leave Ed Mitchell off a list like this?
Photo: Courtesy of Ed Mitchell
Fox News is getting some serious flack for a recent guide to the country's "most influential pitmasters and BBQ personalities." Shortly after the list was published, Texas Monthly barbecue editor and Prophets of Smoked Meat author Daniel Vaughn, who was included in the story, noticed something curious about the list: Everyone featured was white.
Black chefs are often left out of the conversation, as Michael Twitty has written, but it's particularly problematic in this case, and amplifies a trend that Texas food authority Robb Walsh recently called out on First We Feast: "The national press would have you believe barbecue is dominated by white hipster males," Walsh writes, "but believe it or not, blacks, Latinos, and women are involved in the barbecue biz too."
Twitty addressed the issue in his own post on the invisibility of black chefs, writing: "The face of contemporary barbecue is Aaron Franklin … not Rodney Scott, nor the many local black pitmasters whose ancestors created the tradition." Which is all to say that the Fox list perpetuates the inaccurate idea that everyone in barbecue who really "matters" is white. That, of course, couldn't be further from the truth, and Vaughn isn't the only one upset about Fox's obvious omissions. Earlier today, Southern Foodways Alliance director John T. Edge reignited the fire with two tweets of his own:
New York Times restaurant critic Pete Wells chimed in, as well, suggesting Fox easily could have avoided the mess:
And as Washington City Paper editor Steve Cavendish pointed out, at least one choice was incredibly obvious:
Ed Mitchell — who is so important to barbecue in North Carolina that he's sometimes called "the pope of barbecue" — is of course a major figure in America's barbecue world, and opting not to include him in this list is like writing a list of legendary guitarists and leaving off Jimi Hendrix. But there are plenty of other people whose omission from the list is curious. Take, for example, Rodney Scott, who started barbecuing out of his parent's general store at the age of 11, and roasts whole hogs so well that it's catapulted him from hometown (population 444) hero to Big Apple Barbecue staple. His is a place that you have no choice but to travel out of the way to, unless you live there, but people gladly make the trip: Scott is the real deal, and his hog has inspired a fervent following.
Perhaps a little respect could have also been paid to some of barbecue's earliest roots, which shouldn't be all that difficult when you've got a cook as renowned as Armando Vera hanging around. Operating in Brownsville, Texas, where his father opened their restaurant in 1955, Vera cooks Northern Mexican-style barbacoa and may be the last man in the country to commercially sell old-school Northern Mexican-style barbacoa: a cow's head, eyes and all, steamed in a coal-lined, underground pit.
And that's only three pitmasters that should have made the list with no need to talk about ace at all — they should simply be on a list like this. No doubt others are as deserving. Hell, tribute could have also been paid to Chicago's recently deceased Mack Sevier, whom the Chicago Reader called in their June obituary, "perhaps the most well-regarded practitioner of South Side Chicago-style barbecue."
As Wells points out, barbecue lists are more or less made to create controversy and start a debate — but even Fox probably wasn't looking to make waves this way.
[Fox News]