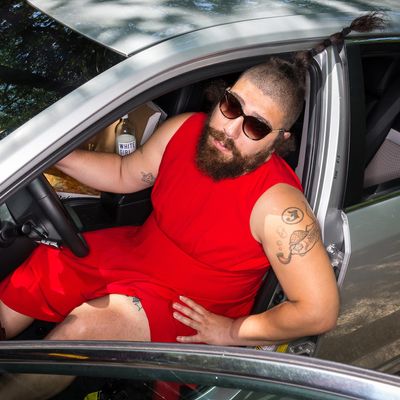 No ramen for you.
Photo: Noah Fecks
The Food Lab's Kenji López-Alt has dropped out of a October 17 ramen party he planned for this year's NYC Wine & Food Festival after organizers covertly added embattled "performance artist" Josh "the Fat Jew" Ostrovsky to the billing. In a statement posted to his Facebook page, the Serious Eats managing culinary director explained that after four to five months of planning, he opened up the event's official website last Monday to find it advertised as, he writes, "The Fat Jew's ramen party."
The event, which López-Alt says was conceived, planned, and organized by Serious Eats, who brought in Ivan Ramen, Yuji Ramen, Mu Ramen, and Sun Noodle (owners of Ramen Lab) among others, was originally to be co-hosted by Chrissy Teigen. After she dropped out, festival organizers began hunting for a replacement, but marketed it as a Serious Eats event. More than half of the tickets had been sold by the time Ostrovsky was announced as a co-host, which López-Alt tells Grub, was made "without even consulting or mentioning it to us".
While López-Alt felt the event was sure to be "the greatest ramen party NYC has ever seen," he wasn't interested in being associated with Ostrovsky, whom he describes as "absolutely the wrong choice of co-host for a food event, or really any respectable event." He told Grub, "It's not even clear what the Fat Jew's relation to food is, other than his proclivity to sit in hot tubs full of it."
Unable to find common ground with the Festival's organizers, López-Alt has dropped out. The event will go on — though apparently not exactly as planned. Since posting his statement earlier today, López-Alt has updated it three times to add that Jin Ramen, Ivan Ramen, Sun Noodle, Yuji Ramen, and Mu Ramen have all dropped out. Apparently, he isn't the only one who doesn't want to slurp ramen with Ostrovsky.