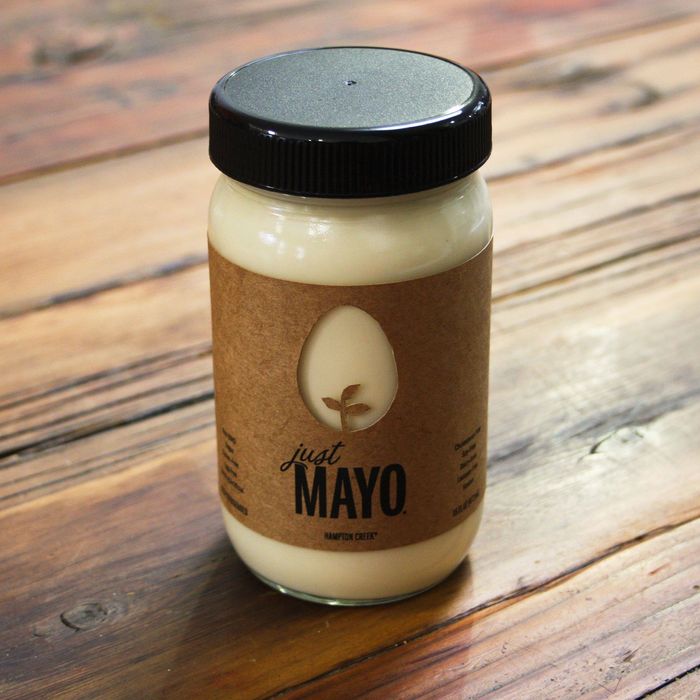 Not really mayo, according to the FDA.
Photo: Courtesy of Hampton Creek
This is why you don't cross Hellmann's: The company may have looked a bit like a sore loser last year when it tried to freeze brisk sales of competitor Just Mayo's eggless spread by arguing that it's illegal to sell a vegan product as real "mayonnaise." (The company also didn't look great once it got caught doing a version of the same thing.) Yet that argument apparently made a lot of sense to federal food regulators. The FDA has told Just Mayo maker Hampton Creek that it can't keep calling the stuff Just Mayo because the eggless spread is by definition not mayo.
"These products do not conform to the standard for mayonnaise," the agency summed up in an August 12 letter to the company, warning that Just Mayo's label (which features an egg) is misleading and that the product includes ingredients that aren't permitted in mayonnaise, like modified food starch, beta-carotene, and pea protein — which is the very thing Hampton Creek uses in place of eggs.
Big Egg is fighting egg-substitute upstarts like Hampton Creek every which way it can, now that Just Mayo is sold at all 7-Elevens and a flu epidemic has wracked egg sales, so industry insiders will no doubt welcome signs that the government is taking their side. In fact, the FDA is none too pleased with other aspects of Just Mayo as well: The agency says there's too much cholesterol to call Just Mayo "cholesterol-free," and the fat content is too high to claim it's heart-healthy.
It gave Hampton Creek three weeks to respond, but the company apparently already has, at least to the press: CEO Josh Tetrick argues there's "no reason for us to rename the product," adding that he's staying optimistic, going so far as to say the FDA "sounded very open to digging into this with us." Regardless, it's not been a good August for the onetime invincible-looking Silicon Valley darling.
[NYT]