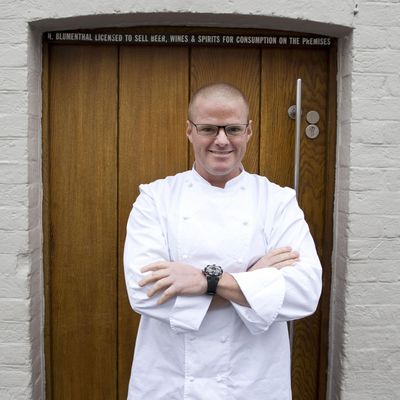 Now, look deep into his eyes.
Photo: Ben Stansall/AFP/Getty Images
Diners can expect a few new changes up Heston Blumenthal's sleeve when his highly acclaimed Fat Duck reopens in October. For one, the reworked tasting menu will tell a "story," with "an introduction and a number of chapters and chapter headings." His fantasy of making a guest feel "like a kid in a sweetshop" will finally get realized via a doll house equipped with candy and a trolley. Oh and also, Blumenthal's been working with a hypnotist to figure out a way, in his words, to "find out things about people without them being too aware."
He tells Observer restaurant critic Jay Rayner that he enlisted illusionist and hypnotist Derren Brown, star of British shows like Derren Brown: Mind Control and Trick or Treat, to take service to the next level. Blumenthal says that his staff will be able to go beyond merely Googling diners — the Duck's been doing that for years, he yawns — and to use the power of so-called "auto-suggestion techniques" to fool diners into revealing what they crave without realizing it.
It all sounds a bit terrifying, with Blumenthal saying, "I'm using myself. I'm morphing into my food. My food is morphing into me."
[Guardian]