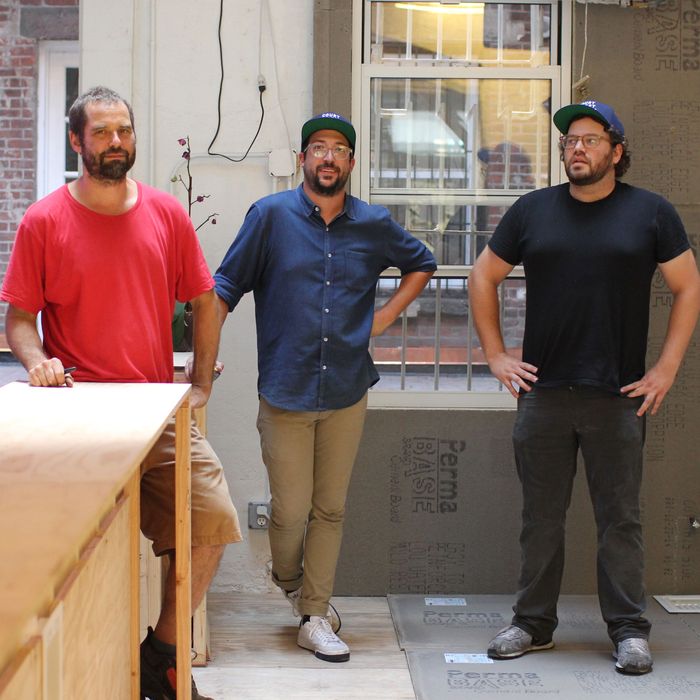 Sasha Noe, Matt Ross, and Eric Finkelstein in their new location.
Photo: Melissa Hom
Court Street Grocers owners Eric Finkelstein and Matt Ross have built a business out of digging deep into Americana, stocking the shelves of their Carroll Gardens original with a collector's haul of regional comestibles and serving over-the-top sandwiches inspired by American classics. Along the way they've developed a reputation as one of New York's most vital and endearing sandwich shops and general stores.
In the almost five years since opening their first shop, they've launched a hero shop in Red Hook (largely born out of a need for a commissary kitchen), joined the big hitters at the gourmet food market Gotham West, and started slinging cheese-stuffed pork and beef sausages at the Riis Park Beach Bazaar this summer. But on August 2, they served their last Ultimate Warrior at the Gotham West Market, and turned their attention instead to Greenwich Village, where they're set to open their second full-fledged food store at 540 LaGuardia Place this fall — hopefully as early as October.
Opening up a shop in such a pricey neighborhood, especially one that has recently become known for "high-rent blight", would have been impossible for Finkelstein and Ross if it weren't for their new landlord and partner in the Greenwich Village shop. Sasha Noe, the owner of Fanelli's Cafe (one of New York's oldest food establishments), grew up in the 150-year-old building where, Ross says, the storefront was once home to his mother's pottery studio, causing him to be, in Finkelstein's words, "pretty particular about maintaining the interior of that space as it has been." A regular at both Court Street Grocers and the Hero Shop in Red Hook, where he also owns a building, Noe approached the duo about opening the shop because, Finkelstein says, he wanted something good for the neighborhood: "He also lives next door and he and his partner want a place like this to go to."
Ross and Finkelstein, in turn, found a place that felt like home, and with its painted brick walls, tin walls, and old floors, looked strangely like the store they had to rip floors out to create. The 600-square-foot space will be square-shaped, allowing them to put in a long lunch counter for the first time, something they're particularly excited about. It will function as the store's focal point, like in a luncheonette, and it'll be where they dispense iced coffee by tap, ring up orders, and more. The brand-new kitchen is being built out behind it and there will be a few tables and window seating. Save for essentials like bread, cheese, and eggs, groceries will go downstairs to a brick-floored basement that's roughly 400 square feet.
Executive chef Mary Ellen Amato is still working on the food, though some signatures (including breakfast sandwiches, Italian Combo, Yam and Cheese, and the Reuben Brocc) and specials currently being workshopped in Brooklyn, may show up. But regulars should expect a familiar, if expanded, version of what Court Street already does with the reemergence of simple dinners — something they tried in Carroll Gardens, but which they say didn't work out.
"I would love to have classic American sandwiches and a vegetable equivalent of each one," Finkelstein says. Just think more savory and hearty like their Yam and Cheese, and less clean and squeaky sprout sandwiches.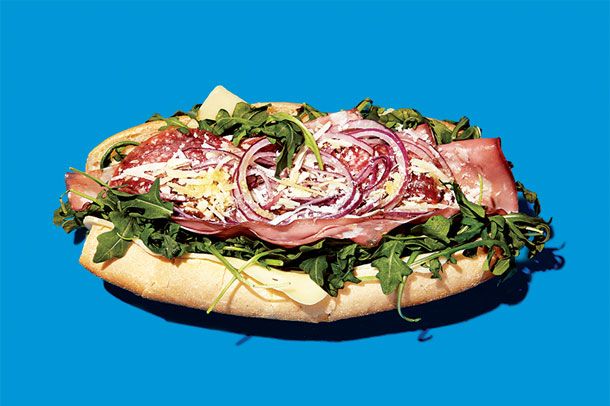 There will also be some firsts, including a seltzer tap and, likely, egg creams (no word yet on a Sid and Flo Gluck's), an espresso machine, and, most exciting, beer and wine. (There will be beer to go and to drink, but they can only sell wine to drink in-house.) They'll also be an exclusive purveyor in New York City of Other Half Brewing cans, and are pushing to collaborate on a special project with the brewery, whose founding members helped start the Carroll Gardens store. "We're really excited about making a malt liquor that tastes really great. They believe it's not possible," Finkelstein says.
If it all sounds like something that Greenwich Village could use and a place that's a neighborhood spot in more than name, that's because it is. Court Street Grocers has never felt like a store that takes itself or its products too seriously, and the owners describe it as warm, comfortable, and very goofy, which they believe is a big part of the appeal, and something that's lacking in their new neighborhood. The store will evolve organically, like all of their locations have, and there's no concept they're adhering to — no "buffalo protein and carrot juice or something," no distressed wood or old-timey general-store atmosphere. They've let the Carroll Gardens original age naturally, and that's how they'll approach the new location. "Our concept is to stay in business. And make good food," Ross says. "We're trying to do something that will last more than five years."