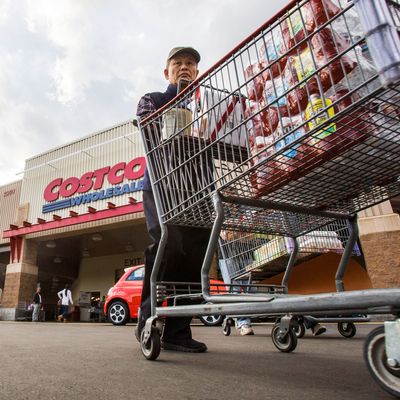 A customer outside a California Costco.
Photo: Ringo Chiu/ZUMA Wire
A new lawsuit filed against Costco takes the retailer to task for selling shrimp farmed by sea slaves in Thailand. The first of its kind, the class-action suit was filed by California resident Monica Sud, who argues that the Washington-based warehouse club has helped sustain the farmed-prawn industry through its purchasing power and that, furthermore, it hasn't been honest with consumers about where its shrimp comes from. If true, doing so would violate California law, which requires companies to be honest about illegal conduct in their supply chains.
Several reports over the last year have revealed that horrid conditions and abusive labor practices are rampant in the Thai fishing industry, and that many Americans have very likely unwittingly purchased fish and shrimp produced using slave labor at chains including Costco, Safeway, and Walmart.
Along with Costco, the suit has named Maryland prawn distributor CP Food Products Inc. and its Thailand-based parent company, Charoen Pokphand Foods Public Company Ltd., as codefendants. Both companies were named as purchasers of fish meal produced by slave labor (which they used as feed for shrimp) in last year's report from The Guardian. While Costco has publicly come out against the abusive practices and said they would require suppliers "to take corrective action," Sud's complaint argues its continued relationship with CP says otherwise. In addition to compensation for customers and disclosure of the food chain, the suit seeks an injunction to prevent sales of products produced by slave labor.
A suit like this certainly isn't going to end the abuses of the opaque Thai fishing industry, where the origins of fish can easily be obscured, but holding American companies more accountable — if and when they're actually being dishonest — is certainly a worthwhile first step.