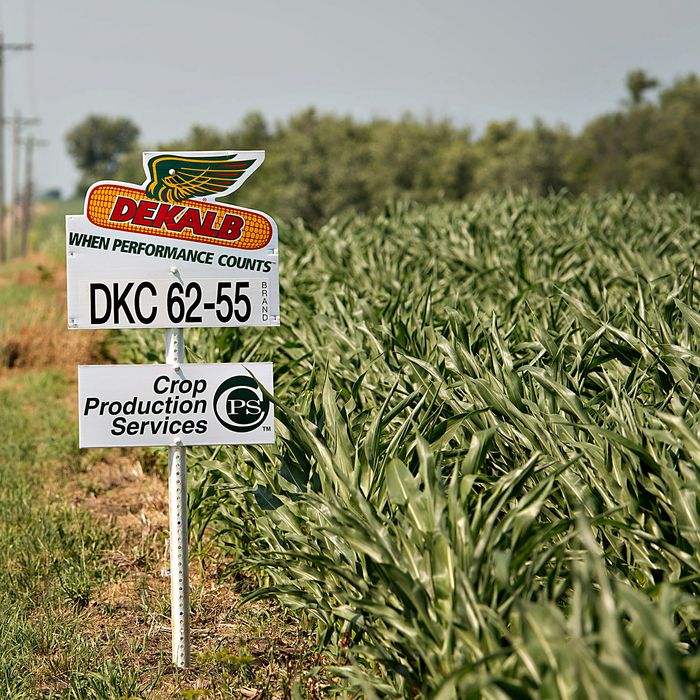 Risky business.
Photo: Daniel Acker/Bloomberg via Getty Images
A new article from The New Republic is filled with the trappings of a spy thriller, but it's all about agriculture. The magazine documents a Chinese spy ring led by Mo Hailong, the Beijing Dabeinong Technology (DBN) Group's director of international business, that was aimed at stealing next-generation hybrid-corn technology from DuPont Pioneer and Monsanto. Facing charges, along with his sister Mo Yun and five at-large alleged associates, Mo faces up to ten years in prison and a $5 million fine — all for trying to steal quite a few seeds. But as writer Ted Genoways demonstrates, it's about a lot more than just more durable corncobs.
1. The FBI was willing to use the most extreme tactics to conduct its investigation.
A federal judge, under the Foreign Intelligence Surveillance Act (FISA), approved the FBI's investigation of Mo. Considering that the FBI did not use FISA against a former Boeing engineer, Dongfan Chung, who stole trade secrets to an Air Force aircraft, the C-17, and Delta IV rocket, that's quite severe.
2. The FBI is very, very serious about protecting agricultural technology.
Agents from the bureau's Iowa office have a standing meeting with representatives of DuPont, which is how the FBI first found out about Mo's suspicious behavior.
3. Mo was deeply entrenched in the agriculture community.
The FBI documented Mo visiting two farms — one of them with then-vice-chairman of Kings Nower Seed, Wang Lei, where contracted farmers were planting experimental seeds from DuPont or Monsanto. The FBI also observed him "crisscross the Midwest" in 2012 as he visited seed stores. Kings Nower Seed had purchased 40 acres of land near Monee, Illinois, and the FBI believed that Mo's intention was to plant the land by hand, so that he could personally test the seeds and gather yield data.
4. It's likely they infiltrated DuPont.
In 2012, the FBI observed Mo and his associates meeting with Chinese seed executive Xaoming Bao, a former DuPont employee whose wife researched corn genetics for the company. The FBI believes Mo was able to find the farms where experimental seeds were being planted through insiders.
5. He was working with a network of other Chinese agriculture-industry heavyweights.
In addition to his sister, Xiaomong, and Wang, Mo's associates included Beijing Kings Nower Seed Science & Technology CEO Li Shaoming; Kings crop research manager Ye Jian; and two employees of Beijing Dabeinong Technology Group (DBN), the parent company of Kings.
6. China already has American seed technology.
Genetic research conducted by DuPont revealed that DBN Group's best-selling corn-seed products contained genetic material from a parent line that DuPont had engineered.
7. The Department of Justice believes this isn't simply a case of a private company trying to steal trade secrets, but of someone acting on behalf of his government.
This means that the Chinese government is likely either quietly allowing or even encouraging the theft. In fact, in order to make a case for the use of FISA tactics, officials had to argue Mo was acting as the "agent of a foreign power."
8. China desperately needs more productive corn.
Developments by China's seed scientists have stagnated: While consumption is set to increase 41 percent by 2021, the country's strategy of just planting more corn has a time limit. The lack of arable land, which the country is running out of, coupled with water shortages, has forced the Chinese to purchase millions of metric tons of corn from the U.S. every year, accounting for 94 percent of all corn imported into China. Stealing the seeds could save companies like the DBN Group a decade of research and the millions of dollars needed to conduct it, allowing them to instantly catch up with American companies.
9. The government's approach to food-as-weapons has its roots in the Cold War.
Secretary of Agriculture Ezra Taft Benson set the tone during the Eisenhower era, when he argued that "superior corn technology" was the only way to beat the collective farms of China and the Soviet Union. His legacy endured when his former assistant, Earl Butz, was appointed secretary of agriculture under Nixon. While Butz sold the entirety of the U.S.'s grain reserve to the U.S.S.R. in 1972, Nixon brokered a deal with China's Mao Zedong that allowed the importation of American corn.
10. The American government's motivations aren't entirely pure.
As Genoways writes: "the intent of the U.S. government [is] to use food as an ever-more powerful point of leverage to wield over large, increasingly hungry nations like China." The U.S. could be angling to take down China's top seed company, too. Going after Mo and his sister might allow the FBI to implicate her husband, Shao Genhuo, the "seed-tech whiz kid" behind China's DBN Group, one seed company that is actually thriving in China, as well as agricultural ministers.
[TNR]