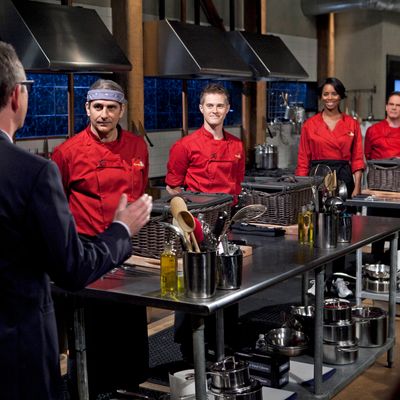 This is how Colbert plans to start every Late Show writers' session.
Photo: Food Network
Anyone who's seen Chopped — where adults weep at having to do perverse things like mix lime gelatin with imitation crab — obviously knows that the series reveals secrets about the human condition. Stephen Colbert is one of the many who realizes that power, and as he tells GQ, the creative process behind being a late-night host is completely analogous to being a Chopped contestant — only he gets to skip the actual smelly tofu and Marmite:
The reason he loves Chopped is that it's a show that is wholly about process, about creation within a limited range of possibilities. "This show," he said, meaning The Late Show, "is Chopped. Late-night shows are Chopped. Who are your guests tonight? Your guests tonight are veal tongue, coffee grounds, and gummy bears. There, make a show … Make an appetizer that appeals to millions of people. That's what I like. How could you possibly do it? Oh, you bring in your own flavors. Your own house band is another flavor. You have your own flavor. The audience itself is a base dish, like a rice pilaf or something. And then together it's 'Oh shit, that's an actual meal.' And that's what every day is like at one of these shows. Something is one thing in the morning, and then by the end of the day it's a totally different thing. It's all process."
So Ted Allen gets credit for whatever Colbert's Late Show cooks up, although in his metaphor, it sounds like the judges would be eating the guests.
[GQ]