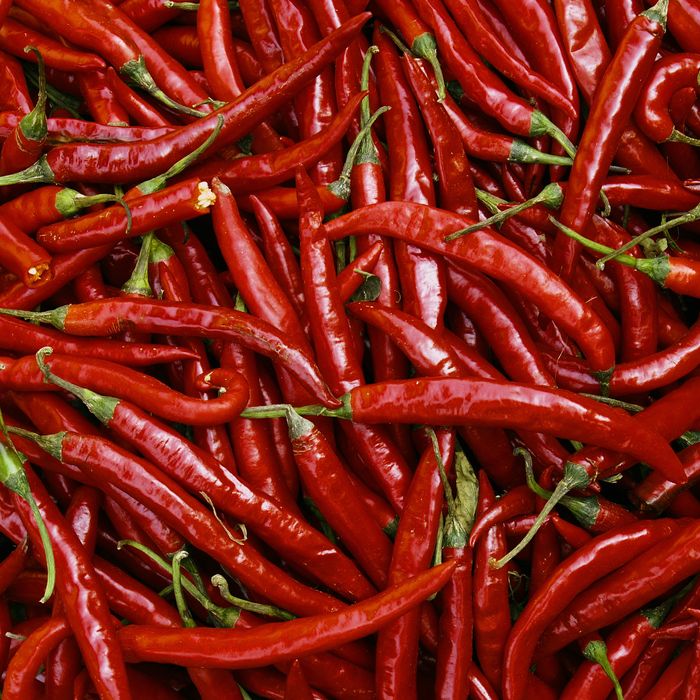 As if you needed another reason.
Photo: Douglas M. Paine/Getty Images
Dousing your food in hot sauce may actually be good for you: According to a new study, eating chili peppers has actual health benefits. A team of researchers examined questionnaire data from the China Kadoorie Biobank, a study that enrolled 485,000 adults from 2004 to 2008 and required participants to report things like health status and spicy-food consumption, as well as chili intake (fresh versus dried, via sauce or in oil). After controlling for a host of variables, they found that eating hot food just once or twice a week results in a 10 percent reduced risk for death, compared with eating it less than once a week.
While the data doesn't suggest that eating hot food more frequently than this has much more of an effect — eating spicy food six or seven times a week only reduced the risk by 14 percent — rates of cancer, ischemic heart diseases, and respiratory diseases were all lower. Co-author Lu Qi, an associate professor at the Harvard School of Public Health, stressed that more data is needed to "verify their findings," and the study doesn't prove absolutely that chilies are the cause of these health outcomes. Still, he was optimistic about the results. Coupled with the study that suggests pickles reduce anxiety, it sounds like all the justification Grub needs to keep putting spicy pickles on, well, everything.