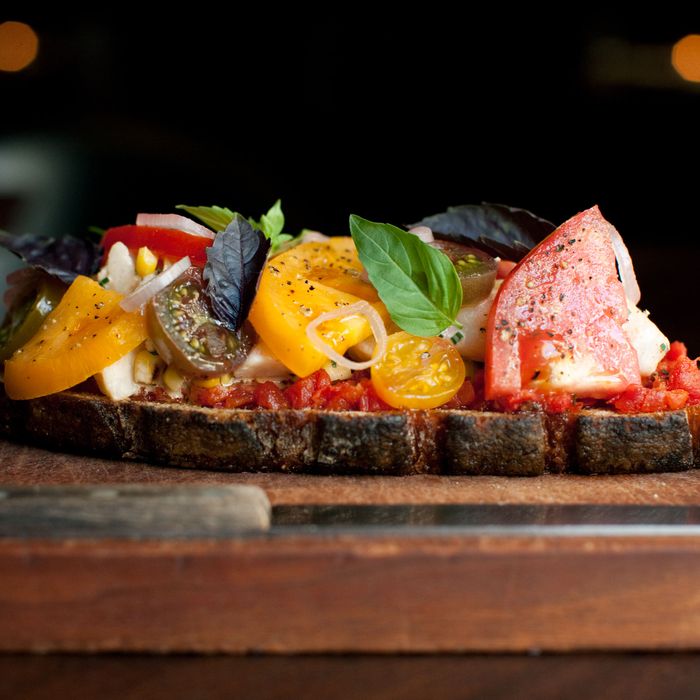 The toast is topped with Hawaiian blue prawns, heirloom tomatoes, and Ssäm Sauce.
Photo: Melissa Hom
Daniel Humm and David Chang are two of New York City's most acclaimed chefs, but their cooking styles are nevertheless different. Humm tends to focus on refinement — whether he's cooking celery root in a pig's bladder or engineering the ideal chef burger — while Chang's known for packing as much umami as possible into anything and everything. But now, for a limited time, you'll get a chance to taste what happens in some kind of alternate universe where the two team up, Carbone-and-Torrisi-style.
From tomorrow through September 30 during dinner service, Chang and Humm will serve a collaborative dish, a prawn-and-tomato toast, at two of their restaurants, Momofuku Ssäm Bar and the NoMad Bar. The toast has its genesis in Chang's gochujang-like Ssäm Sauce, which he sent to Humm hoping for some feedback. Instead, he got a duet that's equal parts Humm and Chang: lightly poached Hawaiian blue prawns and heirloom tomatoes paired with charred corn, basil, crème fraîche dressing, pickled shallots, and, of course, some of Chang's tangy, spicy Ssäm Sauce. It will set you back $19, and as if the prospect of a rare Chang-Humm collaboration weren't convincing enough, $2 from each every order will benefit the Madison Square Boys & Girls Club.
This post has been updated to clarify that the dish will launch and only be served during dinner at both restaurants.