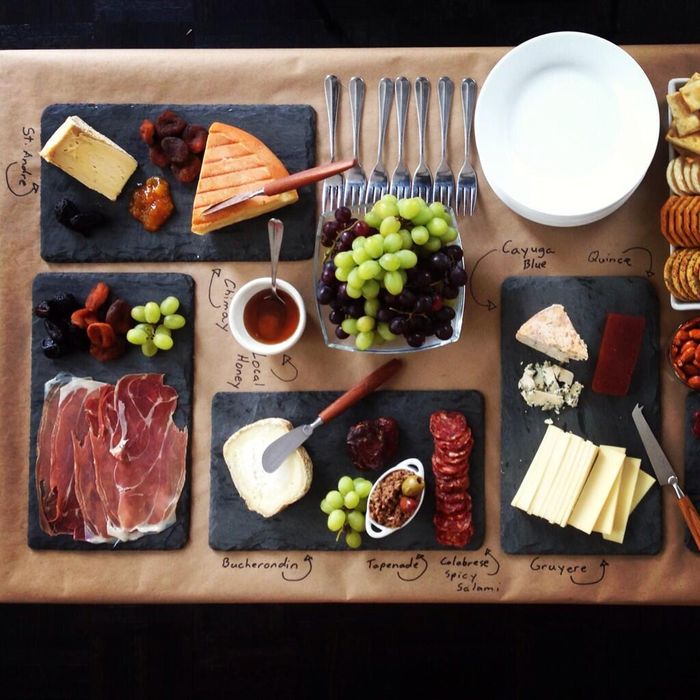 A cheese and charcuterie spread from Saucy by Nature.
Photo: Saucy by Nature/Twitter
Sick of seeing tasty organic ingredients he ordered for other people's catering jobs end up in the trash, Przemek Adolf, chef and owner of Brooklyn-based catering company Saucy by Nature and the brains behind some excellent condiments to boot, has decided to give leftovers a restaurant all their own. Adolf's new spot, also called Saucy by Nature, opens September 1 in Clinton Hill (884 Fulton Street) and features a menu that almost definitely changes daily.
That's because, as Adolf explains to DNAinfo, the catering business tends to force him into the uncomfortable position of buying more things than he can use: "Certain things come in certain sizes. I can't just order 12 and [a] half pounds of tomatoes … People wanting custom events — it actually creates a tremendous amount of waste." So, rather than throwing out a party's or wedding's or other event's leftovers, Adolf will follow Dan Barber's ambitious lead and build the next day's menu around them. Diners can go gauge his success for a lunch or dinner served family-style at a farm table. Probably for the sake of making stuff edible, he adds that he'll be rounding dishes out with a few traditional non-leftover ingredients as well.
[DNAinfo]