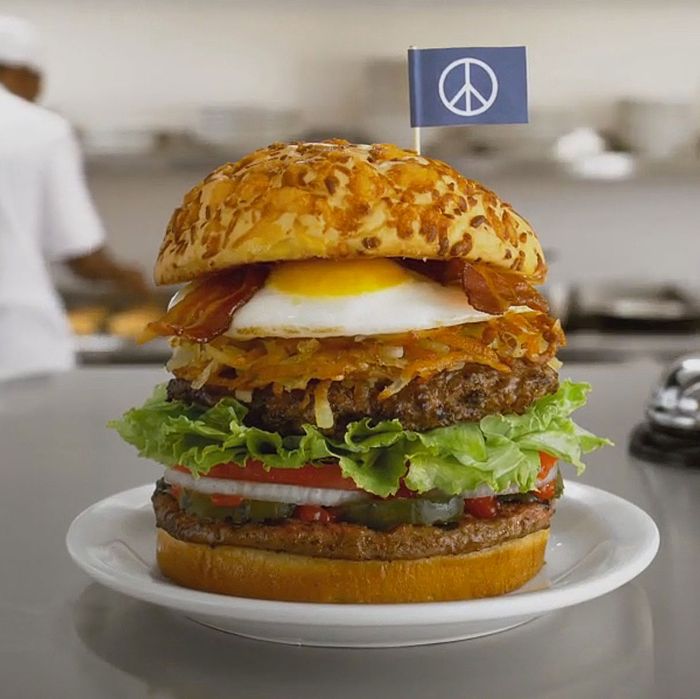 For a peace-loving burger, this looks weaponized.
Photo: Denny's
Burger King's ambitious call last week for a Big Mac–Whopper mashup continues to backfire, as not only did it get a very public nah from Mickey D's, but now the uncool kids of fast food are coming out of the woodwork to see if maybe they can collaborate as a runner-up.
Denny's entered the fray today with a full-page USA Today ad for its … well, it hasn't finalized a name yet, but the options on the table include Whoppaslam, Slamopper, and the Slopper. It'd theoretically be half–Whopper, half–Bacon Slamburger — an already-880-calorie sandwich that involves hash browns, a fried egg, and bacon.
hey @burgerking …or the Whoppaslam©? The Slopper©? The Slamopper©? wouldn't that be whopperslamalicious?! https://t.co/t1FACtBhgv— Denny's (@DennysDiner) August 29, 2015

Wayback Burgers, probably best known as the place that sells cricket milkshakes, suggests building something called the Whiple Whiple using its Triple Triple, a nine-patty monster. Krystal invented a Whopper slider (names it is mulling over: Kropper, Wystal, Tiny King).
Krystal ventures it would bring "Peace One Day's mission to life." Burger King hasn't bothered responding, but the group behind International Day of Peace sure did: