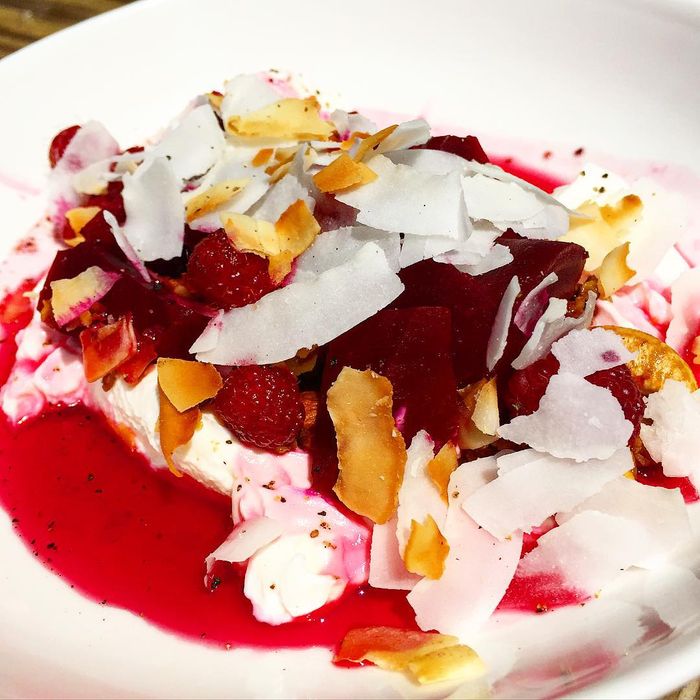 El Rey's lemon-roasted beets with granola, yogurt, and coconut.
Photo: Courtesy of El Rey
Gone are the days when the idea of "vegetarian cooking" also conjured up hippie vibes and bland dinners. As the Underground Gourmet predicted in 2010, there's a new breed of produce-forward, health-conscious food that goes way beyond kale salad and carrot juice — a movement that has only grown in the years since, with new dishes and new restaurants entering the fold at a rapid clip. And diners have responded: In a recent glowing review of El Rey Coffee Bar & Luncheonette, Times critic Pete Wells called the food "exactly what I felt like eating," and it seems plenty of people share the sentiment.
So, what should you eat now? Any of the 13 options below should do nicely. Even if the restaurants themselves aren't strictly vegetarian, these dishes are all light, healthy, and packed with vegetables, which is exactly the way you might feel like eating in these late-summer days.
Peachy Toast
Where: Dimes
Price: $6
Dimes has quickly become the go-to choice for healthy eating, but that doesn't mean you're stuck with things like raw-vegetable salads. This seasonal toast includes lavender goat cheese, honey, and basil.
Roasted-Mushroom Taco
Where: Seamore's
Price: $13
Local fish is the speciality here, but there are a ton of vegetarian options (and the impressive soft-serve, made by OddFellows, is vegan). Try the mushroom taco with eggplant, coconut, and cumin sauce.
Lemon-Roasted Beets
Where: El Rey
Price: $10
Chef Gerardo Gonzalez's newest dish is comprised of lemon-roasted beets, yogurt, housemade granola, coconut, honey, and black pepper. Like all of the food here, it feels like the right thing to eat, any time of day.
Green Tomatoes
Where: Superiority Burger
Price: $5
This is the move: In addition to the veggie burger, order any vegetable special that chef Brooks Headley offers on any given night. Come Thursday, he's making a green-tomato salad with bruised Thai basil, "the tiniest little squirt of the fancy olive oil," and chunky creamed corn, which comes with sourdough toast.
Buckwheat Pancakes
Where: Alta Linea
Price: $14
The High Line Hotel's outdoor, seasonal restaurant launches brunch this weekend with a menu that includes (slightly) virtuous buckwheat pancakes. The stack comes topped with cherries, brandied maple syrup, crème fraîche, and … chocolate!
Asparagus With an Egg Yolk
Where: Grand Army
Price: $13
Don't forget that this new-ish Boerum Hill spot has a dinner menu, and it's filled with fresh, light dishes. With an egg yolk, Pecorino, and a sprinkling of bonito flakes, the asparagus dish manages to feel like a modern update to a classic preparation.
Golden Farro With Peaches
Where: Nourish Kitchen + Table
Price: $6.50
The dishes at Nourish always look like something you could whip up at home — only they're executed perfectly with the freshest ingredients. This new grain salad combines satisfying farro with peaches, yellow beets, scallions, and Pecorino.
Toast With Melted Cheddar and Green-Tomato Jam
Where: Studio Café at the Whitney
Price: $14
Wells just awarded Untitled two stars, guaranteeing the restaurant will book up fast. The good news: Chef Michael Anthony is also overseeing the vegetable-forward food at the more casual upstairs café, where this not-so-simple toast is a menu highlight.
Verdure Verdi
Where: La Pecora Bianca
Price: $12
This brand-new Italian restaurant offers plenty of pasta, of course, but there are also intriguing vegetable dishes like this salad with sugar, snap, snow, and green peas; fava beans; asparagus; Pecorino; and goat-milk labneh.
Heirloom-Squash Pizza
Where: Upland
Price: $18
Everyone knows that pizza counts as health food when there's a vegetable on top. Justin Smillie's latest pie also includes tapenade, stracciatella, and chili.
Watermelon Gazpacho
Where: Cafe Clover
Price: $11
This slightly sweet chilled soup, with avocado and fine herbs, is super-refreshing.
Vegan Caesar Salad
Where: Narcissa
Price: $14
Chef John Fraser's at his best when cooking vegetables, and this salad — with Belgian endive, snap peas, and nori bread crumbs — is an excellent riff on a classic.
Tofu-Mushroom Rice Bowl
Where: Lumpia Shack Snackbar
Price: $12.50
With brown rice, an herb salad, pickled radishes, fried garlic, and a choice of protein and sauce, Lumpia's rice bowl makes for a bright, well-rounded meal. Grub suggests the tofu-and-mushroom topping with the creamy Bicol coconut sauce, if you can resist the siren song of the pork belly.