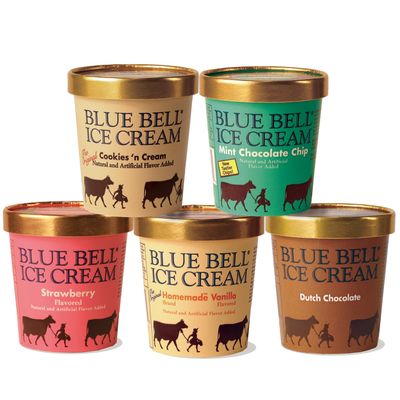 Yes!
Photo: Courtesy of Blue Bell
There's light at the end of the tunnel. After nearly five months, $10 million, 1,500 fired employees, the sale of one-third of its company ownership (to a billionaire oil heir), and a whiff of chicanery from its listeria-fear-fueled recall, Blue Bell has at long last started "crankin' ice cream" again — to quote its bubbly Facebook announcement:
We're busy at our Sylacauga, AL, facility crankin' out ice cream and building inventory. Stay tuned in the coming weeks for the details of our return!Posted by Blue Bell Ice Cream on Wednesday, August 5, 2015
Extensive testing found no signs of contamination at its Alabama facility, so health inspectors finally gave Blue Bell the all-clear, meaning the company "may produce anything they like from the Sylacauga plant." The company has already said it will start with half-gallons and expand to other products as soon as it can, but the official date, when all this crankin' finally translates to some grocery-store buyin', is still TBD. Expect it to be very soon, though. The summer will not end without a Moo Bar in your hands.