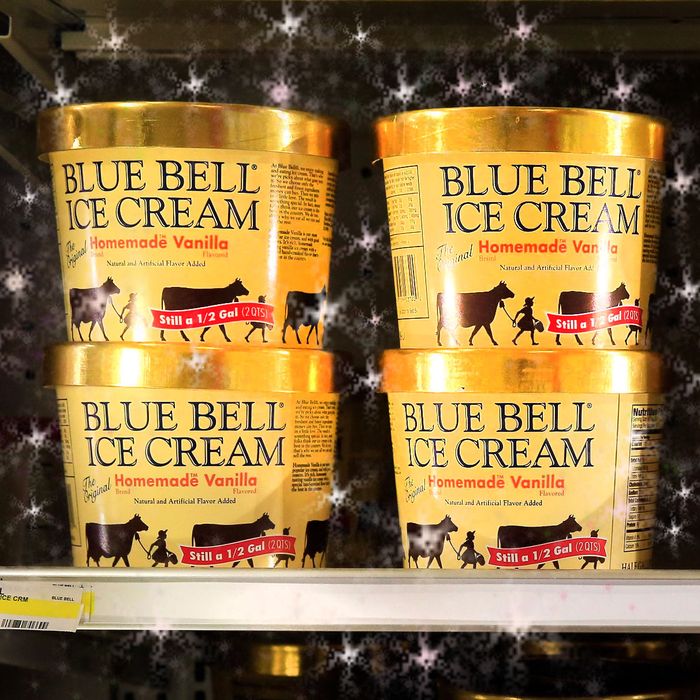 It's back!
Photo: Jamie Squire/Getty Images
Blue Bell's triumphant return to stores will commence in less than two weeks — on August 31, to be exact — kicking off an exciting, new listeria-free era for the company. The problem now, after recalling every single pint, is getting them back out to people fast and without causing summer riots.
As Ricky Dickson, Blue Bell's VP of sales and marketing, cautions:
Our return will include parts of 15 states, but will take some time as we work to restart operations at our production facilities. We're currently operating one production facility, which limits our capacity to return to all markets at the same time. It's kind of like trying to fill an Olympic-sized swimming pool with a single garden hose — it can be done, it's just gonna take some time.
Consequently, the return will follow a five-step phase, which Dickson lays out in the video below:
Here's the state-by-state breakdown of each phase. All the dates for phases two through four are still TBD.
Phase One: Central Texas, plus, naturally, the part of Alabama where the ice cream is being made
Phase Two: North central Texas and southern Oklahoma
Phase Three: Southwest Texas and central Oklahoma
Phase Four: The majority of Texas and southern Louisiana
Phase Five: The rest of Alabama, Oklahoma, and Texas, plus Arkansas, Florida, northern Louisiana, and Mississippi, and "only parts" of Georgia, Kentucky, Missouri, New Mexico, North Carolina, South Carolina, Tennessee, and Virginia