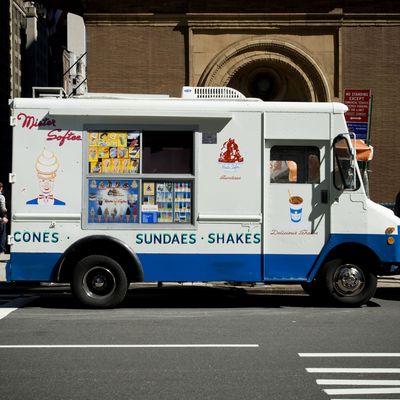 That's a lot of popsicles.
Photo: Richard Levine/Corbis
According to New York City police, a nefarious thief broke into an ice-cream truck parked in a private lot on Sackett Street in the Columbia Street Waterfront District over the weekend. After raiding the truck, the bandit made off with some $1,100 in Good Humor ice-cream Popsicles alone, $140 in ice-cream cones (he's probably set for a while), and eight Yogolicious ice creams that are worth $82.
Not content to stop there, he also stole $30 in almond and marshmallow toppings, a Sony television worth $400, $500 worth of "ice cream products," and some $2,200 in cash and coins. What exactly the coldhearted criminal plans to do with his chilly contraband is not yet clear, but let it be known: No Popsicles are safe while this bandit is still on the streets.
[DNAInfo]