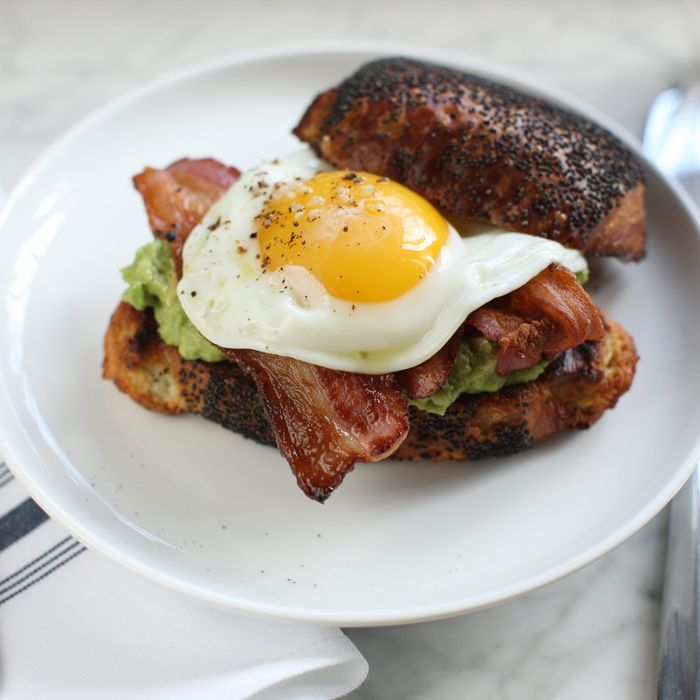 Estela has a great room during the day — and a killer breakfast sandwich.
Photo: Melissa Hom
Lauded, reviled, and pilloried, brunch is simply breakfast plus lunch, and it's hard to argue with that. Sometimes you're after a stellar room, other times it's all about the mimosas, and occasionally you're just in the mood for a heaping plate of eggs Benedict — that's okay, brunch is all about you. All of these are options during the day's most accommodating meal. Whether you want delicate global plates or gut-busting classics followed by a nap, here are the restaurants serving the best brunches in town.
Downtown
ABC Kitchen (Union Square)
For: Standards with a green-market bent.
Jean Georges's sustainability-minded venture is conveniently located in the ABC Home store, so once you're done with your scrambled eggs with hot-sauce butter, you can go browsing for Scandinavian chandeliers and trendy Ganesh statuettes. Waiters dress casual, tables are decorated with flowers, and the food is extremely well-executed. Brunch is still market-driven, but keeps the focus on the standards: seasonal glazed doughnuts, buttermilk pancakes with lemon curd, and buttermilk-and-Crawford-cheddar biscuits.
Buvette (West Village)
For: Excellent steamed eggs, and a meal alone at the bar.
The small dining room is always full, and the wait is often longer than you'd like, though the lovely street makes it more tolerable than most. But this is one place where the steamed eggs, made in an espresso machine, are actually different and good enough to justify the meal. Calmest in the early mornings, it's a great place to perch at the bar by yourself over some simple tartines and croque-monsieurs.
Birds & Bubbles (Lower East Side)
For: A southern-themed, Champagne-soaked morning.
This exceptional fried-chicken-centric restaurant, which has ushered in yet another moment in this seemingly endless comfort-food boom, is the place to go for a southern-themed midday feast in Manhattan. Owner Sarah Simmons, of City Grit, serves the kind of food and drink she likes to eat herself, fare that is informed but not restricted by the South, like sausage-gravy empanadas, hominy grits with pozole verde, and a chicken-and-egg biscuit with deviled-egg sauce.
Cherche Midi (Nolita)
For: McNally-style bistro classics.
Heavy-steel doors, soft yellow walls, and a classic mosaic floor decorate this French brassiere on the Bowery, exactingly executed in the time-honored Keith McNally mold. It feels like a Vegas version of McNally's best restaurants, but that doesn't mean the bistro cooking isn't supremely well-done. Brunch is hearty, classic, and comforting, with dishes like an opulent lobster scrambled eggs, a pot de fromage (Parmesan custard with anchovy toast), and a prime-rib burger with bacon marmalade for when you really need to soak up last night's booze. (And by the way, the brunch at McNally's older hot-spot, Minetta Tavern, is also superb, and it features one of the best French dips you'll ever eat.)
Dimes (Lower East Side)
For: A morning meal that will actually refresh you.
This sunny, health-minded brunch destination and hipster hangout makes the most of macrobiotic eating with nori wraps, pitaya bowls, and black-sesame matcha buns. The new, larger location also boasts a cocktail menu (perhaps a wheatgrass margarita to start the day?).
Estela (Nolita)
For: The most culinarily daring brunch in town, and a quieter meal at one of the city's most popular restaurants.
A small-plates-and-wine hot spot from chef Ignacio Mattos, this bar-restaurant serves what New York restaurant critic Adam Platt calls "the ultimate in brunchtime dining." Everything is delicious, from the egg, avocado, and pancetta sandwich to trademark Mattos dishes like burrata with salsa verde.
Empellón Taqueria (Greenwich Village)
For: A waffle worth ordering, and the best brunch tacos around.
At this hip, casually elegant, and always buzzing restaurant, former pastry wizard Alex Stupak serves a high-concept but, more important, absolutely delicious menu built around tacos. Brunch is more like what a New Yorker might serve in Mexico City: French toast made of churro but served with maple syrup; a classic, salsa-drenched torta ahogada; masa waffles; and tacos filled with braised bacon, deviled eggs with Yucatan sikil pak, or smoked salmon and cream cheese.
Il Buco Alimentari e Vineria (Noho)
For: Italian-accented eggs and sandwiches.
Scene-y and, with its brick walls and long communal tables, painstakingly rusticated, this Great Jones Street restaurant-market-café trades in house-baked breads, La Colombe coffee, and a devotion to ingredient-forward cooking. The busy brunch can come with straight-Italian dishes, like roasted gnocchi, or just Italian-inflected classics, like a crispy cod panini with Calabrian chilies or a waffle with fresh strawberries and mascarpone.
Maialino (Gramercy)
For: When you want to start your day off with top-notch service.
At Danny Meyer's Roman trattoria in the Gramercy Park Hotel, gaze out over Gramercy Park and watch men slice bread and meat. For brunch, Nick Anderer infuses American classics with an Italian lilt, serving sandwiches stuffed with roast pork and fried egg and some of New York's best sticky buns.
Nom Wah (Chinatown)
For: When you want dim sum from a city institution.
Thought to be the oldest dim-sum parlor in New York, this faithfully revitalized, family-operated tea and snack house is a New York institution. The red-and-white-checkered tablecloths and signage are totally retro, but the service isn't. In keeping with modern Hong Kong style, the restaurant dispenses with the carts and serves its excellent "original" egg rolls, steamed spare ribs, and rice rolls to order.
Russ & Daughters Café (Lower East Side)
For: A modern take on appetizing, the classic weekend ritual.
At the second establishment from appetizing's first family, fourth-generation operators Niki Russ Federman and Josh Russ Tupper have created a shrine to Eastern European cuisine and downtown Jewish food culture. Decorated with a herringbone-patterned marble floor in the front and anchored around a salmon slicing station, it's a place to kick back in throwback vinyl booths while noshing on herring and sipping on drinks that are part soda fountain, part mixology.
Shopsin's (Lower East Side)
For: When you want to remember you're in New York City.
The menu at Kenny Shopsin's eccentric diner inside Essex Street Market is puzzlingly long and the service remains gruff, to say the least, but it's worth it for wildly delicious dishes like Blisters on My Sisters and the towering "Castles": three patented hamburger sliders topped with scrambled eggs and cheese.
Santina (Meatpacking District)
For: A light and breezy meal that won't dull the senses.
Housed in a glass box underneath the High Line, this sunny coastal Italian restaurant from the Torrisi team favors seafood over meat and a lighter Mediterranean approach. The same holds true, mostly, during brunch, when you'll find Italianate riffs on standards like panettone French toast and a standout fish sandwich.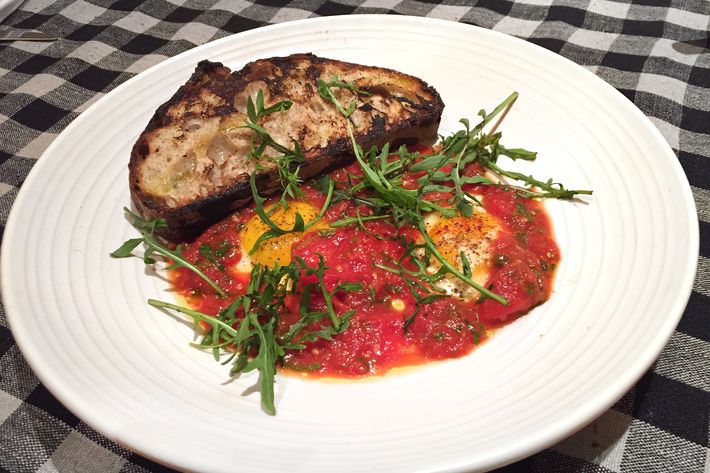 Upland (Kips Bay)
For: When you want to pretend you're in California.
Even the spaghetti gets a fried egg at this Cal-Ital restaurant from Justin Smillie, where the morning-meals wizard brings his vegetable-forward approach to brunch service. There are pizzas, pastas, and sandwiches alongside the usually belly-hugging suspects on this egg-heavy menu.
Veselka (East Village)
For: When you're in the mood for potato pancakes.
Downtown's favorite 24-hour Ukrainian diner, long a destination for pierogi and borscht, doesn't miss a beat with brunch, serving an abbreviated menu to bleary-eyed locals. Nothing is going to surprise you, but then soft-scrambled eggs with ramp butter wouldn't feel right with this old-school, mid-century aesthetic. What you'll get are the usual suspects with a slight Eastern European accent, like a Monte Cristo with spiced Polish sausage from East Village Meat Market instead of ham and, of course, plenty of potato pancakes with your wilted kale and eggs Benedict.
Midtown
DB Bistro Moderne (Midtown West)
For: When you can't make up your mind.
The food is almost always worth the wait at Daniel Boulud's handsome, contemporary bistro. The menu is made up of classic dishes with New American accents, like a sundried-tomato omelette and French toast on housemade brioche with almonds, marmalade, and fromage blanc. Coming here is one of the classiest ways to enjoy a lazy, fortifying meal over the weekend.
Má Pêche (Midtown West)
For: When you don't want to make up your mind all at once.
Last year, David Chang's midtown fine-dining spot was reinvented as a kind of postmodern dim-sum parlor, where passed plates mean a rotating selection of dishes like cheese dips and whatever else is on the chef's mind. Brunch is Momofuku classics and Americana breakfast food with some Asian influences, like an egg bun with maple bacon, and breakfast noodles with chorizo and queso fresco. Cocktails, too, are distributed by cart, so you can get those sriracha-spiked Bloody Marys on demand.
Marea (Midtown West)
For: A glitzy seafood fest.
At this glittering, fine-dining establishment on Central Park South, the dining room is decorated, fittingly, with twirling seashells hand-dipped in silver. Ingredients are similarly luxe, and the restaurant's seafood focus is not lost during brunch, when you'll find crudi and entrées like butter-poached halibut to go with plenty of rib-sticking renditions of chef Michael White's famous pastas.
Uptown
Barney Greengrass (Upper West City)
For: The classic spot for New York's original brunch.
For a bagel feast of the first order, this Formica-clad uptown haunt has scarce competition. The deli styles itself as the Sturgeon King, but it's not all smoked and pickled fish — there are 23 omelettes and egg dishes and eight kinds of egg sandwiches, too.
The Cecil (Harlem)
For: When you want a modern Harlem meal.
Styling itself as an "African-Asian-American brasserie, this warm-toned, handsome restaurant pairs eclectic, global cooking with a Harlem state of mind. During brunch, chef JJ Johnson takes a notably heartier approach to his cooking, pairing brisket with fried rice, serving fusion mash-ups like roti pizza and unconventional "dim sum"-like sake-braised lamb ribs, and creative, full-throttle takes on brunch standards like an open-faced breakfast sandwich with duck-fat mayo.
The East Pole (Upper East Side)
For: When you live uptown, but want a downtown vibe.
Bucking the sheltered, trend-averse style of the Upper East Side, the East Pole brings a more contemporary style to the neighborhood with its bare-bones aesthetic and a map on the menu's back for locating purveyors. One of the owners is from downtown's popular the Fat Radish, the other two from Brinkley's, and they've brought that populist locavore style uptown with them, rejiggering it for the local clientele. During brunch, there are morning-friendly cocktails like a Sicilian blood-orange mimosa to go with fresh juices, housemade granola, and a nice split of vegetable-heavy and meaty classics.
Ginny's Supper Club and Red Rooster (Harlem)
For: A celebrity chef's take on the gospel brunch.
In the great tradition of the neighborhood, the basement lounge at Marcus Samuelsson's ode to down-home southern cooking offers a gospel brunch on Sundays. The ticketed event features a spread of fried yard bird and breakfast pastries set to the tune of Vy Higginsen#&8217;s Gospel for Teens Choir. There's a noteworthy brunch at the restaurant upstairs, too, where Samuelsson serves his eclectic take on soul food, influenced in equal parts by his Ethiopian heritage and Swedish upbringing.
Jacob's Pickles (Upper West Side)
For: Those times when what you need is new-school comfort food and lots of pickles.
The wood-hewn spot specializing in all things brined goes all in during brunch, bringing its menu of pickle-garnished comfort food to hungry, late-rising Upper West Siders. The trendy menu is divided into gut-busting categories like biscuit breakfast sandwiches, coop and bakery, and home cooking, but you'll want to make sure you get a couple pints from their impressive selection of craft beers.
The Mark (Upper East Side)
For: The best people-watching in the neighborhood.
Sure, Jean-Georges Vongerichten's UES spot caters to the settled tastes of the locals — the famous chef debuted his first burger here — but if you want to see, and be seen, by the Upper East Side throngs, this cheerful, opulent hotel-restaurant is the place to go. There are smoothies and a raw bar for people who like their brunches on the lighter side, as well as a solid if not entirely unpredictable menu of eggs, buttermilk pancakes, and a smoked-salmon platter.
Red Farm (Upper West Side and Greenwich Village)
For: Those times when nothing but dumplings will do.
Ed Schoenfeld has played a part in nearly every Chinese dining trend to hit New York, and at this restaurant, fashionably designed to look like a barnyard, he's working with chef Joe Ng to reinvigorate the tired tropes of American-Chinese food. The key is to turn your attention to the dim sum — Ng's specialty and the Chinese answer to brunch — along with the small plates like crispy beef.
Central and South Brooklyn
The Farm on Adderley (Ditmas Park)
For: When you need a place to take the family.
A laid-back take on the bistro that epitomizes the "local and seasonal" slant of so many nuevo-Brooklyn restaurants, this Ditmas Park favorite is a family-friendly operation. During brunch, you can zero in on the housemade granola without sacrificing flavor, but there's plenty for those looking for a heartier meal, like chicken schnitzel with a sunny-side egg, red-flannel hash, and an adult grilled cheese served on multigrain.
Fort Defiance (Red Hook)
For: When you'd rather be spending the weekend in New Orleans.
This modest establishment aspires to be an inviting neighborhood social center, so it's no accident that it's a café-bar-soda fountain all in one room. It's best known for its high-caliber cocktails, from the Pegu Club-trained owner St. John Frizell, but the brunch is satisfying and encourages lazy lingering. The menu leans towards pan-southern, pairing skillet cornbread and collard greens with poached eggs, and smart New Orleans influence shows up in dishes like Creole red beans on toast with andouille and pickled onions.
Mile End (Boerum Hill and Noho)
For: New York's top Montreal-style smoked meat and a neo-deli vibe.
The brunch is meaty and loaded with refreshed takes on Jewish classics, dishes that your grandkids will say bubbe cooked, at this Canadian-ish deli for the locavore set. Montreal-style bagels from owner Noah Bernamoff's Black Seed are a recent addition, available alongside the classics, which the menu skews toward, like smoked meat, challah French toast, the breakfast sandwich (fried eggs, cheddar, and bacon on rye), and, of course, variations on poutine, French fries, and cheese curds soused in brown gravy.
Nightingale 9 (Carroll Gardens)
For: You want to eat Vietnamese.
The Arkansas-born chef Rob Newton, who made his name with his dressed-up southern cuisine at Seersucker, doesn't serve your typical brunch at Nightingale 9. Rather, at this Dixieland-meets-Hanoi noodle shop, he's serving creative riffs on traditional dishes like lemongrass pork chops with an egg and waffled bánh xeo served alongside "black caramel sauce" (black vinegar, fish sauce, palm sugar).
Prime Meats (Carroll Gardens)
For: When you want several kinds of sausages.
An ode to the great German restaurants of earlier years in a Prohibition-style space, this Court Street destination is from the red-sauce revivalists behind Frankie's. The coffee is serious (Stumptown trains the baristas), real attention is paid to finding meat and produce from great local farms, and nearly everything, from the rillettes to the sausages, is done in-house. There are, of course, lots of encased meats in the many hearty dishes, like a traditional weisswurst, a New York classic sausage, egg, and cheese on a biscuit, and a bratwurst with sautéed mushrooms.
Tom's Restaurant (Prospect Heights)
For: When you just want old-fashioned diner classics.
It's been around since 1936, and lines still snake around the corner, thanks to exceptional service (including free coffee, cookies, and orange slices when waiting in line) and a lengthy, playful menu with tons of "Omelette Extravaganzas" and 15 styles of flapjacks ranging from harvest pancakes with corn to sweet potato with bacon and flavored butters.
North Brooklyn
Delaware & Hudson (Williamsburg)
For: A spread of American classics.
At this snug Michelin-starred restaurant in Williamsburg, the kitchen takes inspiration from the oft-overlooked cooking of the Mid-Atlantic states. Exposed rafters and pickle jars used for décor match the menu's hyperseasonal bent, which will have you tucking into regional delicacies like Baltimore crab cakes, corn mush (fried cornmeal pudding), cinnamon doughnuts, and an Amish-style chicken potpie. Wash it all down with a coffee egg cream, the ultimate brunchtime ode to New York.
Egg (Williamsburg)
For: Those who know breakfast is the only meal that matters.
After it opened as a mornings-only pop-up inside another restaurant in 2005, this southern comfort spot's breakfast became so popular they bought out their host and became an all-day affair. Over the last decade, it's established itself as Williamsburg's consummate brunch spot, home to Eggs Rothko (easy-cooked egg in a slice of brioche), duck hash, and classic pancakes with Vermont maple syrup.
Okonomi (Williamsburg)
For: A Japanese spin on lean cuisine.
If all you know about the lean side of brunch is a kid's-size portion of oatmeal and grapefruit, then ichiju sansai will be a game-changer. Co-chefs Yuji Haraguchi and Tara Norvell are serving a meal typically encountered in posh Japanese hotels, local seafood served with a cube of Japanese omelette, tofu-dressed broccoli rabe, brown rice with kombu, and miso soup. It's at once nourishing and delicious.
Reynard (Williamsburg)
For: A day-starting meal with the Williamsburg elite.
Andrew Tarlow's first foray into hotel restaurants takes him to a recently restored warehouse on once-industrial Wythe Avenue, where the kitchen takes a seasonal approach to bistro classics. Brunch is refined, rustic, and concise, as it tends to be at Tarlow's restaurants, with a little bit of something for everyone. The menu changes daily, but you're liable to find dishes like beets with smoked whitefish, a fried-chicken sandwich with pickled peppers, and a chef-y egg sandwich with ham and Gruyère.
Roberta's (Bushwick)
For: When you want pizza with your eggs.
What started out as an unheated converted warehouse with no gas is now a perpetually mobbed, sprawling pizzeria-and-then-some dining destination. The pies are what made this place famous, but the kitchen excels with pasta and vegetables, and puts creative spins on brunch standards like cornmeal pancakes and bacon, egg, and cheese on a croissant.
Queens
Casa Enrique (Long Island City)
For: South of the border pick-me-ups.
New York's only Michelin-starred Mexican restaurant serves a menu inspired by Chiapas, Mexico's southernmost state. With its metal bar, skinny hanging lamps, and white furniture, the dining room feels stark and industrial. But the service is friendly and relaxed and the food typically excellent, from the invigorating rajas con crema to the bruschettalike molletes with chorizo and, the ultimate south-of-the-border hangover cure, chilaquiles.
Court Square Diner (Long Island City)
For: The classics.
A no-frills, old-school diner of the first order, this chrome, 1950s-era establishment doesn't try to woo or wow you. But for a solid, restorative, and inexpensive meal of American breakfast staples with a surprisingly welcoming atmosphere, it's hard to do better.
Queens Comfort (Astoria)
For: A gut-busting hangover cure.
At this casual, eclectic restaurant decorated with stuffed cereal mascots, superhero figurines, and other assorted collectibles, you bring your own booze and the brunch waits often last hours. But devoted locals say the food, which draws inspiration from California to Cajun Country, is absolutely worth it. It's a zany, gut-busting take on Americana, with seven super-charged spins on eggs Benedict, sriracha macaroni-and-cheese fritters (Atomic Fire Balls), and rotating desserts like homemade Oreo-ice-cream pie.
Queens Kickshaw (Astoria)
For: When you want to keep it vegetarian.
It's all about the vegetables, day and night, at this specialty coffee, craft beer, and chef-y grilled-cheese local favorite. The first restaurant from the couple behind Lower East Side cider emporium Wassail, they place an equally serious emphasis on their beverages here. The coffee's no slouch, and you'll find some good cider, too, but you'll want to make sure you pair it with a few dishes from their menu of eggs and classics, like a mushroom-and-ricotta quiche or an egg-and-cheese sandwich with maple hot sauce.
Places to Avoid
Yes, some of these are classics, and all are immensely popular, but the truth is that the last thing you want in the morning is to wait four hours just to deal with crowds of tourists and other harried New Yorkers only to pay a small fortune for poached eggs.
Balthazar
The $22 brioche French toast is just one of many overpriced dishes that isn't worth the hassle of dealing with a huge room full of wall-to-wall tourists. Better to go to one of Keith McNally's other spots instead.
Clinton Street Baking Co. & Restaurant
Pancakes are fine and good, but waiting in line for several hours for them — when there are perfectly good pancakes all over town — is never worth it.
Norma's
Grub could go on and on about this overrated destination, but let's just keep it simple: They serve a $1,000 lobster frittata, and you really don't want to eat anywhere that does that.
Tavern on the Green
The reboot has been universally panned as a disaster, and there's just no reason to go here at any time — but especially not when you're getting your day started.
… And then there's Prune.
Gabrielle Hamilton is one of the city's most respected chefs. It's a lovely restaurant. And every tourist in New York has heard, or read, or seen something on TV telling them that they just must go here for brunch. All Grub Street will say on the matter is that you should weigh all these factors and decide for yourself if it's worth it.
Further Reading
It's Time to Shut Up About Brunch
A Skirmish in the War on Brunch [NYer]
Brunch, From Sleepy to Showoff [NYT]
More Restaurant Suggestions From Grub Street
Where to Eat the Best Ramen in NYC
Where to Find the Best Tacos in NYC
Where to Eat the Best Sushi in NYC
Where to Eat the Best Late-Night Food in NYC
These Are the Best Date Restaurants in New York
The Best NYC Restaurants for Groups
Where To Drink the Best Coffee in NYC
These Are New York's Best Bars for Cocktails
Where to Eat the Best Steaks in NYC
This post is updated regularly.