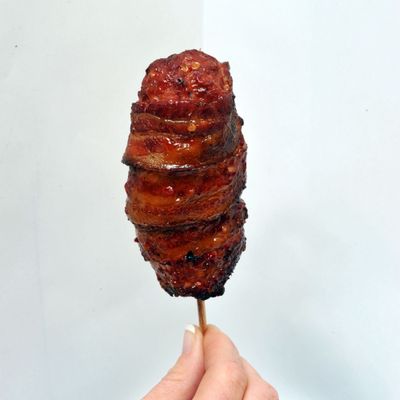 It beat out deep-fried pie.
Photo: Iowa State Fair
If the Iowa State Fair is a hotbed of temptation for dieting presidential candidates, they should focus their attention on the crowd-sourced choice for best food item: bacon-wrapped brisket. The Rib Shack takes brisket trimmings, infuses them with jalapeno cheese and seasonings, wraps them in bacon, and then smokes the whole thing and covers it in sweet-chili BBQ sauce. It beat out items like Corn in a Cup (been there, done that), Toasted Coconut Caramel Cluster (seriously?), and deep-fried cherry pie on a stick (amateur hour), and as it turns out, the Rib Shack also won last year's contest with its smoked brisket and bacon mac and cheese. The 'Ultimate Bacon Brisket Bomb' costs $7 and 640 calories, and will be available through August 23.
[Fox]