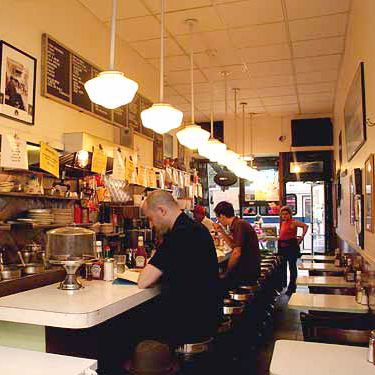 The way the restaurant will hopefully look again very soon.
Photo: Youngna Park
Of course a number of East Village businesses were shuttered in the wake of last spring's tragic Second Avenue explosion, and perhaps no place has struggled more to reopen than the classic B&H, which as of now is still closed. The main reason: a series of setbacks involving city agencies, repairs, and mandated upgrades to the space — a ton of red tape, basically. Fortunately, the community has rallied to help out — but no matter how much support the restaurant gets from its neighbors, no mom-and-pop restaurant can withstand losing more than a third of a year of business and counting. A new crowd-funding campaign has been launched (and is close to meeting its $30,000 goal), and one neighbor in particular — Andy Reynolds — has become a vocal advocate for the beloved spot, doing everything he can to help see owners Fawzy and Ola Abdelwahed get back on their feet.
This past weekend, then, called for something of a mini-celebration: After yet another setback earlier in the week, the Department of Buildings finally signed off on its inspection — a major step in getting the restaurant approved to reopen. In the wake of that, Grub got on the phone with Fawzy to see exactly what's going on and to find out when he expects to reopen.
You've been closed now for a little more than four months, correct?
Yes. Since March 26 at 3:30 p.m.
The reopening has been such a visibly protracted process — but passing the DOB inspection this weekend was something of a breakthrough moment, so congratulations.
Thank you very much. Yes, we passed the inspection, we passed the inspection. But we needed some up-to-date information on the system.
The system?
Yes. In the city, like for the building department, all of the updates and upgrades must be on the system. It may take a couple more days. And after it's submitted in the system, it's already shown there, and then we can have Con Edison come and turn on the gas
Okay, so you're waiting for the city to register the inspection officially. And Con Edison is the final step for you?
Absolutely, yes. That's the last step.
Have you been in touch with Con Edison? Have they said, "We're going to come as soon as we can?"
It's very hard to be in touch with Con Edison, because right now it's all over the city. But we have [an official at the city's Department of Small Business Services]; she has helped us so much to get in check with all of the bases — Con Edison, the fire department, the building department, and has met all of the appointments. Her name is Bernadette. She helped us a lot to get it done as quickly as possible.
It looks like you've had a lot of support from the neighborhood and regular customers, too. The crowd-funding campaign is such a vote of confidence in the business.
I want to mention one thing. Knowing the people who have supported and wanted this place to be open, I cannot forget what they've done to help me. I could not have built the shop without my — our — customers. I don't believe how much they have helped me and support me for the place to be open.
How did Andy [Reynolds] get involved? He's been a huge advocate and has been reaching out to the media on your behalf. Is he a neighbor, a friend?
Andy, first of all, is a regular customer. Second of all, he's one of our good friends. Third of all, he's a neighbor, so he's there every day. If he doesn't come to eat, he'll say hello. He's here every day, a couple of times. We have a very good relationship with him, he's a great guy, a great guy,
So what's the best-case scenario for your reopening right now? I saw estimates that you could be open in a week. Is that realistic?
Realistic, yeah. It could be a week to ten days max. Once I get the Con Edison on, I have to take a couple of days to get the restaurant back in shape, stock all of the food, and cook all of the food. Before I serve anything, I have to call the Health Department to be inspected one more time before I open.
That's quite a few people.
But it's fine. I'm really familiar with all of the inspections. It gets hard lately because of the situation — usually we have a lot of inspections going on all the time.
What about staff? Will you hire new people, or will people come back? I know some people got other jobs.
After the first week we were closed after the explosion, the picture didn't look clear to me. I didn't know how long we were going to stay [closed] — a week, a month. I told [the staff] from the beginning, "If we're not open by this week, you must find a part-time job or try to." I was not sure when we were going to open. So for now this staff has been working with me for a long, long time; we almost call each other every day. Hopefully we'll get back together as soon as we open.
Do you have anything changes planned for when you reopen, or is it going to be right how it was in March?
No, it's going to be exactly the same, you know? Always the same since the beginning, and it's going to keep the same.