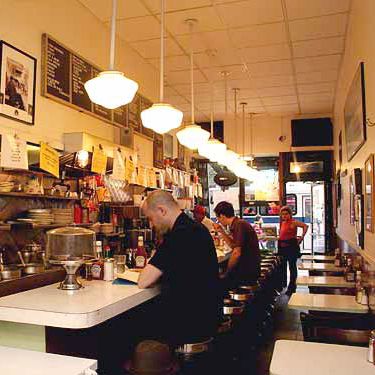 The gas is on at the venerated neighborhood institution.
Photo: Youngna Park
Great news: Last week, Fawzy and Ola Abdelwahed, the owners of B&H, which has been closed since the Second Avenue explosion in March, were in a celebratory mood when the DOB finally signed off on the building, allowing the duo to finally get closer to reopening. Of course there were still a few more details to iron out, specifically getting ConEd to come and turn on the gas.
Well, last night the restaurant's Facebook page lit up after the group posted that the gas is, in fact, on, and the restaurant will reopen this Friday. Andy Reynolds, a neighbor who has been an advocate for the restaurant since it closed, confirms the news and says the place will be open again at 9 a.m. tomorrow. (The opening time has been pushed back from the usual 7 a.m. time for "a couple days" to help work out reopening kinks.*) Reynolds also says that Bernadette Nation, an official at the city's Department of Small Business Services, was crucial in getting the restaurant back on track as quickly as possible. (It's worth noting here as well that a crowdfunding campaign to help the owners get back on their feet after being closed for four and a half months is still a few thousand dollars short of its goal.)
In any event, this looks like it's going to be a story with a happy ending, so as soon as the doors are open, go, then go back again, and support some owners who could definitely use your patronage.
*This post has been updated to show that the reopening time has changed.