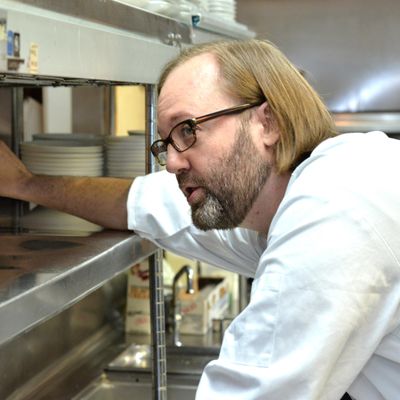 Dufresne on the line.
Photo: Dylan Rives/Getty Images
In less than four weeks, Wylie Dufresne will shutter his gastropub, Alder. The news, which the chef announced on Twitter, comes less than a year after the closing of Dufresne's pioneering and highly influential wd~50, which closed after more than a decade on Clinton Street and helped to launch the careers of chefs as varied as Christina Tosi, Alex Stupak, and Mario Carbone.
Alder received some critical acclaim during its two-and-a-half-year tenure in the East Village, and Adam Platt named it one of the city's top tasting menus after it transitioned into the format, but Alder never seemed to really catch on or develop much of a consistent crowd (even after the addition of a well-received burger).
Alder's closure will mark the first time the chef hasn't had a restaurant in the city in 12 years, though he's not exactly down for the count. Earlier this year, Dufresne said he will be opening a new restaurant in the Financial District, and the Post reported that the chef will help Dufresne's father, Dewey, with his (perpetually) forthcoming Clinton Street sandwich shop. Still, it's sad news for fans of the ultramodern style of cooking that Dufresne alone seemed to — no longer? — make it work in New York.
[Eater]