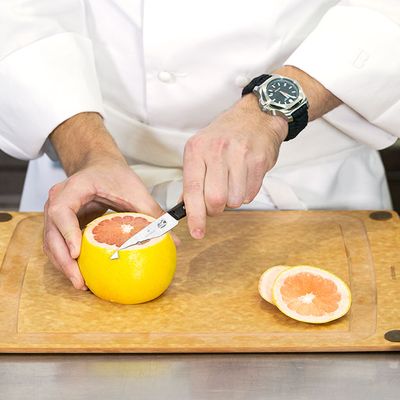 An artist is only as good as his tools. For Daniel Humm, chef/owner of Michelin three-star restaurant Eleven Madison Park and The NoMad in New York City, those tools are extraordinary. Here, the award-winning chef schools us on the proper technique for handling the staple that belongs in every kitchen, the paring knife.
Knowing how to work with knives is critical to cooking success, and equipping yourself with the right knife for the right job is key. The short blade of the Victorinox Rosewood paring knife is ideal for small precision cuts where control is essential, like seeding jalapeños, mincing shallots or garlic, and coring tomatoes. Learn
to cut: Garlic Brussels Sprouts Turnip Grapefruit Previous Vegetable
Garlic
Next Vegetable
Garlic
Peel Garlic:
• Remove the papery skin from around the garlic bulb
• Break off the individual cloves and remove the end attached to the root
• Using the tip of the knife, peel the skin back from the root end
• Repeat around entire clove
Previous Vegetable
Brussels Sprouts
Next Vegetable
Brussels Sprouts
Trim Brussels Sprouts:
• Slice the end of the core off
• Remove the outer leaves
• Slice in half
• Repeat
Previous Vegetable
Turnip
Next Vegetable
Turnip
Clean a Turnip
• Remove the greens leaving a ¼" of the stem
• Take the tip of the knife and scrape around the stem
• Starting next to the stem, slice down the outside of the turnip, following the natural curve, to remove the skin
• Repeat four or five times around the turnip until it is completely peeled
Previous Vegetable
Grapefruit
Next Vegetable
Grapefruit
Supreme a Grapefruit:
• Slice off the top and bottom caps of the peel
• Rest on the cutting board and whittle away the peel and pith
• Follow the contour of the fruit, leaving as much fruit as you can behind
• Slice lengthwise between segments and the membrane until you reach the center
Visit nymag.com/MeetTheManWho, and enter for your chance to win dinner for two at The NoMad and meet Daniel Humm.What Is a Sponsor Story?