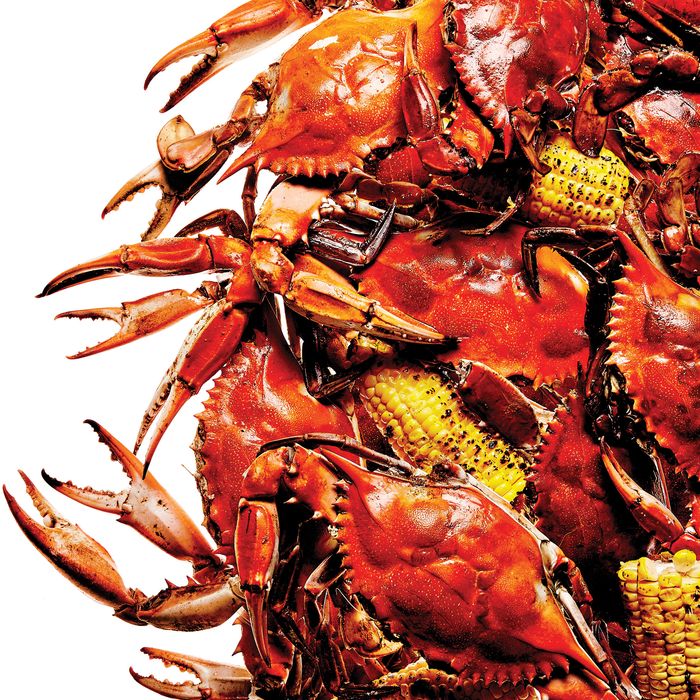 The Hideaway Seaport's crab boil.
Photo: Bobby Doherty/New York Magazine
Communal, messy, and seasonal: The seafood boil is a regional nautical tradition that's taken up residence here, with restaurants looking to drum up summer-doldrums business and those stuck in town trying to pretend otherwise — by donning bibs and gloves and smashing spiced crabs over newspapers. Here, a look at some of the city's various boils, from large-format prix fixe feasts to scaled-down à la carte options. But hurry up: Many have a Labor Day expiration date.
Miss Lily's 7A's Jerk Crab Boil
109 Ave. A, at 7th St.; 212-812-1482. Mondays through Labor Day (make a reservation); $38 per person.
The fixed-price menu buys you a couple of ears of corn (fresh and juicy, the best on this list — others tasted frozen); boiled potatoes; charred-pineapple slaw; and festivals, funnel-cake-like cornmeal fritters useful for soaking up the remnants of the main-event bowl: six or seven crabs, all big, meaty, and lightly seasoned with peppers and allspice. Plus: banana pudding, and a Red Stripe six-pack for $22.
Peaches Hothouse's Lowcountry Shrimp Boil
415 Tompkins Ave., at Hancock St., Bedford-Stuyvesant; 718-483-9111. $16 à la carte.
Unsurprisingly, given the restaurant's signature Nashville hot chicken, this dish — a.k.a. Frogmore stew, after a coastal Carolina community — is aggressively spicy. A dozen or so baby shrimp absorb the garlicky broth, mingling with a hearty helping of andouille-sausage slices, kale, and three pieces of corn (a bit tricky to manage, as the dish is served near boiling without picks). Affordable, delicious, and one of the only options geared to solo diners.
The Hideaway Seaport's Maryland Crab Boils
22 Peck Slip., at Water St.; 212-385-2222. Sun.-Tues. through September; from $65.
This offspring of Tribeca's Hideaway will put together a menu for groups of any size; six crabs will do for two and come with fries, corn, slaw, and salad, all spread out on butcher paper and accompanied by vinegar and a one-pound shaker of Old Bay (in case the seeming pound covering the crabs isn't enough). There's no pretentiousness, no shtick — just solid seafood and
a cheerful, relaxed atmosphere.
Aquaboil Pop-up at Dassara Ramen's Creole-Japanese Seafood
271 Smith St., nr. Degraw St., Carroll Gardens; 718-643-0781. Through Labor Day; $12 to $32.
In addition to the regular ramen this summer, Dassara chef Pablo Ventura serves the "AquaBoil" menu — Creole-Japanese seafood dishes — à la carte. The lobsters are sourced from an island near Nova Scotia, and, according to the chef, they arrive "so fresh they are trying to eat each other." The Fourchu lobster is swell in Hondashi Creole sauce (togarashi, yuzu, ginger, garlic, butter). But the star's the shrimp-boil mazemen — head-on shrimp atop noodles with a little rich, zesty broth. Order the Japanese milk bread to sop that up.
Back Forty West's Communal Crab Boil
70 Prince St., at Crosby St.; 212-219-8570. Tuesdays through Labor Day; buy tickets in advance ($79, including tax and tip).
At this seasonal-boil pioneer, things can be a bit uncomfortable at first — you share tables with strangers; there's no silverware; food's brought on shared plates; and at first you feel you have to ration out the terrific cornbread, smashed potatoes, grilled ears of corn, and meaty crabs coated in a housemade Old Bay-style seasoning. And then as you near the end of the first round, your server comes bearing another bucket, ceremoniously dumping more crustaceans over your newsprint tablecloth. Then another. And, if you don't say stop, another. The whole thing begins to feel like a family party. ($15 pitchers of Lionshead pilsner help.)
Itz Fire's Korean-Cajun Boils
242-03 Northern Blvd., Little Neck; 347-408-4802. From $11 per pound.
This fusion establishment (Asian-Cajun's a burgeoning trend, believe it or not) provides bibs, buckets of napkins, and disposable gloves, plus a tablecloth at the first mention of the word boil. There's Louisiana crawfish, shell-on shrimp, and mussels, all served in a plastic bag, coated less in a broth than a thick Korean-inspired chile paste that comes in "No Fire," "Fire," and "Itz Fire" spice levels. Even with just Fire, you want to order the sides of rice and sautéed potatoes to quell the heat. The atmosphere is curious (Our World War plays on an above-bar TV), but the boils, particularly the mussels, are great.
Just Beclaws's Boils by the Pound
280 1st St., nr. Jersey Ave., Jersey City, N.J.; 201-459-9100. From $12 per pound.
At this dedicated boil joint owned by Vietnamese brothers, you can see the Asian influence on the mostly Cajun-style menu in options like adding noodles to your bag of mussels. Try the littleneck clams in the house sauce (with lemon pepper, Cajun seasoning, butter, and clove after clove's worth of sautéed garlic). Lots of the boils around town are pretty spicy, but Just Beclaws offers several milder sauces like a simple lemon pepper. Also: There's a trough sink designated for post-pick cleaning, and the restaurant's currently BYOB.
*This article appears in the August 10, 2015 issue of New York Magazine.