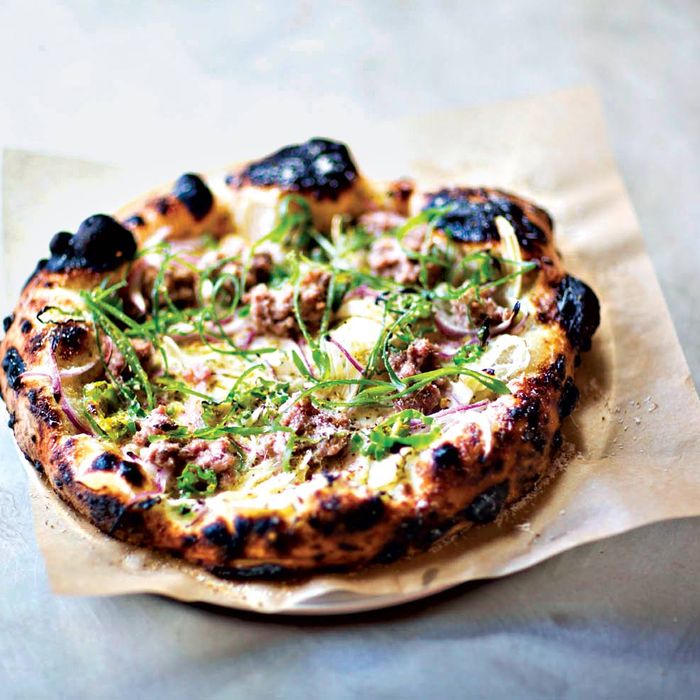 L'Amico: Esposito's Sausage Pizza.
Photo: Quentin Bacon/Courtesy of L'Amico
August:
Jams by Jonathan Waxman
1414 Sixth Ave., at 58th St.; 212-703-2007.
Jonathan Waxman reincarnates his '80s-era Jams, New York's first purveyor of California cuisine, a category the chef defines as "a bit of Italy … a smattering of Mexico, a solid foot in French cuisine, a touch of Asia," plus some Mediterranean and American thrown in. For some, it all boils down to Waxman's signature chicken and fries. (Read more.)
Kat & Theo
5 W. 21st St., at Fifth Ave.; 212-380-1950.
Queens-born chef Paras Shah did time at Momofuku Noodle Bar and cooked around Spain for a year, ending up, as ambitious young chefs are wont to do, staging at El Bulli. He'll bring that experience to this 70-seat Flatiron restaurant and its New American, Mediterranean-accented menu. Serena Chow, formerly of Pearl & Ash, is the pastry chef.
September:
Archestratus Books & Foods
160 Huron St., nr. Manhattan Ave., Greenpoint; 718-349-7711.
Paige Lipari honors the memory of her grandparents' 1960s Bushwick latteria with this bookstore-café, where she'll sell all manner of food-themed books, plus housemade Sicilian sweet and savory snacks from arancini to cannoli. Also on the menu: cooking classes, poetry readings, and dinner theater.
Black Seed Bagels
176 First Ave., nr. 11th St.; no phone yet.
The Montreal-meets-Manhattan bagelry has annexed the historic De Robertis pasticceria for its third (and largest) location. (Read more.)
Dimes Deli
143 Division St., at Canal St.; 212-240-9410.
Dimes expands its East Chinatown hipster-healthy presence with a takeout shop and adjacent produce market, which means you'll be able to stock up on local and organic veggies, holistic apothecary items, and grab-and-go chia puddings and grain bowls — and even snag one of the city's best egg sandwiches for the road.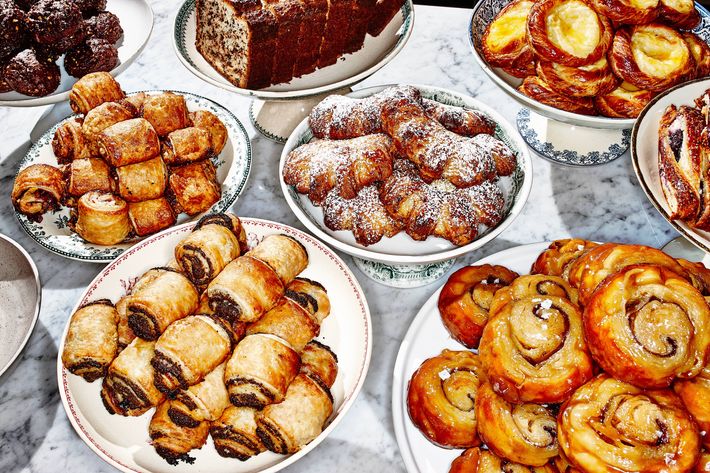 El Atoradero Brooklyn
708 Washington Ave., nr. Prospect Pl., Prospect Heights; no phone yet.
Denisse Lina Chavez is like an aspiring Lidia Bastianich of home-style Mexican cooking — a talented, energetic chef with a boundless desire to share a culture through food. She brings her antojitos, cemitas, carnitas, mole poblano, and more to a Brooklyn space that is practically palatial compared to her recently shuttered South Bronx storefront.
L'Amico
849 Sixth Ave., at 30th St.; 212-201-4065.
Laurent Tourondel has stealthily been fine-tuning the dishes for L'Amico, his Italian-accented restaurant at the Eventi hotel, for a while now, trying them out on unsuspecting revelers who gather nightly at the hotel's bar, the Vine, and who probably have no idea the man roasting their wood-oven chicken and smoking their gnudi got his start cooking for the admiral of the French navy. Based on a couple of Vine visits, we can already tell you that we're impressed. And judging by the soppressata picante pie, you'd think that Tourondel, who's making his New York pizza debut, had been stretching dough and moving Margheritas around the oven's hot spot all his life.
Le Garage
159B Central Ave., entrance at Suydam St., Bushwick; no phone yet.
Rachel Allswang and her Paris chef-restaurateur mother Catherine Allswang are cleaning out an old Bushwick garage and converting it into a neighborhood restaurant. Rachel, a former interior designer (who's also done front-of-house stints at ABC Kitchen and Prime Meats) is in charge of the look (open kitchen, concrete floors, burnt-orange banquettes), while mom's in the kitchen turning out seasonally inspired, French-accented dishes like pork-cheek confit and stuffed potatoes with snails, herbs, and sorrel.
Lilia
567 Union Ave., at N. 10th St., Williamsburg; no phone yet.
Missy Robbins finds life after A Voce in a rehabbed Williamsburg auto body garage. (Read more.)
Llama Inn
50 Withers St., nr. Lorimer St., Williamsburg; 718-387-3434.
Erik Ramirez (late of Raymi and Eleven Madison Park) mines his Peruvian heritage and stints in some of Lima's top kitchens for a menu that takes a refined New York approach to Peruvian flavors. Some dishes will be served family style (beef tenderloin stir-fry with scallion pancakes), others by the piece (skewered sweetbreads with chimichurri).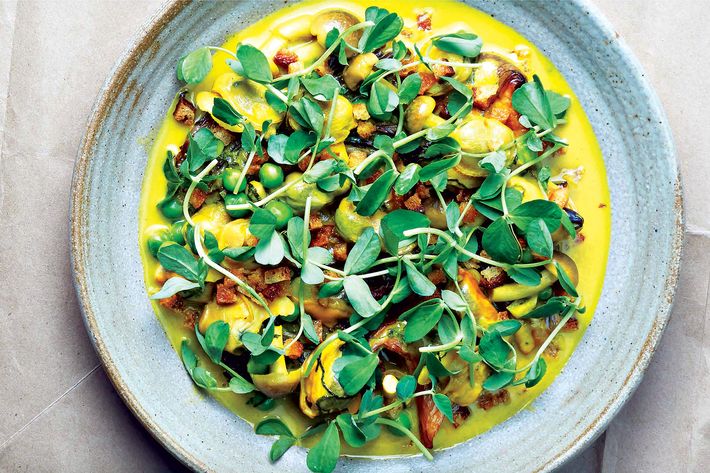 Sadelle's
463 W. Broadway, nr. Houston St.; 212-254-3000.
The Major Food Group's latest is a mash-up of bagel bakery, next-generation Barney Greengrass, and Balthazar with a Jewish accent. (Read more.)
Sushi Seki
365 W. 46th St., nr. Ninth Ave.; no phone yet.
There is always a call for good-quality late-night sushi, which is this brand's forte. The third location inhabits the Theater District's former Firebird space with two bars, two dining rooms, three tatami rooms, and a six-seat, reservation-only chef's counter soon to be occupied by the sushi cognoscenti and big-spending tourists.
Tacombi
255 Bleecker St., at Cornelia St.; no phone yet.
The proliferating Mexican chainlet alights on a South Village corner with a small menu showcasing the Yucatecan specialties panuchos and salbutes — two versions of variously topped fried tortillas. If you're partial to unfried tortillas, there are entrées like banana-leaf-wrapped grouper served with fresh tortillas and Rancho Gordo beans.
Vaucluse
100 E. 63rd St., at Park Ave.; 212-677-0425.
Michael White named his brasserie for a département in the South of France, and menu sections are dedicated to "Le Potager" (cucumber-and-zucchini gaspacho vert), "Les Viandes" (filet of veal with seared foie gras and caramelized-onion tartine), and "Pour Deux" (canard à l'orange).
Werkstatt
509 Coney Island Ave., at Turner Pl., Prospect Park South; 718-284-5800.
Thomas Ferlesch has been a proud ambassador of his native Austria since his days at Vienna 79, and now he'll be serving up pretzels and Wiener schnitzels (plus whatever else he feels like cooking in his Werkstatt, or workshop) in his own Brooklyn backyard.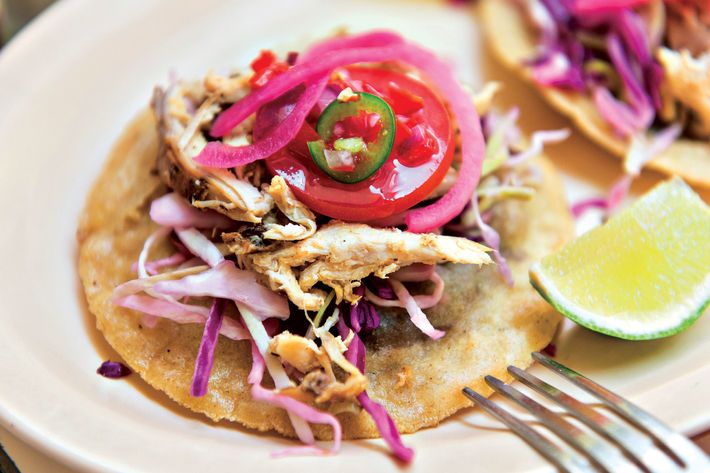 Yunnan BBQ
79 Clinton St., nr. Rivington St.; 212-253-2527.
When Yunnan BBQ replaces Yunnan Kitchen next month, Erika Chou and chef Doron Wong intend to give Chinese barbecue a little shove into the modern-day restaurant world. That means local, sustainable, and ethically raised meats from vendors like Cascun Farms and Bobo's Buddhist Chickens. The plates will be large and intended for sharing, and so will the buckets of Tsing Tao on ice and large-format punches.
October:
Bottle & Bine
1085 Second Ave., nr. 55th St.; no phone yet.
Former Asiate chef de cuisine Angie Berry's New American menu will be complemented by a focus on small-production American wines and craft beers. "Bine," in case you were wondering, is a vertically climbing plant, like that of a beer hop.
Breads Bakery
1890 Broadway, nr. 63rd St.; 212-633-2253.
The new Upper West Side branch of Danish-Israeli baker Uri Scheft's excellent bakery-café has everything the downtown original has, plus outdoor seating for alfresco babka munching.
BYGGYZ
37-39 Clinton St., nr. Stanton St.; no phone yet.
Owing to unforeseen delays, it's taken Dewey Dufresne (a.k.a. Wylie's dad) four years to open this sandwich shop. On the bright side: All that downtime has afforded him the opportunity to brainstorm additional intriguing combinations like peanut butter and sardines. Imagine what four more years could yield.
Carla Hall's Southern Kitchen
115 Columbia St., at Kane St., Columbia Street Waterfront District; no phone yet.
The Top Chef contestant, Chew co-host, and Nashville native moves into the old Pok Pok Whiskey Soda Lounge space, where she will fry up her hometown's spicy specialty, hot chicken, and offer it, as custom dictates, in a variety of lip-numbing levels of heat.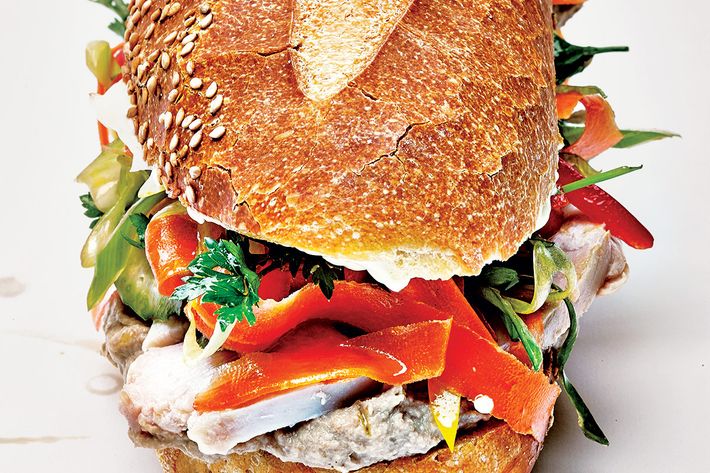 Chuko Bushwick
144 Evergreen Ave., at Jefferson St., Bushwick; no phone yet.
The buzzing Prospect Heights ramen-ya will replicate its signature soups and half-fried kale salad in another Brooklyn neighborhood, with the addition of outdoor dining in season and a full liquor license year-round.
Court Street Grocers
540 La Guardia Pl., nr. W. 3rd St.; 212-582-7946.
The madcap grocers and sandwich-makers of Carroll Gardens bring their regional American pantry obsession to Manhattan, where they'll stock the shelves with all sorts of gourmet staples and delicious oddities. The signature sandwiches get a new stage, too — an old-fashioned lunch counter — where they'll be joined by novel concoctions like the Dirty Turkey (roasted breast, giblet-and-andouille pâté, slaw, mayo, and Creole-spice vinaigrette on a Caputo's hero roll). Plus beer, wine, and cider on tap.
David's Café
110 St. Marks Pl., nr. First Ave.; no phone yet.
Chef David Malbequi, who emigrated from France to work for Daniel Boulud several years back, shows his casual side with Franco-American comfort food like duck confit and mac 'n' cheese. His partners are longtime East Villagers Daniel Rivera (of the Crooked Tree next door) and the Summit Bar's Hamid Rashidzada.
High Street on Hudson
637 Hudson St., at Horatio St.; 917-388-3944.
Eli Kulp's sandwiches at Philadelphia's High Street on Market are legendary, and so are the kaiser rolls and roasted-potato loaves (baked by Sullivan St Bakery alum Alex Bois) they're served on. The New York outpost will reprise the original's breakfast-to-(eventually) late-night service hours, its retail bakery component, and its open kitchen — but this time, the oven's front and center.
Kingsley
190 Ave. B, nr. 12th St.; 212-674-4500.
Roxanne Spruance has cooked under some of the greats, including Christian Delouvrier, Wylie Dufresne, and Dan Barber, and at her remake of the old Back Forty space she'll apply modern and traditional techniques to dishes like chawanmushi with escargot and black garlic, and popcorn crème brûlée.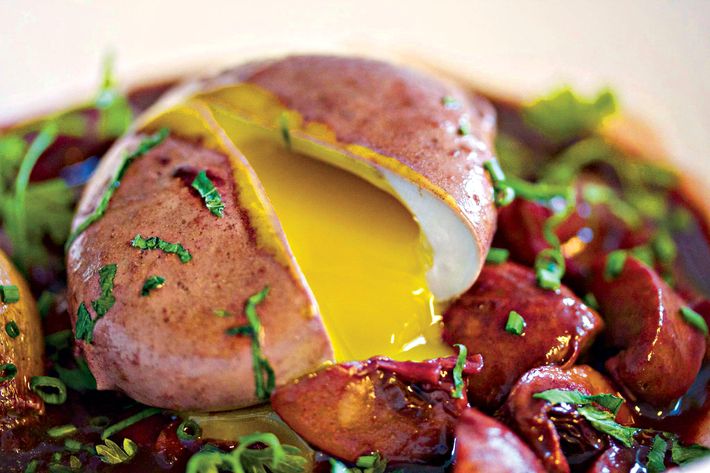 La Sirena
88 Ninth Ave., at 17th St.; no phone yet.
Mario Batali and Joe Bastianich's reinvention of the Maritime Hotel's restaurant space features a 40-foot glass-enclosed bar, plus "elevated trattoria" fare like baby octopus Siracusa style and grilled swordfish Messinese. Also, this being B&B;'s first foray into New York hotels, there will be breakfast (Sardinian fritters with Pecorino and honey) and room service.
Le Coq Rico
32 W. 20th St., nr. Sixth Ave.; no phone yet.
This Paris transplant, courtesy of three-Michelin-starred Antoine Westermann, comes with a subtitle: "The Bistro of Beautiful Birds." The chickens in question include Jersey Giants, cooked in more ways than you ever imagined. There is baeckeoffe, there are giblets, and there's an entire section dedicated to eggs.
Momosan Ramen & Sake
342 Lexington Ave., nr. 39th St.; no phone yet.
The Iron Chef Morimoto's first full-fledged ramen shop will specialize in two types of soup broth: the long-simmered pork-bone tonkotsu, and chicken, plus a roster of side dishes meant to go with sake. "Momosan" is what his non-Japanese staff started calling him when "Morimoto-san" proved too cumbersome.
Salvation Burger
At the Pod Hotel 51, 230 E. 51st St., nr. Third Ave.; no phone yet.
April Bloomfield and Ken Friedman take on the all-American burger joint by making practically everything from scratch. Even the mustard is made in-house. (Read more.)
Supercrown Coffee Roasters
8 Wilson Ave., nr. Flushing Ave., Bushwick; no phone yet.
Having founded (and since sold) Gorilla Coffee, Darleen Scherer knows as much about branding as she does about third-wave coffee roasting and brewing. Her new operation combines a roastery with a café dedicated to single-origin espresso and coffee served in drinks like an almond-and-cashew-milk latte and the Swedish-inspired "Kaffelemonad."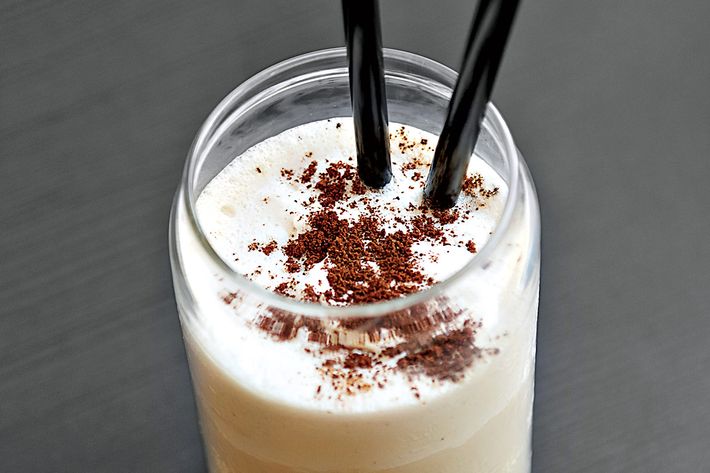 November:
Yet-to-be-named Fredrik Berselius restaurant
47 S. 5th St., nr. Wythe Ave., Williamsburg; no phone yet.
Fredrik Berselius's post-Aska project has a 25-seat dining room (for multicourse tasting menus), a 40-seat basement bar serving à la carte, and a courtyard equipped with charcoal grills. But the biggest upgrade is the kitchen, built to facilitate the various techniques (preserving, smoking, curing, baking) that characterize his Scandinavian-rooted, locally sourced cuisine.
Crave Fishbar
428 Amsterdam Ave., nr. 81st St.; no phone yet.
Todd Mitgang's Midtown East seafood restaurant is one of those quietly excellent neighborhood spots you don't hear enough about. With an Upper West Side expansion, that might change.
Indian Accent
123 W. 56th St., nr. Sixth Ave.; no phone yet.
This modern Indian restaurant and its chef, Manish Mehrotra, are to international culinary awards what Meryl Streep is to Oscars. A New York branch of the New Delhi original takes over the old Seppi's space in Le Parker Meridien hotel.
Insa
328 Douglass St., nr. Fourth Ave., Gowanus; 718-855-2620.
Eighteen tables equipped with Korean barbecue grills plus five private themed karaoke rooms (from Jungle to Vegas) sounds like about as much fun as you can have in Gowanus without breaking the law. It's the sophomore project of the Good Fork's Sohui Kim, who'll also serve a separate street-food-inspired menu at the bar.
Mah-Ze-Dahr
28 Greenwich Ave., nr. Charles St.; 212-498-9810.
From banker turned baker Umber Ahmad, a West Village destination for brownies, brioche doughnuts, and lemon-meringue cake. (Read more.)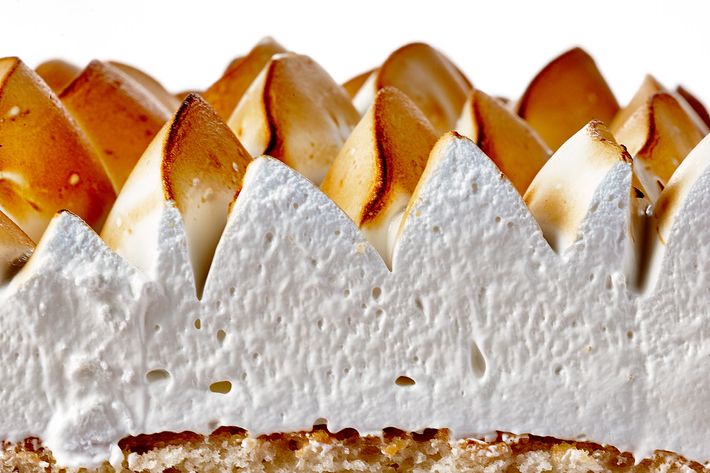 Parm Williamsburg
162 N. 4th St., nr. Bedford Ave., Williamsburg; no phone yet.
The Major Food Group makes its move to Brooklyn, opening the fourth New York branch of Parm (the fifth if you count Yankee Stadium). Look for all the usual neo-Italian-American favorites, plus new pastas, a new scampi dish, and, to keep things interesting in the hero world, a yet-to-be-revealed sandwich exclusive to this location.
Pipsqueak
252 Varet St., nr. Bogart St.; Bushwick; 718-395-6789.
The folks behind the Bushwick bar and restaurant Tutu's Brooklyn must really be itching to hear that old New York pizza-chauvinist refrain: "That's not a pizza, that's a casserole!" They open a spot dedicated to the Chicago-deep-dish style in the same Bushwick building where Tutu's is located.
Quality Eats
19 Greenwich Ave., nr. 10th St.; 212-337-9988.
Uptown's Quality Meats crew wants you to think of this West Village spinoff as an anti-steakhouse of sorts — not a special-occasion-extravaganza joint, but a neighborhood spot where you can drop in anytime without breaking the bank. To that end, the plates of beef will range in price from $18 to $28, and include cuts like a bone-in short rib steak.
Russ & Daughters
1109 Fifth Ave., at 92nd St.; no phone yet.
The appetizing institution establishes an uptown outpost in the basement of the Jewish Museum. (Read more.)
Sushi Ganso
31 Third Ave., nr. Atlantic Ave; 646-927-0303.
Ganso Ramen and Ganso Yaki were only the beginning. Now, the team behind those minimalist Japanese comfort-food spots is tackling sushi in a 30-seat space located next door to the yakitori-ya, and not too far from the ramen-ya. Who knows? If the trend persists, this part of Downtown Brooklyn may come to be known as Little Tokyo, or maybe Gansoville.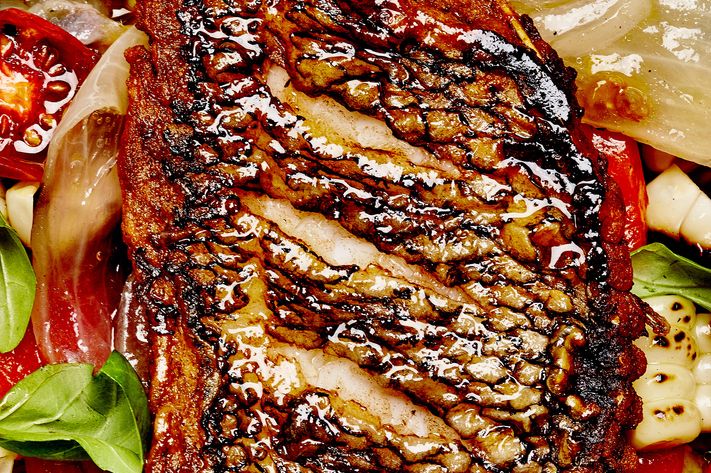 December:
Amada
200 Vesey St., nr. West St.; no phone yet.
After opening restaurants (and a taco truck) in Philly, D.C., Scottsdale, Palm Springs, and Chicago, the prolific Iron Chef restaurateur Jose Garces is ready to take on the city that eats out-of-town chefs for lunch. He plans to spin off Amada, his Philadelphia tapas restaurant, at Brookfield Place by the end of the year.
Yet-to-be-named David Chang restaurant
232 Eighth Ave., nr. 22nd St.; no phone yet.
Exactly what David Chang is up to in Chelsea, he isn't saying. This, from a spokesperson: "We don't expect to serve ramen at this time. Will there be noodles, sandwiches, and dishes associated with Momofuku? Yes." So that probably rules out an all-oatmeal Momofuku, a Momofuku Medieval Times, and David Chang's Candlelight Dinner Theater Playhouse.
Guenter Seeger NY
641 Hudson St., nr. Horatio St.; no phone yet.
After a 22-year residency in Atlanta at the Ritz-Carlton and his own eponymous restaurant, followed by a spate of consulting, the German chef brings his elevated fare to a comparatively stripped-down West Village setting. The eight-course prix fixe menu will change often, reflecting Seeger's trademark emphasis on local and seasonal sourcing.
Yet-to-be-named Dan Kluger restaurant
21-23 W. 8th St., nr. Fifth Ave.; no phone yet.
Former ABC Kitchen chef Dan Kluger goes it alone on a perpetually up-and-coming stretch of West Eighth Street. His cooking will be vegetable-forward, protein-light, and not unfamiliar to fans of the place where he made his name. Still, don't expect an ABC encore performance. "I think there's very little that I would repeat," says Kluger. And yet: "I also think there are a couple things I'd have a hard time not repeating, like the kabocha toast." (Read more.)
*A version of this article appears in the August 24, 2015 issue of New York Magazine.