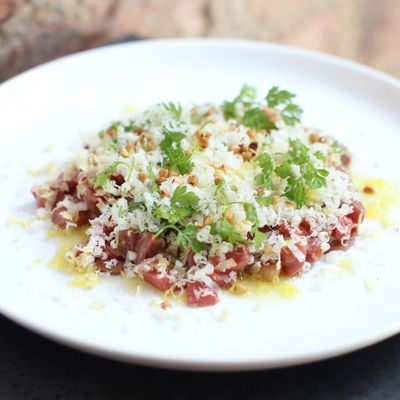 Wildair's beef tartare with smoked Cheddar and chestnuts.
Photo: Melissa Hom
Despite a vegetable obsession and a proliferation of revisionist tartares that seem to have taken hold in New York in recent years, there's still plenty of love for good old-fashioned beef tartare — or rather, new-fashioned beef tartare. One could make the case that ever since chef Ignacio Matos debuted his blockbuster beef tartare with crisp sunchoke chips at Estela back in 2013, chefs have been doing what they can to inject their own sensibility into a truly classic dish. Here, in fact, are 14 new-look takes that are helping beef fight off the hamachis and beets of the world to reclaim its crown as the king of the tartares.
Where: Wildair
Price: $17
At the casual spinoff of their neo-bistro Contra, chefs Jeremiah Stone and Fabian von Hauske spike their raw beef with pungent smoked Cheddar and chestnuts, which like the sunchoke in Estela's rendition, add some crunch.
Where: The Four Horsemen
Price: $15
More crunch: At the James Murphy–owned wine bar, Franny's alum Nick Curtola serves his raw beef with thin sesame crackers, buttermilk, and seeds.
Where: Kang Ho Dong Baekjeong
Price: $23
Kang Ho Dong Baekjeong is an international chain, but the Manhattan flagship is helmed by Jean Georges–trained Deuki Hong, who is no ordinary Korean barbecue chef. Among the many, many dishes he's serving is a riff on tartare that's made from rib eye seasoned with Asian pears, black pepper, sea salt, sesame oil, and sesame seeds, served — in classic fashion — with a raw egg yolk.
Where: Noreetuh
Price: $15
At this ambitious but modest restaurant in the Momofuku mold, Chinese-Hawaiian chef Chung Chow serves the classic dish with a dash of his native island with smoked egg yolk, daikon, and wonton chips.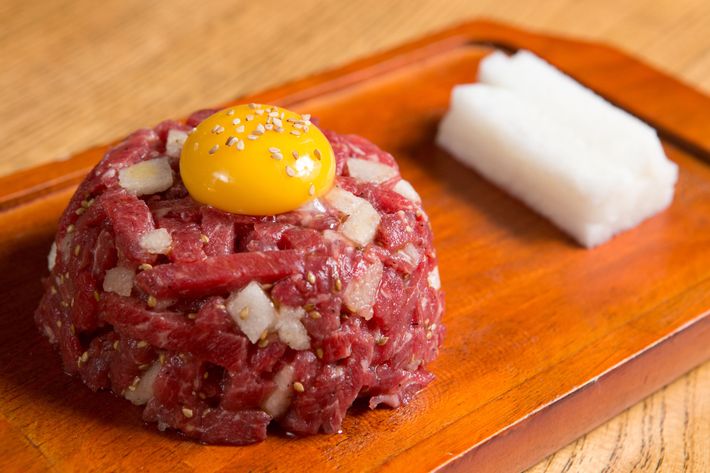 Where:Oiji
Price: $16
The intimate, handsome Korean restaurant spruces up their beef with Asian pear, pickled cantaloupe, mustard seed (boiled to take off some of the edge), and a slow-cooked egg.
Where: The Clocktower
Price: $16
Michelin-starred chef Jason Atherton fortifies his meat with roasted bone marrow, a few peppery mustard leaves, and some unexpected — yet not unappreciated — pickled artichokes.
Where: Faro
Price: $13
It's pasta central at this wood-fired, New Brooklyn restaurant, but take a break from all that starch with this tartare doctored up with pickled mustard seed, crouton, and arugula.
Where: Mission Chinese Food
Price: $19
For her aggressively unconventional take, Angela Dimayuga mixes the meat with fish-sauce vinaigrette, fried onions, and miso-cured salmon roe, then serves it with lettuce cups made of mint, red gem lettuce, sesame leaf, and shiso.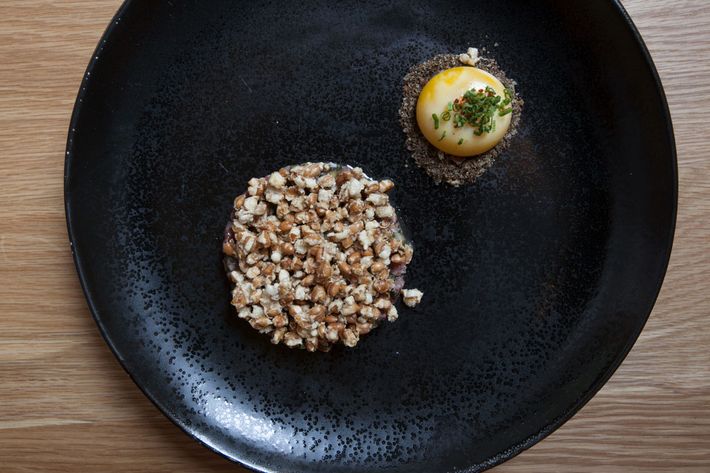 Where: Upland
Price: $16
Puffed farro, an ancient grain, and black trumpet mushrooms join the more typical accouterments of anchovy and egg yolk.
Where: Dante
Price: $13
Here, flank steak is accented with both pickled mustard seeds and fresh horseradish, alongside watercress, parsley, and cilantro stems, and, in another bid for crunchiness, crisp quinoa.
Where: Tuome
Price: $17
Well-marbled Waygu beef is given a citrus-y, ginger-y kick with the addition of lemongrass and a cheffy egg that's (extremely) slow-poached for three hours.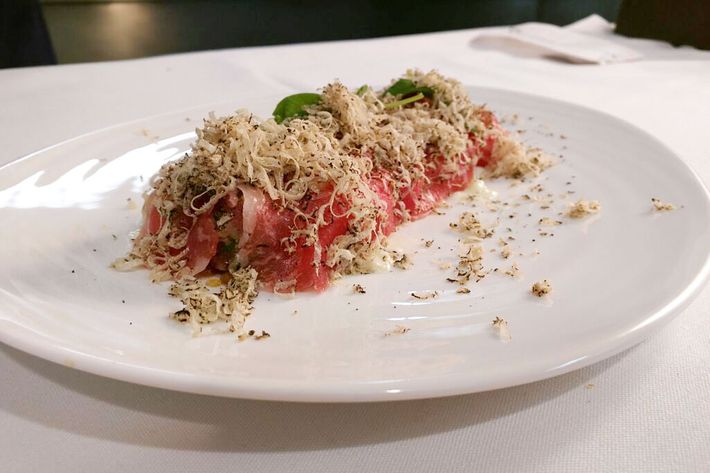 Where: Dovetail
Price: Available as part of a three- ($82) or four-course ($95) tasting.
Grass-fed beef is tossed with a caper vinaigrette, then topped with quick-cured beef carpaccio and shaved summer truffles. It's served with marble potatoes, which are steamed and folded into a summer-truffle-infused potato-buttermilk vinaigrette, because why not?
Where: Bowery Meat Company
Price: $21
The modern steakhouse from Mercer Street Hospitality serves a much-talked-about, elaborately seasoned version made from filet mignon and a litany of tried-and-true ingredients including capers, Dijon mustard, cornichons, and lemon juice. Grilled Royal Crown ciabatta and baby romaine are served on the side.
Where: Goodnight Sonny
Price: $16
The recently opened, charming-looking cocktail bar in the East Village places a big emphasis on the seafood, but among the few meat dishes they are serving is a tartare with egg yolk, shallots, Dijon, and the less-traditional jalapeño.