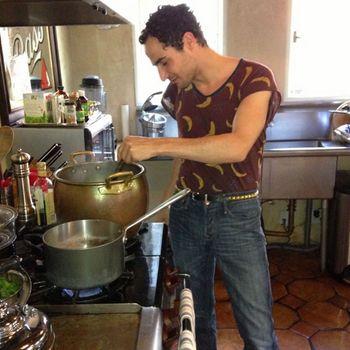 Posen has a true appreciation for food and cooking.
Zac Posen is well-known for many things: Practically every major actress or singer has worn one of his designs at some point (including Rihanna, Natalie Portman, and Reese Witherspoon), he's been a judge on Project Runway since 2012, and he recently became the creative director of Brooks Brothers. But those who follow him on Instagram know that he also cares deeply about cooking. This week, to celebrate the Fourth of July, Posen traveled to his family's home in Pennsylvania and made an impressive barbecue spread, and back in NYC, he whipped up recipes like lobster-coconut curry, and Japanese white rice with curry beans and a Kyoto-style omelette.
Thursday, July 2
I had breakfast on the set of Project Runway: an egg-white omelette and iced coffee in my trailer in Long Island City. When I'm filming, I can't eat food that's going to make me too tired. Nothing fancy!
Around 2 p.m., I took a lunch break in my trailer with miso-glazed salmon, white rice, seaweed salad, and miso soup. We always take a lunch break before our deliberation. My food got approved by my Japanese makeup artist. She has to make sure that all Japanese food I eat is, like, 85 percent authentic. She's my Japanese-food tester!
In between filming breaks, I had a green juice with Heidi Klum, in her trailer. I've tried to drink green juice instead of black coffee. It makes me feel balanced.
I headed out to Bucks County in Pennsylvania around 6 p.m. My parents have a house there. I was so tired, but I had homemade chicken soup. I love chicken soup. When I worked downtown, I always ordered it from a place called Cafe Clementine. I haven't found that place near my office uptown. I also love the soup at Tea & Sympathy. This is all if I don't pre-make it myself and freeze it. I make mine with dill, onions, carrots, celery, celery root, turnips, and, of course, chicken.
Friday July, 3
I woke up to a beautiful day. I get so excited to see what's changed in the garden from the previous night. I really enjoy the horticulture in Pennsylvania. I started the day with a black coffee and a banana in the morning with my mom and dad. Then I made a bouquet for my mom, and I took a dip in the pond to cool off.
At about 11 a.m., I had asked my mom if she would help me with a special project regarding food and my recipes. I can't say anymore! I ate half a bagel with Nova Scotia salmon and a little bit of butter. Just to keep me going.
The day kind of flew by. I helped my dad attack some bamboo that was starting to spread. And around 5 p.m., we realized that family was coming — aunts, uncles, sisters, cousins. Nobody had planned dinner! I quickly started marinating some chicken breasts and handling the grilling. I marinated them in garlic, olive oil, yogurt, curry powder, a little bit of mirin, ponzu sauce, and some lemon zest. Probably some grated ginger, too. I let that sit for an hour or two. My sister handled the salad: avocado, mesclun, tomato, mushrooms, corn. And my brother-in-law made Indian rice — yellow rice with raisins and lentil beans.
We smartly made some hibiscus margaritas. You soak hibiscus as if you were making a tea, and make a simple syrup on the big stove, and then you make your margarita. I don't drink very often — only on special occasions — so that put me to sleep pretty fast.
Saturday, July 4
I woke up at 8 a.m. and had an apple, a banana, a bowl of oatmeal, and black coffee. After the margarita, I needed something substantial.
And then I started preparing ribs. I have a great butcher in the city, Simchick Meats, and I brought in meat from there. My dad is a rib aficionado — he grew up in St. Louis. The best way to do ribs is to quickly broil them, then smoke them, and cover them with tin foil, so they steam a little bit. We finish them on the grill, and add the sauce. My producers had gotten me Peter Luger sauce, so I brought that, too. We served them with soft bread, corn on the cob, fresh guacamole and chips, and homemade purple-cabbage coleslaw with homemade pickles.
I was in a food coma, and dinner that night was an all-American affair: hot dogs, my special hamburger blend, and a big green salad. I basically stuck with the green salad, which had an apple-cider dressing.
I do have a sweet tooth, so I ate dessert. That afternoon, my aunt made red-velvet cupcakes with a mocha-buttercream icing, while I made a vanilla-bean cream-cheese icing. My niece and nephew made fresh-churned ice cream. And then it was fireworks time! We're very cautious, but we put on our own fireworks display.
I've always loved baking. My mom worked, and my dad did the cooking after he finished painting. Then, when I was a middle-school student, I started watching a program on TV called Great Chefs. When I was about 6 years old, my aunt gave me the first Martha Stewart entertaining book. I think because I was dyslexic, having something so visual — and being able to apply techniques with my hands — really worked for me.
Sunday, July 5
I woke up with a black coffee, green juice with extra ginger (homemade with my juicer), and a nice fruit salad before I got picked up and driven into the city.
I skipped lunch, because it was time to do my own creative work in my studio. I turned on music and draped, to get started on the upcoming September shows.
I got home around 7 p.m., and Christopher, my partner, was hungry. I've been learning how to make the perfect Japanese white rice. I made the rice, and then I rolled it in black sesame seeds, with a lotus, tomato, onion, and curry beans. On top, I added some assorted Japanese pickles, and a Kyoto-style omelette. I do that in my crepe pan, so it's really flat and thin. My partner is a vegetarian, and I always have to find ways to get him protein.
Monday, July 6
I had a coffee in the car on the way to Brooks Brothers, where I'm editing the summer collection. I took a lunch break with Christopher at a traditional Japanese restaurant, Azusa. I got the house special broiled salmon, miso soup, and fried chicken.
When I got home, I was exhausted, so I just made some simple pasta with homemade tomato sauce. When you make a pomodoro sauce, it's important to add a tad of cream or créme fraîche, and butter, and that cuts down the acid. And fresh basil, of course.
And then I snacked, while catching up on all my TV shows, on salty Norwegian licorice that I had ordered online. I like to try foreign candies.
Tuesday, July 7
Another black coffee on my way to shoot the looks for Brooks Brothers. At 10:30 a.m., I had an everything bagel with cream cheese and a fresh-squeezed green juice with extra ginger. I took another lunch break at Azusa, where I just had some healthy vegetable rolls.
I came home and made lobster-coconut curry with black rice for dinner. It's easy! You just get lobster tails, put lemongrass in them, and make a boiled-down sauce with scallions, lemongrass, and ginger, and some coconut milk. You broil the lobster tails, put that over rice, and you pour the sauce over it. You can also add red-pepper paste or tomato paste.
I've always cooked. I like knowing where my ingredients come from, and it keeps me healthy. If you eat well and healthy in moderation, you have the energy to be clear in mind and healthy in body. It's why I can multitask and work so much.