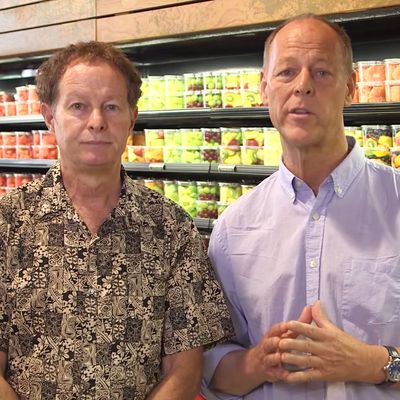 "Straight up, we made some mistakes."
In a two-minute-long video posted to YouTube, Whole Foods co-CEOs Walter Robb and John Mackey have 'fessed up in the wake of charges by New York City officials that the company "routinely" overcharges customers. The statement is a complete 180 from the company's initial stance.
After the New York City Department of Consumer Affairs announced their investigation, describing the overcharging as one of the "worst cases of mislabeling they have seen," the company denied it to angry customers on social media and took to national television to fight back, describing the charges as "coercion."
Now, though, Robb says they "made some mistakes" and Mackey describes instances of overcharging as "a very, very small percentage" — which definitely contrasts with the language used by city officials — that, Robb added, "happen because it's a hands-on approach to bringing you fresh food." So the spin here seems to be: If you're getting "better" produce, you should also be cool with a major grocer mislabeling its products on a regular basis, often — but admittedly not always — to its own benefit. That's not great spin!
Anyway, Whole Foods promises to retrain their staff to correct these errors, and the DCA says it's happy that the grocer has come clean on the matter, saying it will continue to monitor the situation.
[NYDN]