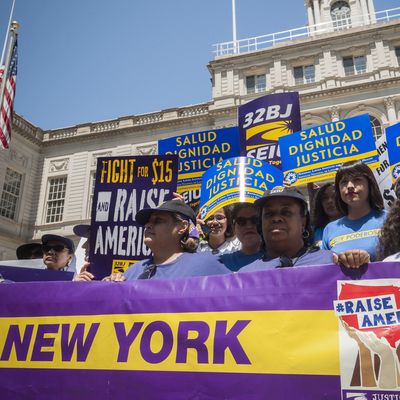 The move is being heralded as a big victory for wage-increase advocates.
Photo: Richard Levine/Demotix/Corbis
As anticipated, Governor Cuomo's wage board convened this afternoon in lower Manhattan and officially recommended that wages for fast-food workers be raised to $15 an hour. The move was expected, but it's nevertheless a big victory for advocates of pay raises for fast-food workers around the state (and for people who say this move will pave the way for further wage hikes.) Currently, the state minimum wage is just $8.75 an hour, and the board's proposal involves phasing the increase in over several years. In New York City, the minimum wage will increase to $10.50 on December 31, 2015, then increase as follows:
• December 31, 2016: $12.00
• December 31, 2017: $13.50
• December 31, 2018: $15.00
In the rest of the state, the wage increase will go as follows:
December 31, 2015: $9.75
December 31, 2016: $10.75
December 31, 2017: $11.75
December 31, 2018: $12.75
December 31, 2019: $13.75
December 31, 2020: $14.50
December 31, 2021: $15.00
As the board noted during today's meeting, the differences in the phase-in schedules have to do not only with the increased cost of living in New York City, but also city restaurants' increased business.
The restaurant industry, of course, has raised concerns over the pay increases, and the board said that the phase-in period is designed to give businesses time to adjust to the higher pay.
The board will make the full recommendation available today on the Department of Labor's website. Next, the plan requires the approval from acting labor commissioner Mario Musolino, which is also expected. Once the wage is law, it will apply to any fast-food chain with 30 or more locations.