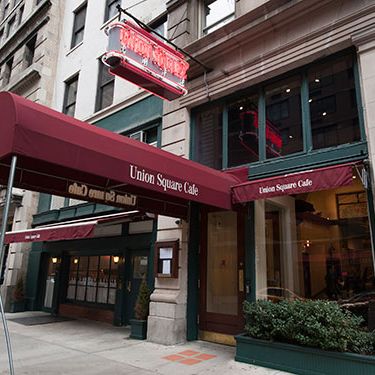 The new location will be at the corner of 19th Street and Park Avenue South.
Photo: Liz Clayman
Union Square Cafe is one of the most prominent victims of rent increases in New York, with owner Danny Meyer announcing last summer that the restaurant would be forced to close when its lease on its current location runs out at the end of this year. Of course, even as Meyer's empire has grown considerably, Union Square Cafe — his first restaurant — has anchored it, so Meyer's company has been determined to find a new location. Today, the group revealed that location: The giant City Crab at the corner of 19th Street and Park Avenue South — just on the other side of the park from the restaurant's current location, where Meyer has taken on a 15-year lease.
This being Danny Meyer, he tells the Times that he'll be "taking on responsibility" for City Crab's 75 or so employees. When that restaurant closes in September, Meyer and his team will try to find jobs for them within his own company (and the 120 employees at the current Union Square Café will all be asked to move to the new location as well).
Meyer won't disclose the rent that his company will pay for the new location, but the Times notes that the space is three times as large as the original restaurant, though the number of seats at the restaurant will only increase from 130 to 150. Instead, the extra room will be used for things like a prep kitchen, private dining rooms, and — sure, why not? — larger restrooms. As for the design, David Rockwell's group will attempt to re-create the current spot's unique feel as best as possible. Meyer says the restaurant now "feels comfortable and welcoming, like your favorite sweater. That's the feeling I want to keep."
[NYT]