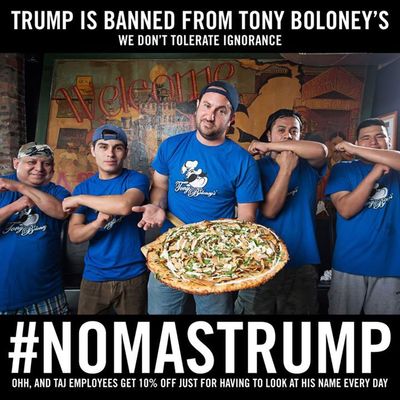 Good move.
Photo: Tony Boloney's Atlantic City/Facebook
Feeling sorry for the fact that people have to "look at his name every day," a pizzeria in Atlantic City is offering a 10 percent discount to employees of Trump Taj Mahal.
The owners at Tony Boloney's, an Atlantic City institution of sorts that banned Jay Leno for fighting with Conan O'Brien, weren't fans of Trump's comments about Mexican immigrants being rapists and drug dealers, so they decided to yank his pizza-eating privileges: "Trump is banned from Tony Boloney's," reads a post on the restaurant's Facebook page featuring a tortilla-chip-topped pizza. "We don't tolerate ignorance."
The notice kicks off their #NoMasTrump campaign (it's in Spanish, get it?), but considering Trump was probably never stepping foot in there anyway, they rolled out the discount that applies to a broader audience.