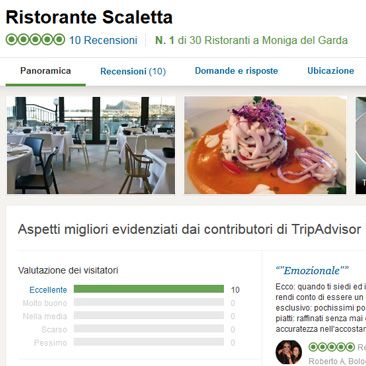 Much like Yelp, TripAdvisor has plenty of people who don't think the reviews are all that reliable. This group of doubters apparently includes Italia a Tavola, a hospitality trade magazine in Italy that went to the trouble of creating a fake restaurant listing, then posted bogus reviews to see if it could con TripAdvisor. According to Tavola, ten perfect-score reviews in less than one month's time (and filled with words like "Emotional" and "Finally!") were enough to make "Ristorante Scaletta" the top eatery in all of Moniga del Garda.
The Independent reports that after Tavola staff called TripAdvisor for a comment, the page vanished, but not before Scaletta had risen to the No. 1 spot, beating out another place with 300 reviews and a €110 tasting menu.
Hilariously, TripAdvisor refused to comment, giving a withering statement instead to the local paper that called Tavola's stunt "entirely meaningless." As a company rep further explained to the Independent, "We know that when fraudsters attempt to manipulate the rankings on our site, they leave behind patterns that we can and do trace," and this was "completely different." Tavola, meanwhile, is using Scaletta's success to mount a boycott campaign.