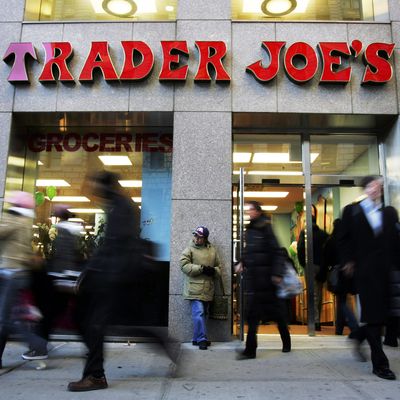 Will there be more kale?
Photo: Michael Nagle/Getty Images
Williamsburg was once a fringe landscape of warehouses where college kids made bad decisions at 285 Kent, but now it's the hottest destination in town for America's coolest brands. In a power move no doubt aimed at reeling competitor Whole Foods, Trader Joe's, the grocery store of choice for millennials who don't want to get really ripped off, announced that it will be opening its second Brooklyn store at 209 Kent Avenue. That location is just a few blocks from both Whole Foods' upcoming store as well as Apple's first foray into Brooklyn, but even closer to J.Crew's only store in Brooklyn. There's no date announced yet for the opening, but it's no doubt still a ways off, so until then, Williamsburg residents will have to continue going elsewhere for their private-label speculoos.
[Crain's]