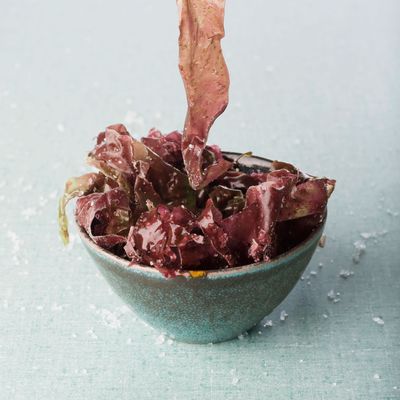 Dulse, ready for a taste-test.
Photo: ZenShui/Laurence Mouton/Getty Images
If everything goes according to plan, you may start hearing a lot more about a marine plant called dulse. It's a strain of translucent-red seaweed that Oregon State researchers say tastes like bacon and packs twice the nutrients of kale. If that all sounds too good to be real, the school is right there with you: They actually named the release announcing the find"OSU Researchers Discover the Unicorn."
A team at OSU's Hatfield Marine Science Center created and patented this particular strain of dulse with the original intent of creating a superfood for abalone, but they eventually realized that this seaweed is packed with nutrients and can be successfully farmed, so they started testing it as an item fit for human consumption.
After testing things like rice crackers and salad dressings that incorporated the dulse, they brought in a chef from the Nordic Food Lab. This is all well and good, but researcher Chris Langdon points out the true potential of this dulse strain: "When you fry it, which I have done, it tastes like bacon, not seaweed. And it's a pretty strong bacon flavor."
At the moment, the baconweed isn't available to the public, and the OSU team, along with chefs, continue experimenting — maybe they'll find another plant that tastes like sriracha, too? — but if there's one thing Grub Street has learned over the years, it's that Americans will never tire of products that re-create the flavor of bacon, so if this stuff is the real deal, it'd be a shock if it didn't eventually find its way to the market.