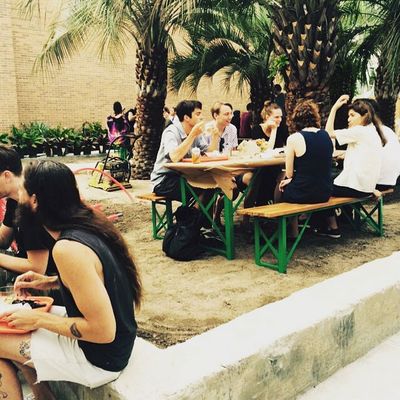 Complete with palm trees.
Photo: thepalmsrockaway/Instagram
If you haven't heard, Rockaway Beach has become a full-blown eating destination — complete with today's glowing New York Times review of Chicks to Go. The latest addition to the scene is the Palms: a 5,000-square-foot outdoor venue on Beach 96th Street, which will host events like guest-chef dinners, pop-up boutiques, and movie nights curated by Greta Gerwig.
Rockaway Taco co-founder David Selig and the MP Shift — a New York-based design and branding studio from Anna Polonsky and Amy Morris — have selected the vendors, and they include an independent photography bookstore (Dashwood), a contemporary art gallery (Topless), and an outpost of O Café that will offer coconut-based, Latin American drinks, smoothies, and snacks.
The other food component of the space is "Grilling Under the Palms," a dinner series featuring New York chefs. Navy's Camille Becerra is cooking two inaugural dinners this Friday and Saturday, offering a $75 five-course menu that includes uni ceviche, and steamed Jade rice with avocado, pickled pineapple, sesame, and onion seeds. If uni's arrival at Rockaway Beach means anything, it's that it's certainly the new Montauk.