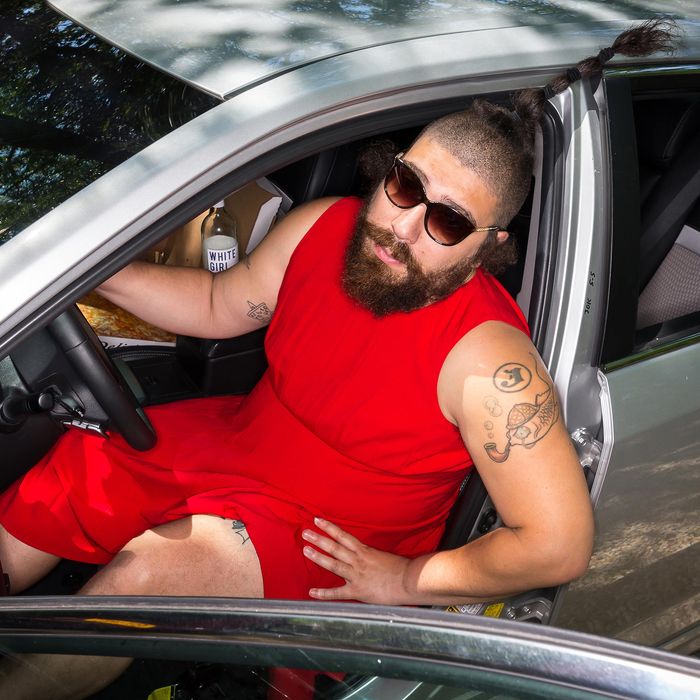 "I ate a bunch of prosciutto in bed for dinner. A whole bunch. Like maybe a pound and a half."
Photo: Noah Fecks
Josh "the Fat Jew" Ostrovsky is a true example of internet fame: His Instagram account has 4.9 million followers, and he's leveraged that into video campaigns for brands like Burger King and Virgin Mobile, an in-development Comedy Central show, and his own wine, which is appropriately named White Girl Rosé and sold by FreshDirect. This week, around New York, he dined at Benihana and Pietro's (two of his all-time favorites), took his mom to Barney Greengrass, and gorged on wasabi peas and prosciutto. And, really outdoing himself, he got so drunk that he fell asleep leaning against a rack of magazines in a Duane Reade.
Thursday, June 25
Even though I'm 30, I am still obsessed with the fact that I have my own apartment and no parents telling me what to do, and there's no time when I exercise that privilege more than at breakfast. Today, I ate a brownie and smoked a Marlboro Light. Fuck you, mom! I'm an adult!
Lunch consisted of more cigarettes and a bunch of wasabi peas that they had in a conference room where I was having a meeting. Wasabi peas are great.
For dinner, I went to Benihana, because I go there legitimately 12 to 15 times a year. Yes, that's over once a month. Don't judge me — it's my happy place. The food is delicious, men are flipping shrimps into their chef hats, and it's always someone's birthday, so I've been known to offer people lap dances. Most people turn it down, but almost everyone appreciates the offer. On this particular night, I drank two of those giant blue fishbowl boozy drinks that will give you immediate diabetes, and I predictably got very drunk and later fell asleep leaning against a rack of magazines in a Duane Reade.
Friday, June 26
I woke up in a pit of shame smelling like Benihana (going to Benihana is a commitment to smelling like fried rice for three to five business days) and tried to undo the life spiral by eating some fruit for breakfast. As in, a banana and a peach. LOL.
My mom was in town from Santa Fe, and she is so southwestern-mom-funky that it's absolutely disgusting. She was wearing glasses with one purple frame and one yellow frame and pre-ripped denim cowboy boots. Sorry, this doesn't have anything to do with my eating, but I just wanted you to know about it. We went to Barney Greengrass on the Upper West Side (where I grew up) and enjoyed egregiously overpriced salmon that is worth the price. My mom mostly talked about the heat in Santa Fe, which is hot, but it's a dry heat, so it's not that bad.
I ate a bunch of prosciutto in bed for dinner. A whole bunch. Like maybe a pound and a half. I drank a few Diet Snapples. The raspberry flavor is my favorite.
Saturday, June 27
My friend had a baby and made me go to its first birthday party, which is so annoying. Luckily, the kid is cute. I would absolutely not be seen at an ugly baby's birthday fête. I started drinking at, like, noon to help me forget about the days of my lost youth when I was doing awesome stuff at noon on a Sunday (like cocaine, chain-smoking, and having overly intense conversations about stuff I don't care about, and not hanging out with a bunch of new dads wearing Fitbits at a birthday party in Cobble Hill). I ate a bunch of finger foods from the party. There were some pepperjack cubes that were really delicious. I guess that was breakfast?
I went to a group birthday dinner at Pietro's in midtown, an old-school red-sauce place that I've been going to for years. The waiters wear tuxedos, the marinara will change your life, and the coat-check woman is a treasure. She's like 120 years old and doesn't need tickets — she can just remember everyone's coat. Hundreds of coats. Google it. I had a bunch of gnocchi and some broccoli rabe. The food was insanely good, but then, somehow, we were $150 short on the bill and everyone is saying they paid too much. How is that possible? Birthday dinners are the worst.
Sunday, June 28
I woke up to 77 texts in a group chat about going to brunch, which gave me a lot of anxiety. We ended up going to the Odeon, which was great because I had the steak tartare and the frisée salad, both of which I love more than any member of my biological family. But there were just so many terrible people there who made me want to not be white anymore. I had several glasses of rosé.
The drinking continued into the afternoon. I had a bunch of martinis at some place in Soho, where tons of European dudes were wearing scarves and Diesel sneakers. The martinis had olives in them. Is that considered a salad?
I was way too drunk by 7 p.m. I started rummaging through my freezer and found a frozen Tombstone pizza. Very, very chill.
Monday, June 29
My friend slept over (adult sleepovers rule); he's one of those guys with a sick body who treats his body like a temple and eats right, so he actually feels good when he wakes up in the morning. He went to Whole Foods at like 8 a.m. and bought a bunch of superfoods that I don't care about and made me a smoothie in my new Vitamix blender. I bought a $900 blender because I'm a baller who balls out of control. (Just kidding: I definitely don't ball out of control — it was a gift from my rich Uncle Bruce.) I didn't see every ingredient, but I know there was almond butter and bee pollen. This dude loves bee pollen. The smoothie tasted pretty good.
Subway footlong for lunch. Tuna. Don't hate.
I watched the Mets game at a bar in the West Village called Julius. It's a place where the guys are more on the alpha side and enjoy watching sports games and fornicating in the restrooms. They have great sliders and really good chili.
Tuesday, June 30
I saw a woman on the subway at 9:45 a.m. eating a piping hot calzone, and, I'm not kidding, it ruined my appetite for several hours. Where do they even sell calzones that early? A Sbarro at JFK?
I had a late breakfast at the incredible West Village greasy spoon La Bonbonniere. They have signed head shots of local newscasters from the early '90s on the wall, the food comes out in under five minutes, and the waiters are mostly goth Mexican dudes with eyebrow rings. The menu is a giant book with tons of options that they shouldn't have: Don't get adventurous and order the crab fritatta or something. Stick with eggs and grits.
In the evening, I went to some fashion event, which is great for eating because there are tables of food, but the crowd is all six-foot-five Ukrainian models who eat one sesame seed on a toothpick for dinner, and gay guys who haven't had a carb since 2010. So nobody touches the food. I ate like four wrap sandwiches and stuffed a bunch more in my tote bag.