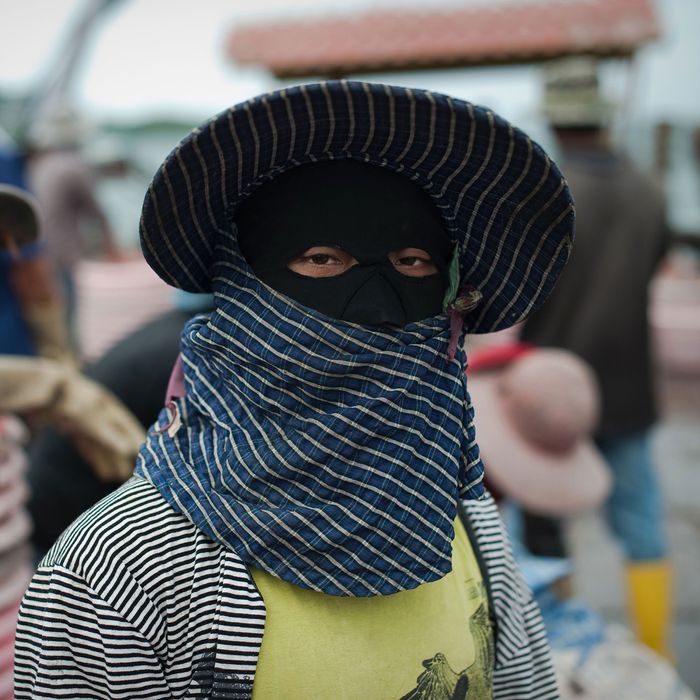 Workers on a Thai fishing vessel.
Photo: Nicolas Asfouri/AFP/Getty Images
In a major piece, the Times goes deep into the horrific conditions experienced by workers on Thai fishing boats — people who are often indentured servants or captives tricked into slavery. The gruesome reality of the industry, and the fact that many Americans may have unintentionally bought slave-labor shrimp and fish, is no secret by now, but the Times investigation reveals that conditions have been worsening and that fixing the problem is going to be very difficult. Profiling a rescued slave named Lang Long, a Cambodian who left his family home and was tricked into slavery by a trafficker, the piece reveals the startlingly bleak realities of life on these boats, where beatings are common and true rest doesn't exist.
1. If you buy cheap pet food from a major supplier, you're probably feeding your animal the product of slave labor. The last boat that held Long captive supplied most of its fish to Songkla Canning Public Company, a subsidiary of Thailand's largest seafood company, Thai Union Frozen Products, which in turn supplied some 28 million pounds of cat and dog food to top brands like Fancy Feast, Iams, and Meow Mix. While a 2014 Guardian investigation revealed that buying Thai shrimp means buying "the produce of slave labor," the Times suggests you may be doing the same when you buy food for your pet. The United States is the biggest customer of Thai fish, and pet food is among the country's fastest growing exports.
2. The horrific violence experienced by these workers is very real and routine. Interviews reveal that the sick are thrown overboard, insubordination is punished by being locked under the deck for days, and defiant workers are beheaded.
3. There is no respite. On one Thai fishing ship, they found that workers sleep for two-hour shifts in an "intensely hot crawl space" that is also home to a "deafeningly loud" engine that coughs acrid fumes into the sleeping space. This is all the rest they get after working after 18- to 20-hour shifts, much of the time in the dark (when fish are easier to spot) on a deck that is "an obstacle course of jagged tackle, whirring winches and tall stacks of 500-pound nets."
4. Most of the Cambodians on the boat detailed above had never seen the ocean before and many, including Long, don't know how to swim. This makes escape all but impossible, but it also can make identifying fish — which all looked the same to Long — very difficult. Workers, in turn, are often beaten for petty transgressions like placing the wrong fish in the wrong bucket. On Long's boat, a crew master would dock a worker's single meal for the day if gear is put away incorrectly.
5. Captives sometimes have no choice but to drink what is likely contaminated water. Workers are not just undernourished, but find themselves stealing "foul smelling ice" from barrels of fish when water runs low. In every instance, the well being of workers is disregarded for the sake of profits and productivity: There is never a shortage of amphetamines, but antibiotics are rarely stocked.
6. The fishermen are sometimes left stranded on uninhabited islands. The AP had previously reported on fishing-boat workers being caged on the remote Indonesian island of Benjina, but the Times reveals captains are not beyond marooning their workers on one of the hundred of uninhabited atolls in the South China Sea while their vessels return to port for repairs and dry docking. The captives are sometimes left for weeks at a time.
7. Employment contracts don't make conditions better. A contract from a Singapore manpower agency that the Times obtained required workers to commit to a three-year tour, during which the agency would take "the full $200" for the first half year and $150 for every month after. The conditions are similarly brutal: Boats may remain at sea for longer than a year, during which only seawater may be used for laundry and washing, and "all biscuits, noodles, soft drinks and cigarettes" must be purchased by the worker. If the sailor gets sick, is considered lazy, or is otherwise rejected by the Captain, they must pay the costs necessary to get home.
8. The fishing vessels successfully operate out of sight. The exact origin of seafood is often impossible to determine because of the existence of mother ships, which resupply ships and pick up loads of fish from trawlers, allowing to them to stay out to sea for months or even a year which in turn makes abuse easier. Once the fish is on a mother ship, it's no longer possible to tell who caught it, and origins can only be tracked as far back as processing faculties.
9. There's no real effort being made by the country's top fishing company to curb the abuse. While Thai Union Frozen Product's head of corporate communications Sasinan Allmand says they do routine audits of canneries and boats in ports, she would not answer whether the company conducts audits on boats that remain at sea.
10. There's little hope the government will change conditions. Thailand has been roundly criticized for failing to deal with slavery at sea, even initially voting against a United Nations treaty that would require governments to punish traffickers and proposing to use prison labor to offset the abuse of migrant labors before a public outcry.
11. Migrants are tricked into debt, then sold to pay the debt back. Besides fishing, forced labor is most common in sex work, and the two industries are often intertwined. The Times found that the often penniless Burmese migrants who end up at taverns are offered meals, beers, and lodging as favors, only to later be charged fees — and sometimes be sold to sea to pay those off.
12. Human life is horribly, terribly, cheap in Thailand. Long was sold into slavery for "about $530," which is less than the typical price of a water buffalo.
13. Still, there are some good people trying to do something. An organization called Stella Maris Seafarers Center works toward freeing workers, though rescues often depend on chance encounters. Long himself was saved because of a benevolent supply-boat worker named Som Nang, who noticed Long was shackled every time they encountered the boat, and who helped funnel the $750 that Stella Maris raised to buy Nang's freedom.
[NYT]