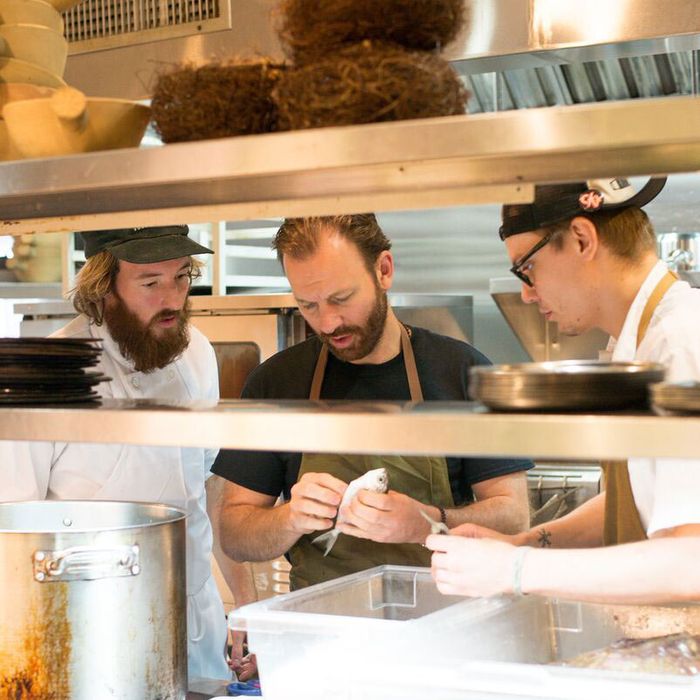 Mads Refslund, inspecting Porgy at the restaurant Acme.
"I can't think of a chef who would say, 'I want to rape and pillage the ocean'," says Blue Hill's Dan Barber. "And, along the same lines, I can't think of a chef who isn't actively thinking about fish in different ways." Barber has a point: A number of big-name New York chefs are breaking down the complicated issue and trying to serve seafood with a big focus on responsibility. Tom Colicchio has pledged not to serve striped bass. Michael Chernow based his new restaurant on undervalued species like porgy and monkfish. April Bloomfield is championing bluefish and other underappreciated species. In the same way that local, seasonal vegetables and grass-fed beef first entered the consciousness of chefs — and then, eventually, the American public — the issue of local, sustainable fish is gaining traction in New York.
At the center of this seafood renaissance is Dock to Dish, a three-year-old initiative that gives a small group of 14 New York chefs direct access to fresh, wild seafood from Montauk. Members includes Mario Batali, Michael Anthony, Andrew Carmellini, Google's Michael Wurster, and Barber himself. At the moment, it's not as easy as simply signing up. The program has become so popular that there are now 45 restaurants on the waiting list and joining the group means a chef needs to be recommended by a peer, and then invited by founder Sean Barrett, a former fisherman. "I call it the 'Barber Effect,'" Barrett says, referring to the chef's uncanny ability to make other chefs care about the issues he thinks are important. "But the chefs are all about it — there's a huge demand for transparency."
The idea behind Dock to Dish's strategy isn't only about giving big-name chefs access to high-quality seafood. What Barrett's doing is reversing the traditional order of supply and demand: Instead of chefs placing orders for sea bass or tuna or cod, small-scale fisherman catch whatever they think is best for the environment (and in the best condition to serve at restaurants). Then, each Wednesday, Barrett delivers a grab bag of fish (just like a CSA) to the chefs — less than 24 hours after the boats dock. For the service, he charges restaurants $3,000 per month for a minimum of 300 pounds of fish. Chefs don't know what they're getting until the day before the fish arrives, but Barrett's system manages to cut out middlemen and get seafood that's as fresh as possible. "In America, there's an industrialized method of the chefs telling the fishermen what they want, which is backwards, in my humble opinion," he says.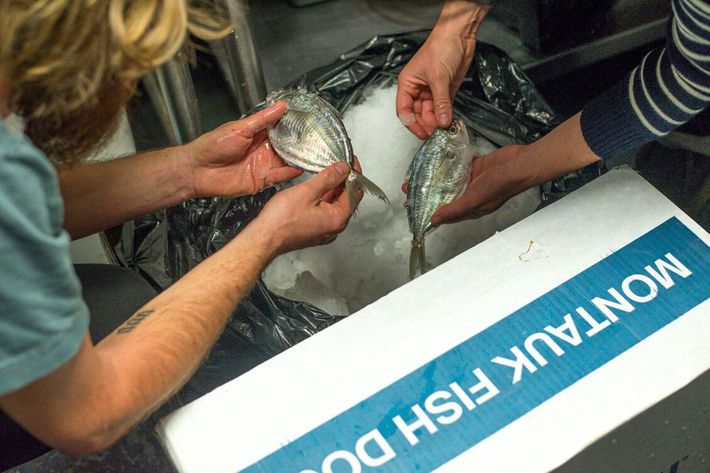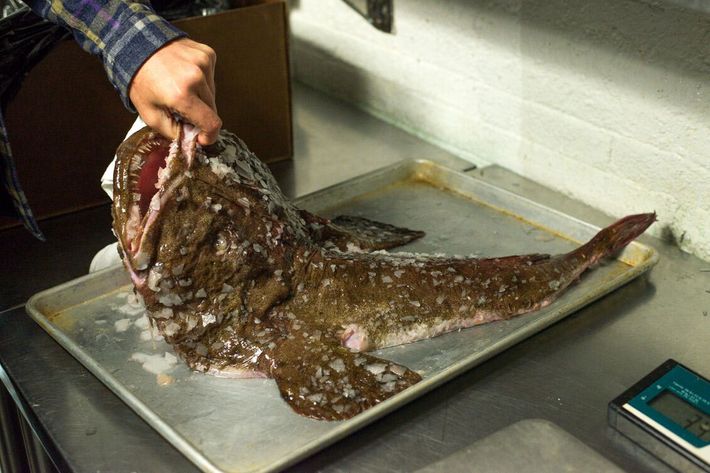 One immediate benefit for customers is that the chefs are forced to be more creative with their preparations. Acme's Mads Refslund, the newest member of the group, recently broke down 60 pounds of monkfish and used the cheeks to make a seafood ramen. He also put butterfish on white-blossom branches, which he used as skewers to grill the small fish, campfire-style. "This changed my world of serving fish at my restaurant," he says. "In Denmark, you have a close connection with fishermen, but in New York, we're not used to that. We previously got our fish from so many places. It's very important for me to know Sean, who has connections with every fisherman. I can know the exact names of my fishermen. And if you know your farmer or butcher or fisher, you also know the animal."
This program is great for ambitious, mindful chefs, of course, but there's a question of whether or not it will have a larger impact on consumer culture. The biggest challenge, right now, is getting people onboard with expanding their seafood tastes beyond things like salmon and tuna and embracing a wider variety of fish. As a customer, it's hard to imagine sitting down to dinner and choosing tilefish over a big, beautiful slab of halibut or Atlantic cod — and chefs are well aware of how that affects their bottom line. "On an à la carte menu, you've got to serve a fish that's going to sell, and there are a small number of fish that are recognizable at a certain price point," Barber explains. "That's a very difficult position for a chef to be in. That's why this issue has become so complicated, because it's not that the chef is necessarily opposed to any of these ideas. It's that he or she is forced into a kind of paradigm, which is the western à la carte menu."
Chefs, however, are adapting to this new world: The Meatball Shop's Chernow just opened a restaurant that's built to free him of that exact paradigm. At Seamore's, the $21 "Reel Deal" plate offers diners a choice of seafood from the "daily landings" chalkboard, sauce, and three sides. "On opening night, we had monkfish, porgy, and yellowtail flounder on our menu," Chernow (also a Dock to Dish member) says. "The fish that I grew up catching and eating is right here. All I have to do is put it on the plate." Plus, Chernow points out, "The greatest thing about using local, sustainable seafood in New York is that it's inexpensive."
Kerry Hefferman — currently of Grand Banks — shares a similar philosophy (but isn't involved with Dock to Dish). He has created the Save Our Stripers campaign, convincing chefs like Colicchio and Harold Dieterle to pledge to remove striped bass from their menus. "I will pay fishermen more to give me large porgies that have been well taken care of," Hefferman says. "If these fishermen know that they have a market for sustainable, high-quality, local fish that's caught and kept in a quality manner, and that they'll actually get paid more for that, they're going to continue to fish that way, and we can change the market."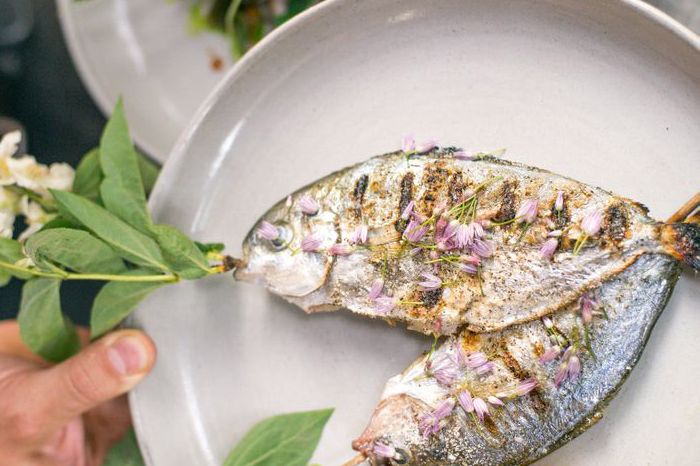 The real challenge is making these kinds of fish feel less like temporarily trendy items, so that the focus on responsible sourcing remains permanent. It's not unprecedented: "Monkfish was considered 'trash fish' until the '80s, when Gilbert Le Coze dressed it up and glorified it at Le Bernardin," Barber remembers. "All of a sudden, chefs everywhere had monkfish on their menus. And then, because chefs had them on their menus, they exploded on the fish counters at the marketplace, and then people were eating monkfish, and skate, without thinking twice about it." Bluefish is a more recent example: As Bloomfield recently wrote in the Times, it still gets a "bad rap," even as it's become increasingly popular. "When they are caught fresh and eaten within a few days, they are the most elegant, fatty, and substantial fish you can find from New York waters," she says.
Bloomfield is right — and the dishes chefs are making with what's often seen as by-catches are fantastic. New York's Adam Platt loved Anthony's monkfish dish, with black garlic and lobster glaze, at Untitled. The porgy ceviche with cucumber and Tabasco was the highlight of a recent meal at Seamore's. Somewhat similarly, Má Pêche is now serving a pan-fried whole boneless porgy with Pearson's hot sauce, fennel, and lime. There's a bouillabaisse with sea robin and Pernod at John Dory Oyster Bar. And that's not to mention all of the one-off nightly specials.
Fortunately, even though the idea is only starting to take root in nice New York restaurants, it's already poised to break out: Barrett has plans to expand Dock to Dish to Boston, Los Angeles, and Vancouver — and he's "given the playbook" to an association in Key West. The initiative's line of thinking, and its team of all-star ambassadors, are onto something: If chefs and diners now pay so much attention to where their vegetables hail from, and at what time of year they're freshest, the same can be done with seafood. It takes time, though — and a whole lot of work — to create a different paradigm. "You think vegetables are difficult?" Barber says. "Fish makes vegetables look like kindergarten."