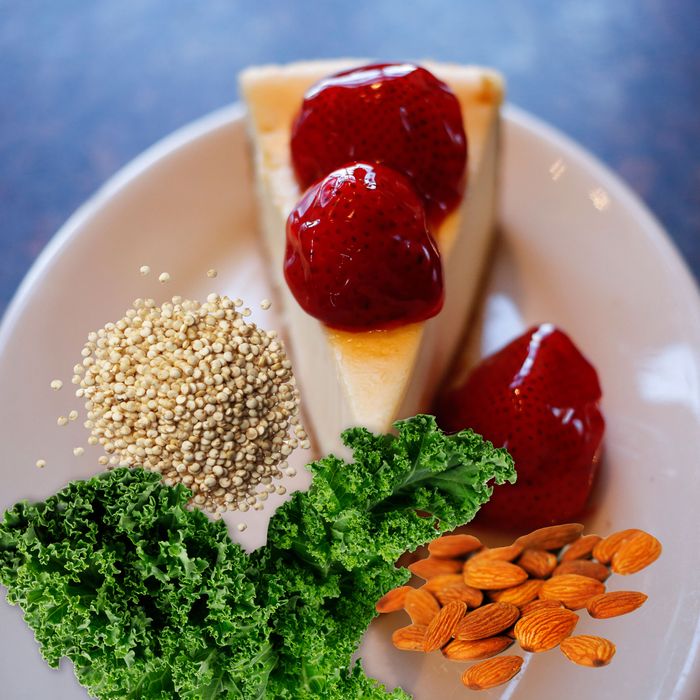 Dessert is healthier if you eat it after kale, right?
Photo: Luke Sharett/Bloomberg via Getty Images
The Cheesecake Factory built its reputation on the fact that it's the place for "worldly," artery-clogging signatures like Oreo Dream Extreme Cheesecake and French Toast Napoleon, but now the successful chain will finally give everyone what they probably haven't been asking for all along: health food. Next month, in an attempt to appeal to — who else? — millennials (read: people who maybe don't want to swim for seven hours to work off a meal), the chain will debut a new "Superfoods platform," which will, according to chairman and CEO David Overton, focus on "nutrient-rich, high quality, powerhouse ingredients." And what ingredients might those be? Expect kale (of course), quinoa (obviously), blueberries (sure), and, uh, salmon (seems fine).
Billing it as the chain's "take on what guests want today," Overton refused to dish any further details about the top secret menu items — probably out of fear that one of their less tactful competitors will steal the innovative creations. So how, exactly, they'll incorporate these things — and just how giant the portions may or may not be — remains a mystery for now, but you probably don't have to worry about the chain removing Cajun Jambalaya Pasta or Kahlua Cocoa Coffee Cheesecake to make room for the new dishes just yet.
[NRN]