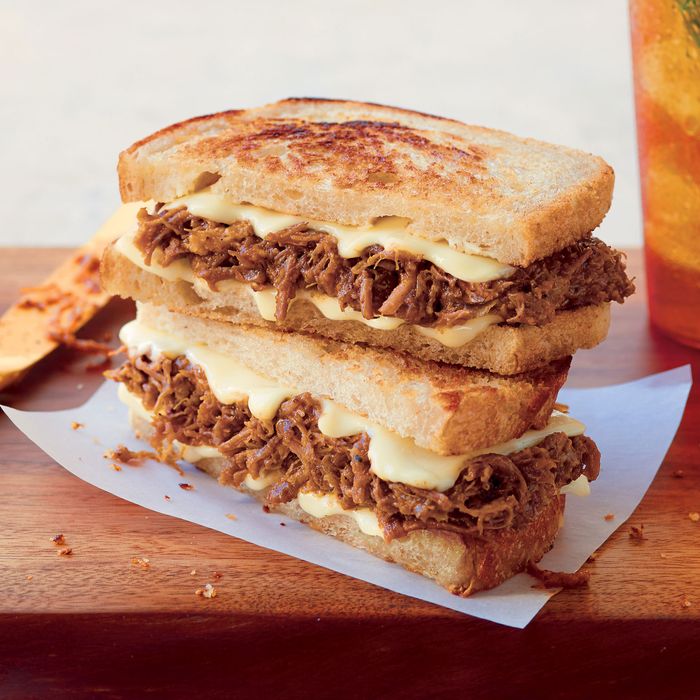 One step away from burgers.
Photo: Starbucks
Starbucks just made its first major move in the fast-food arena: A barbecue beef brisket on sourdough bread is now available at locations nationwide. The sandwich, which is strategically marketed as a nod to a swanky California backyard barbecue, ups Starbucks' sandwich game beyond egg salad and warmed-up paninis. It includes a respectable mound of brisket with Jack cheese from Sonoma, and Gordon Biersch–braised onions.
It's one of several "unique lunch and dinner options" Starbucks is now promising, and McDonald's and Subway executives would be right to have lumps in their throats. But the coffee giant may need to think bigger than just partnering up with a big chain of brewpubs like Gordon Biersch for a barbecue sandwich. There are legitimate questions about execution here, specifically with a sandwich that comes preassembled and just gets thrown in the warming oven. Arby's — a chain Starbucks probably doesn't think of as being in its weight class — introduced a brisket sandwich last summer whose beef was smoked for 13 hours (a languorous process it televised for poor Minnesotans), and people will expect Starbucks, at minimum, to clear any bar that Arby's sets. Still, the first Starbucks burger can't be that far off.