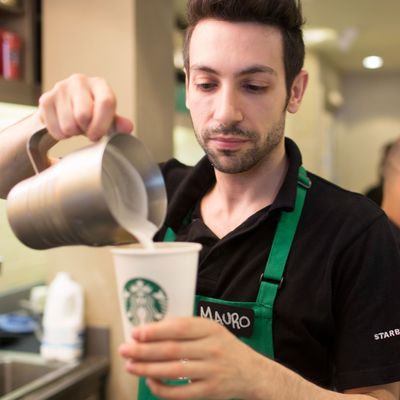 The plan: Hire a whole bunch of baristas.
Photo: Jason Alden/Bloomberg/Getty Images
After not exactly succeeding in its bid to improve race relations in America, Starbucks has found another social cause to take up: Unemployment among America's youngest adults. The coffee chain is spearheading an initiative from 17 companies — including Taco Bell, Walmart, and Microsoft — that aims to employ 100,000 people over the next three years.
The reason for this so-called 100,000 Operatives Initiative is that the unemployment rate among 16- to 19-year-olds is much, much higher than the jobless rate among older adults (18.1 percent versus 5.3 percent, according to the New York Times), and that "The leadership at the local and federal level isn't providing the kind of results we need to address these issues." But critics point out that even 100,000 jobs among these megacorporations really isn't all that much and that this plan mostly involves generating headlines. For example, The Wall Street Journal points out that Starbucks has pledged to hire "at least 10,000 young, low-income people," though the majority of those jobs will be "new, entry level jobs in Starbucks cafes," of which there are more than 12,000 in the U.S., which works out to fewer than one new hire per store.
'Bucks CEO Howard Schultz admits that, sure, at present, the goal is perhaps a tad underwhelming, but tells the Times, "You have to start somewhere," noting that the ultimate intent is to lay the groundwork for a larger coalition that can continue to create new jobs going forward. Companies like his, he says, "have to do everything we can to ensure the playing field is level."