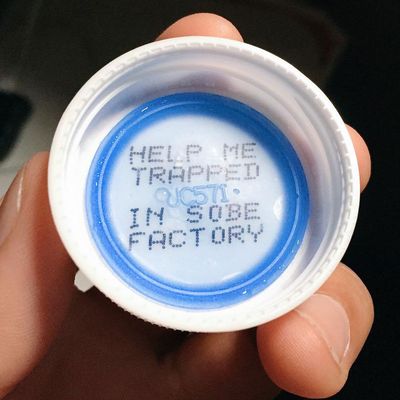 Photo: Cristina Mena/Twitter
Normally, SoBe bottle-cap jokes do no worse than sound annoyingly dated ("That's what she said") or like a Google Translate snafu ("Now a nugget"), but a new message on Lifewater bottles that somebody at SoBe apparently okayed veers into the territory of straight-up creepy.
Customers — some mortified, some annoyed — have been tweeting their pics to @SoBe. It looks like it got a smirk out of a few, but most people are somewhere between not amused and legitimately alarmed:
Apparently, after giving it some thought, Sobe doesn't really think kidnapping or forced-labor jokes are that funny, either. Whoever runs the company's Twitter account has had their hands full responding individually to confused customers with messages like this:
SoBe is posting a similar message on Facebook, but adds that "it will take a while for existing stock to run through the market." So, great news: These friendly little reminders of human trafficking could keep popping up for months.
[Quartz]