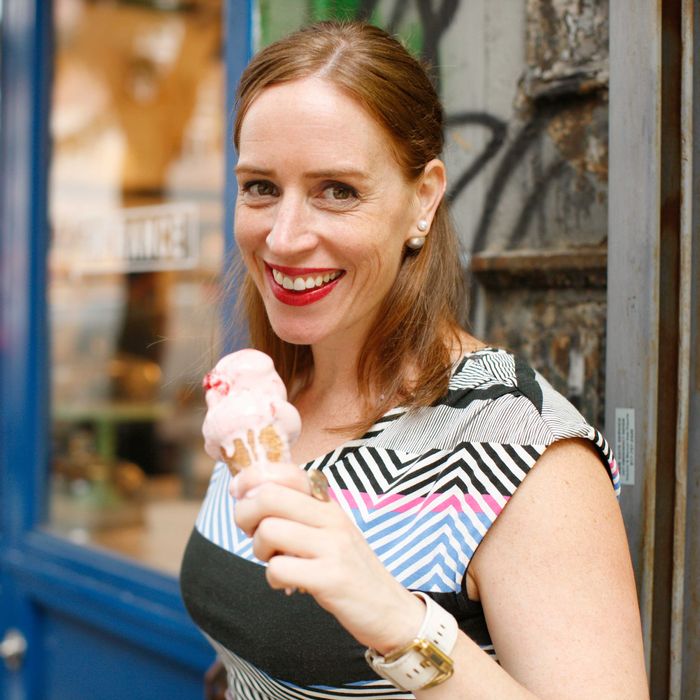 "OF COURSE I WANT ICE CREAM! I ALWAYS WANT ICE CREAM!"
Photo: Melissa Hom
"I was recording this and thinking, 'Wow, that's a busy week,'" says Sarah Simmons, the founder and chef at Birds & Bubbles. "But I realized it's always kind of this way." For Simmons, that means running the restaurant and working on a new concept, while still finding time to hit Colicchio & Sons for a massive dinner and a weekend trip to Red Hook for a barbecue feast, afternoon Old Fashioneds, picklebacks, and, um, punishment shots of warm vodka. Read Simmons's truly Herculean Grub Street Diet to see how that happened, and so much more.
Thursday, July 23
Up at 6 a.m. to make a dent in my email. I usually start the day with two eggs, but I'm out of eggs — actually, I'm out of everything. So I decide to check out an 8 a.m. kick-boxing boot camp at a new karate studio in Gramercy. After class I really want to swing by Pick-a-Bagel but don't need to start the day with a carb bomb, so I walk three blocks out of the way to avoid temptation, which leads me to the Shop-Rite. I pick up some eggs and a pint of cut watermelon that I end up finishing before I get back home. I cannot resist fresh fruit that has been cut for me.
For lunch, I walk over to Vic's for a lunch meeting. As soon as I sit down, I have my eye on the pasta the diner next to me is obviously enjoying, but I do not need a plate of pasta in the middle of the day. We start with the Long Island corn to share; my friend orders the tomato pizza and I go for the spinach and farro salad.
When our food arrives, I immediately get struck with order envy. I've gone too healthy. I want pizza. And one bite of our neighbor's pasta!
I crack the warm egg, the yolk runs over the greens, and, with surgical precision, build the perfect bite of spinach, grains, and feta, then run it through the yolk. My FOMO fades because this is an incredible salad! My friend offers me a slice of her pie. I graciously accept. On her way out, the single-diner interrupts our conversation to tell me she's been unable to keep herself from eavesdropping. She's so nice about it, we can't even be mad. My only regret is that I didn't comment that I wanted her pasta. Then at least she would have known to save me a bite!
I head to the restaurant and stumble into my friend Nicholas Morgenstern, who is sitting outside his ice-cream shop. Both he and his GM, Tad, are frequent guests at Birds & Bubbles. Tad spots me and comes out to say hello. Nicholas asks if I want some ice cream. I say no even though OF COURSE I WANT ICE CREAM! I ALWAYS WANT ICE CREAM! Tad won't take no for an answer and drags me into the shop for a strawberry scoop. Okay. Twist my arm. Then he says, "I have a brilliant idea. You have to have two scoops because it's summer, girl." So I go from no ice cream to a scoop of Smooth Strawberry and a scoop of the Chocolate Oat.
The last thing I want is to walk into work late while eating ice cream, so I gobble up my sweet treat on the rest of the walk to B & B. I can't find a trash can to save my life, so I bolt into the restaurant, immediately discard the evidence, and join lineup. After that I go through and taste every component of every dish on the line. Everything checks out and we are ready to go — thankfully because the printer starts buzzing the second we open the doors, which is typical on days when the weather is perfect because the patio is first come, first served.
I settle in at the pass to work expo for the evening, which turns out to be really smooth and easy. At one point I get a note from the hostess that Charline Drappier is dining outside and take a break to go say hello. As one would expect, she's enjoying a bottle of Drappier Rose (my bubbles of choice right now) and offers me a glass. I don't usually drink while I'm working, but when do you get a chance to drink Drappier with a member of the Drappier family?
I get back to the kitchen and my stomach is grumbling, so I snag the top off one of the freshly baked biscuits. I have no business eating biscuits at 11 p.m. This is why my pants don't fit. When the board starts to dwindle, I sneak out and head home.
Friday, July 24
I'm up at 5:30 because I need to get into the kitchen to test recipes before the prep team gets into gear. On the way to the restaurant, I swing by Whole Foods to grab ingredients for recipe testing. I can't resist the wall of freshly cut fruit — so I throw a pint of watermelon in my basket, along with the Health-Ade beet-flavored Kombucha. I eat the whole pint of fruit in the three-minute walk to Roni-Sue's chocolate shop, which is my go-to spot for iced coffee near the restaurant. When Roni-Sue is there, she usually pours my coffee over espresso ice cubes — an extra boost I could really use today.
I get to the restaurant around eight and check in with the morning crew — I pass a hotel pan of freshly peeled eggs, grab one, and break it in half. It's still warm and slightly under, which is perfect for my breakfast — but no good for deviled eggs. I pull two flats of eggs from the walk-in so we can start again. I notice farro soaking that we didn't use for an event earlier in the week, so I pull it and put it on for family meal.
While the eggs are boiling and the farro is simmering, I set up a station to test cookies. I'm recipe testing for my next concept and right now I'm working on a variety of cookies we can make with a salted chocolate base. Today's variety is a play on S'mores with toasted Italian meringue and smoked almonds. I nibble on the cookie base while I get all of the ingredients together. This is the third time I've tried to test this recipe — the last time my little piggy cooks got into the dough before I could bake them off. So this time I mummy wrap the pan in blue tape with the message, "I will kill you if you touch this. xoxo"
I pull the farro and set it in an ice bath to cool. I have no clue what I'm going to do with it. I quickly clean up my station and run out the door for a 1 p.m. lunch meeting with our beverage director.
I meet her at Dimes, where she's been hanging out for the past 30 minutes. She's already ordered a snack and before I can even sit down, she's handing me the last bite of toast topped with goat cheese, fresh peaches, mint, and basil. It is so simple and perfect. We order one of each of the nori wraps (seared tuna and veggie) and the summer salad — feta, figs, celery seed vinaigrette — and catch up. Our food arrives and after a bite of each wrap, I realize I'm not really even hungry. The salad looks beautiful and it's a shame to waste it, so we have it boxed up and head back to work.
I'm searching for a spot in the reach-in to hide the takeaway salad and realize I should chop it up and throw it into the farro for family meal. I pass it off to my sous chef and sit down at the bar to taste the Champagnes we'll be serving at an event next week, then I bake off the cookies I prepped in the morning for family meal and sit down with the team for lineup, go through and taste everything on the line — and run out of the door because I have dinner plans.
The last time I had a Friday night off in NYC was in January. John Mullins, an old friend from Atlanta, is in town and wanted to have dinner — anywhere I wanted. I picked Colicchio & Sons because I've never dined in the main dining room and I've been wanting to check out Stephen Collucci's desserts for what seems like forever.
We start with tequila drinks because it's National Tequila day. John leaves the ordering up to me. I'm usually a "we'll take the left side of the menu" type of gal, but am showing culinary restraint to save room for dessert. We start with the cold lobster dish. It's like a deconstructed lobster roll and I'm digging it. Next up is the fried oysters with peaches, bacon, and chicory; and the charred octopus with citrus, caramelized endive, and chorizo vinaigrette. I have to admit the oysters got lost as I was obsessing over the octopus dish. It was perfectly cooked; you'd be surprised how often that isn't the case - and the chorizo vin is so genius, I'm actually angry I didn't think of it.
The bucatini is just the right amount of spicy. Last up for savory is the skirt steak finished with a port reduction that makes me weak in the knees. Sauce is my favorite food and this is now on the list of my five favorite sauces. The server comes over to check in just as I'm debating picking up my plate to lick it clean. I resist. When he returns to drop the dessert menus, he slides an envelope across the table with "secret recipe" on the front. It's the recipe for the sauce. I want to ask him to marry me. Once again, I resist.
We look over the dessert menu even though I'm on a mission to try as many desserts as possible, I'm torn over the creative composed cheese course. I really love cheese. I want every important moment in my life to involve a cheese trolley. Even better, I'd love for the non-important moments to involve a cheese trolley — preferably the one from Daniel. I can't resist cheese or a good pun so we order "The Yolk's on You Madam" and leave ourselves in chef Stephen's hands for dessert.
He sends us "That Summer in Capri" which is the lightest tempura-fried zucchini blossom to ever cross my lips, the mille-feuille, the sugar plum doughnuts, a sampling of French macarons, and a selection of seven ice creams and sorbets. Everything is as delicious as it looks, but the toasted-marshmallow ice cream is where my dreams come true. I only allow John one bite and this time, can't resist tipping the bowl back to get the very last drop.
We decide to walk off our meal and have a night cap at the Rusty Knot. The bar is packed and the waitress meets us at the door with a friendly smile and an offer to take our order. I ask her what she thinks I want and she quickly replies, "vodka soda." I am insulted and order a Manhattan, up. John gets a Moscow Mule and we find a good spot near the bar to people watch. As the bar really starts to fill up, we decide to move on to somewhere less crowded.
After a quick stop at a really packed Spotted Pig, we end up at the bar at Joseph Leonard and settle in with two Magdalenas, because if you're not starting and ending your night with Tequila on National Tequila Day, you're doing it all wrong.
Saturday, July 25
I hit snooze for an hour and 45 minutes, finally rolling out of bed around seven. I take the dog for a quick run, shower, and head to the restaurant to work brunch service. On the way, I pop into a bodega and grab two green juices — Cold & Flu and High Energy — which I like to combine into what I hope is a power green juice, a coconut water, and a Grady's iced coffee. I spy the cut fruit so I snag a quart of watermelon and cantaloupe just to keep it interesting. Once again, I polish off the entire container before I get to work.
To say I'm dehydrated is an understatement. I walk in to the news that an old cook of mine stopped by last night and brought me some BLTs. He knows the way to my heart. These BLTs from a bodega on Clinton are the best BLTs on the planet. But now they're obviously cold so I heat up a cast-iron skillet, toss in a knob of butter, unwrap the BLTs, throw them down in the pan and place another cast iron on top. Minutes later, I'm delivering the BLT paninis to the front of house. The crowd goes wild.
Brunch is always slow to get started on Saturdays so I use this time to get things packed up for our Chicken Biscuit stand at Smorgasburg on Sundays. I snag one chicken little because we only serve the spicy chicken as Smorgs and you know — quality control!
It's three, and I haven't eaten much, so I grab a piece of breakfast sausage and some greens from the line and crack a poached egg onto it. This hits the spot and I'm back to recipe testing.
When family meal rolls around, I'm still full from my late brunch but can't resist a bite of Noelle's mashed potatoes. After lineup, I do the line check and get ready for service. Once again the printer starts buzzing the second we open and doesn't stop for five more hours. This is a good thing, but I'm on my 15th hour of work and losing steam quickly. I'm starving by the time I get home, but too tired to eat. I fall into bed and sleep like a rock.
Sunday, July 26
I wake up at the crack of dawn. I have the day off and my dear pal Francis Derby (the chef of both Cannibal locations and Resto) has planned an adventure for us. I'm not sure exactly what's on tap, but I know an adventure planned by another chef will involve a lot of great snacks.
Before the adventure, I am desperate for coffee. I have that remaining bottle of Grady's in the fridge but no cream or milk. I do, however, have a chocolate fudge popsicle. Desperate times … so I cut the popsicle up and toss it into a quart container (yes, I've turned into a person who drinks out of quart containers even at home). After ten minutes, it's melted enough to make a difference and I add the ice. It is both the smartest and grossest thing I've ever done. And it's delicious.
Fran picks me up at 1 p.m. and we hop in a car to Red Hook. Our adventure begins at Hometown Bar-B-Que. We grab two seats at the bar and are greeted by the GM, Mitchell Rosen, who tells us he's putting together a tasting for us. I have already won Sunday.
I order a bloody Mary and Fran gets a beer. The bloody is good but the candied bacon garnish puts it over-the-top. Then parade of plates begins: jerk ribs, sriracha wings, lamb belly báhn mì and the jalapeño-and-Cheddar link. Each bite better than the one before.
For a moment, I forget it's only 3 p.m. and order an Old Fashioned. We take an eating intermission getting the second act kicked off with a pickleback. Then more food appears: spare ribs, brisket, thick-slab pastrami bacon, beef ribs, and all of the sides. Mac & cheese, pit beans, collards, potato salad, slaw, cornbread.
So. Much. Food. For the first time in my life, I'm experiencing the meat sweats, which until now I thought was something people made up because they were weak. Sweaty or not, I can't stop eating. I want my whole life to taste like that beef rib.
Mitchell offers us a tour of the smoking facility and we jump at the chance. The more I learn about the proper barbecue process, the more amazed I am by the people who commit their life to it. It is an up-at-dawn labor of love.
We walk Mitchell back over to the restaurant and then head to Brooklyn Crab. There is no way I'm eating another thing, but can't resist hanging out on the upper deck overlooking the water. We saddle up to the bar. I order a marg, and Fran gets some super-girly watermelon concoction. He might as well have ordered a Cosmo.
At some point in the conversation, I make the grave mistake of admitting I think the Beatles are overrated — I know; send your hate mail directly to the restaurant — and this does not go over well. I excuse myself to the restroom and when I return, there is a single shot of clear liquid next to my drink. I ask Fran what on earth it is. He responds in the most serious tone, "It's a shot of warm vodka — your punishment for the Beatles comment." I try to man up but I just can't get it down. I am, after all, a lady and I feel like somewhere it says that ladies don't take shots of warm vodka. Picklebacks, however, are very ladylike.
We decide to head back to the city, but make a last-minute call to stop in at Sunny's — one of the greatest bars in the universe. We order a couple of Fernets and enjoy a performance by a string quartet.
The music wraps up just in time to catch the ferry back to Manhattan. We end our day with a movie and a split of Delamotte Champagne. As one does.
Monday, July 27
I'm slow to get moving. I need a day off from my day off. I take the dog for a run, which almost kills me. On the way back to my apartment, I make a pit stop at the Lower East Side Coffee Shop for an iced coffee, since I'm out of coffee … and popsicles.
I need to get a move on because we have an off-site event this evening and I have an OpenTable Advisory Council meeting all afternoon. I roll into work and check in with the team on the prep for the off-site.
I'm still full, more than slightly hung-over, and all around dragging from my Sunday adventure. My meeting is at the Smith in the East Village, so I decide I'll grab a salad at the bar beforehand. But I'm running late, so I duck into m2m and grab a kombucha and a bag of Kasugai roasted nuts — one of my very favorite snacks.
Halfway through the meeting, I give in and grab a Cheddar-scallion biscuit and a cup of tea.
I get back to the restaurant just in time for lineup and have a bite of family meal: chicken satay, steamed rice, spinach salad, then pack up everything for the off-site.
We're serving the savory snacks at the office-warming party for our friends Jenny and Alex, the owners of Tilit, who have moved into a new space two blocks from Birds & Bubbles. As soon as I walk in, Jenny offers me a beer, which I quickly decline. I can't hair-of-the-dog my way out of this hangover. I set up the food throughout the office, picking at a Cookshop chocolate-chip cookie as I work. With the table set, I catch up with some industry friends as they arrive. The only bite of savory food I eat is a crostini with shrimp rillette because I know there are some fantastic sweet treats to be had. I have a mini macaron made by one of the Tilit interns who is also working at Cookshop, a Push-Pop from Lafayette, and a bite of Eileen's Cheesecake. Cheesecake isn't my jam, but I have to taste "the best cheesecake in NYC."
I grab a coconut water on my way back to the restaurant, and I'm asleep by 10 p.m.