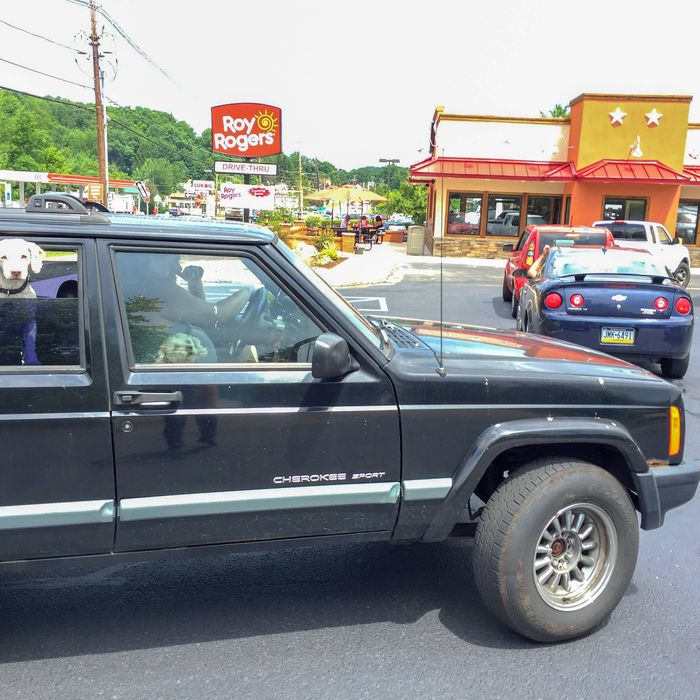 Tuesday's wait for the drive-through window.
Photo: Peter Moskowitz
At its peak, Roy Rogers operated over 650 restaurants. But in the '90s, Hardee's bought the chain and converted most Roy Rogers into Hardee's and closed the rest. Now, there are 49 Roy Rogers left in the U.S., seven of which are in New Jersey. Yesterday, the state got its eighth, the first to open in northern New Jersey since the early '90s, and the grand opening was nothing short of a blockbuster — apparently, a two-decade absence isn't long enough for customers to forget Roy's signature taste.
In fact, a local news story about the Franklin opening was shared nearly 30,000 times. Over 100 people lined up hours before the doors opened. Some camped out overnight. While the first several dozen were most likely there for a promotion (the location's first 50 customers received a $300 Cowboy Cash gift card), the rest seemed happy to line up just for free sodas or simply a chance to eat Roy Rogers again.
By noontime on Tuesday, the wait time at the brand-new Franklin location's drive-through exceeded half an hour and backed up onto Route 23. That's where Todd Carnes, a 43-year-old local who identifies as an inventor, waited in his Jeep with his two miniature poodles, Molly and Scrappy Doo. "It shows how much this town needed chicken," Carnes says. "I even called Chick-fil-A and tried to bring them up here."
Route 23 in Franklin Township isn't typical Jersey. Though it's just about an hour from New York City, the town has a rural feel: The road is only two lanes, traffic is minimal, and, until recently McDonald's, Burger King, Wendy's, and KFC were some of the only fast-food restaurants locals could choose from (in addition to countless non-chains). Everyone in line at Roy Rogers seemed to agree that the area's fast-food options could use some improvement.
"They're lacking Roy Rogers," said Ish Jones, who drove about 30 miles from a family member's wake with his two cousins to be in Franklin for the location's opening. "I love Roy Rogers. We need more and more. I'm gonna drive another 30 miles to come back."
What makes Roy Rogers unique, according to its marketing, anyway, is that it offers customers a "Triple Threat." Unlike, say, Arby's, customers at Roy Rogers can get not only roast beef, but fried chicken and burgers. It's like a KFC, McDonald's, and Arby's combined. Plus, customers were quick to point out, it's the only fast-food joint with a Fixins Bar — customers stack their own burgers with onions, pickles, a salsa-ish substance, lettuce, and some sauces. "That's the big difference!" customer David Lisbon shouted from in front of the Fixins bar.
In the middle of the ruckus on Tuesday were friends Claudia Beckley and Randy Recca, two women from the nearby golf-course community of Crystal Springs. When asked about the appeal of Roy Rogers, Recca put it bluntly: "The truth is there's not much else here — it's exciting. Maybe next we'll go to Taco Bell. And then Walgreens. And then we'll pray they don't all close."