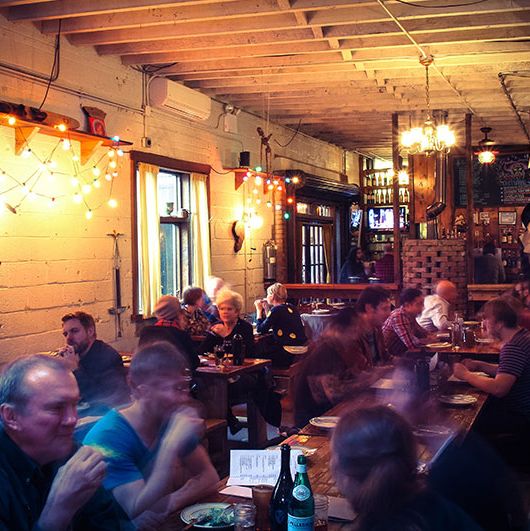 The main dining room inside the Roberta's compound.
Photo: Courtesy of Roberta's
The owners of Roberta's are currently involved in a contentious legal standoff, and now the Bushwick pizza place has another lawyer-related issue to deal with: Ruffino Cano says he's worked at the restaurant since 2009 washing dishes, cleaning, and making dough for the pizza, and now he's suing the owners, claiming he wasn't paid the overtime to which he's entitled. The Daily News reports that Cano claims he asked supervisors about the discrepancy and was told he in fact didn't get overtime because he was being paid "off the books."
According to the News' report, Cano's suit is class-action, a strategy that lawyer Maimon Kirschenbaum (who doesn't seem to be involved in this case) has famously employed in his many wage-violation lawsuits against big-name restaurants. As he explained to Grub Street several years ago, the goal is to attract other employees who say they were also victims of a given restaurant's wage violations, and get them to sign on to the suit as well. As Kirschenbaum said at the time, "By the time the defendant would hire a lawyer and call me, I'd already have 35 plaintiffs signed on … So instead of their lawyer calling me and saying, 'You've got one guy, I'm going to offer him $15,000 and shut this thing down,' it would be like, 'Okay, now I have 37 people, what are you going to do?' They have to essentially settle it as a class action."
In the past, critics have complained that the strategy isn't fair to restaurants since it doesn't necessarily give them a chance to clear their names in the event that they haven't done anything wrong — guilty or innocent, it tends to just be cheaper to settle than to let the suit drag on.
[NYDN]